Demi Lovato Supports Selena Gomez After Her Kidney Transplant With The Kindest Words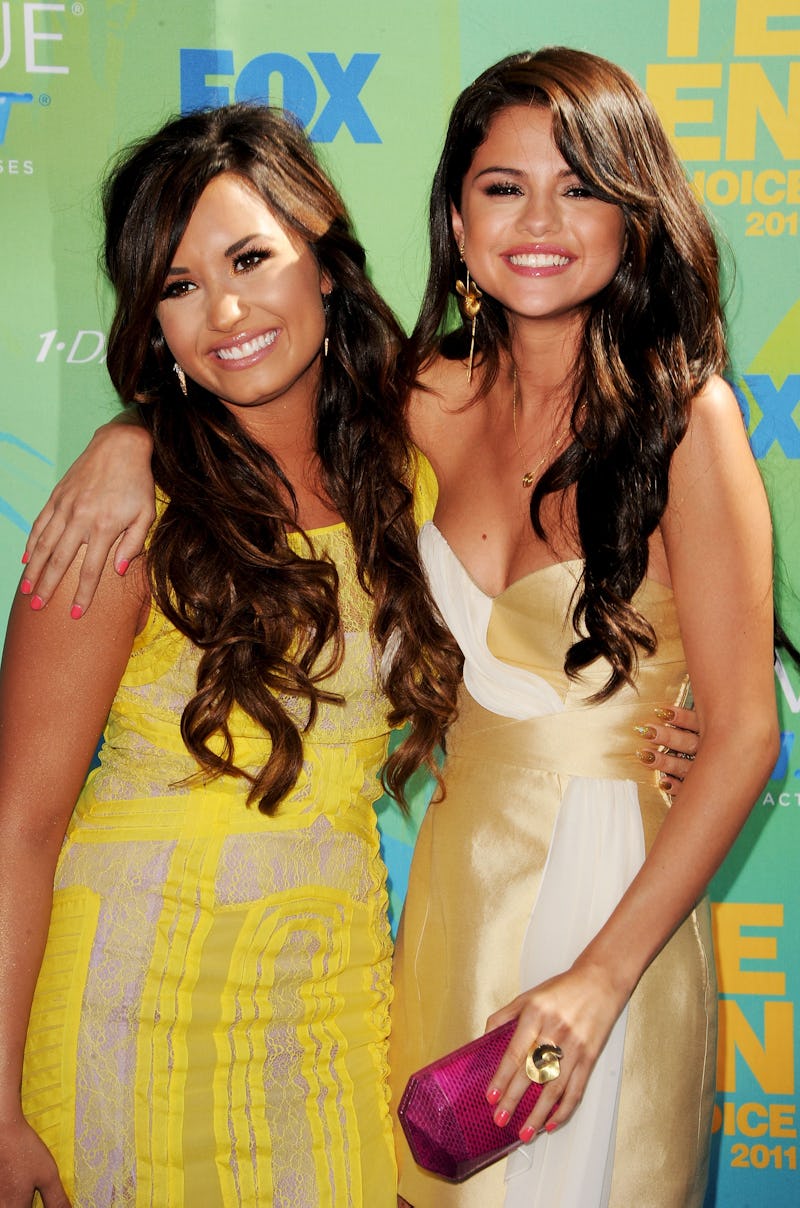 Jason Merritt/Getty Images Entertainment/Getty Images
Selena Gomez has been receiving a lot of love in the past few days, not only from her fans, but from fellow celebs who are wishing her a speedy recovery from her recent surgery. The latest famous face to join the list is Demi Lovato, who recently showed her support for Selena Gomez after it was revealed last week that the "Fetish" singer took a break from the spotlight to undergo a kidney transplant due to complications from lupus. If you had any questions about the status of their friendship, Demi Lovato's sweet comments about Gomez definitely show that the friendship between both former Disney stars is still going strong.
People caught up with Demi Lovato at a private concert in Los Angeles on Saturday night celebrating the launch of her new forthcoming album, Tell Me You Love Me. When asked to give her thoughts on Selena's recent news, the "Sorry Not Sorry" singer told the magazine that Gomez is a "very strong woman." She added, "I'm very happy and proud of her."
It's so nice to see that both ladies are still showing loads of support for each other in the public eye following rumors spreading of their friendship being over. Both singers have been connected to each other for years, as they got their start in the industry acting in Barney and Friends at seven years old. Their friendship blossomed when they both got their big breaks starring in their own Disney Channel sitcoms. At that point, they were calling themselves best friends, and they even told People in a 2009 cover story that they both "enjoy doing everything together."
Somewhere along the line though, it's clear that the two became distant, and rumors swirled that they weren't on the best terms in 2010 when a fan asked Lovato how Gomez had been doing lately. The singer responded cheekily saying, "Ask Taylor," referring to the amount of time Gomez had been spending with Taylor Swift. Even though they might not consider themselves best friends anymore, they've been able to mature and move past whatever rough patch they were going through a few years ago.
Of course, this isn't the first time there's been news of the former besties publicly supporting each other. Delena fans found themselves freaking out back in July when both singers released singles around the same time and praised each other's songs on Twitter.
Gomez first opened up about her battle with lupus during an interview with Billboard back in 2015. She told the magazine in an in-depth interview that the reason she had taken a break from music for a short time that year was because she received chemotherapy as a form of treatment. Two years later, the singer revealed that she had been laying low for the better part of summer 2017 because she was recovering from a kidney transplant.
Since sharing the news, Demi Lovato hasn't been the first celebrity to show her support for Gomez. Kesha, who has been open about her past struggles with an eating disorder, depression, and anxiety, shared a heartfelt message to Gomez and Lady Gaga via Instagram. (Just last week, Lady Gaga revealed to her Twitter followers that she suffers from fibromyalgia and was hospitalized just two days later.) The note in Kesha's post reads,
"My heart is with @selenagomez and @ladygaga. We're all human & need self care. i hope both these icons heal safe & feel good. such wonderful role models for being so honest with a very critical world. - K"
The amount of support Selena Gomez is receiving after such a critical procedure is enough to warm anyone's heart. But seeing that Delena is still on good terms after all of these years really proves that their problems are in the past and, for that, you deserve to go watch Princess Protection Program nonstop without judgment.