You Can Put Those Demi & Selena Feud Rumors To Rest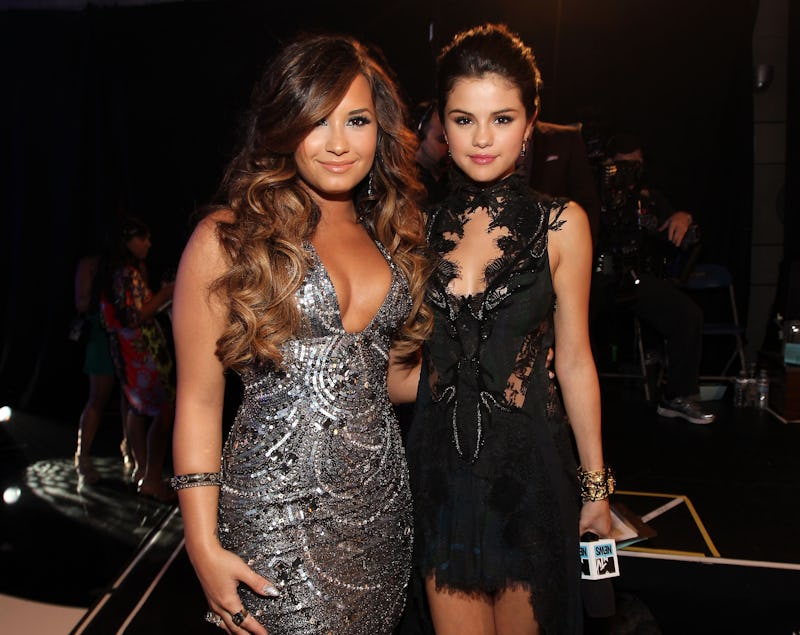 Christopher Polk/Getty Images Entertainment/Getty Images
Well, this will surely warm fellow Delena fans' Princess Protection Program friendship necklace-shaped hearts. (You know you bought the Royal BFF Extended Edition DVD that came with a friendship necklace.) On Friday, former famous best friends Demi Lovato and Selena Gomez praised each other's new singles on Twitter. Understandably, Delena fans lost every last one of their marbles.
As any true Princess Protection Program historian knows, Lovato and Gomez's friendship began on the set of Barney & Friends in the early '00s and blossomed on the Disney Channel. However, a few years ago, their relationship went through the ringer; Twitter accounts were unfollowed, cryptic comments were made, and a friendship split happened. But as of late, it seems as though the two are back on relatively good terms. They may not be the best buddies they once were, but at least they're in a solid enough place to publicly congratulate one another, and that counts for something. (Don't start with the "Oh, it's all just a ploy to sell records" stuff. Totally not true.)
Earlier this week, Lovato dropped "Sorry Not Sorry," the lead single off of her forthcoming sixth album. A few days later, Gomez released "Fetish." What seemed like a Lovato vs. Gomez chart feud in the making was put to rest on Friday when the two Barney & Friends alums praised each other's work. Here's what DeLo said:
Here's SelGo's reply:
The stans reacted accordingly.
Yes, Delena Fan After Dentist. This is real life.
Nice to wake up to happy news for a change.
Good plan.
Anything is possible.
Sorry, neighbors, but that scream was totally warranted.
The lesson here? Never leave Twitter.
No matter whatever feud rumors have popped up in the past, Gomez and Lovato seem to be doing A-OK. Never leave Twitter, never give up on Delena, and never take off your Princess Protection Program necklace.