Demi Lovato's AOL Screen Name Was Inspired By Her Favorite Pop Star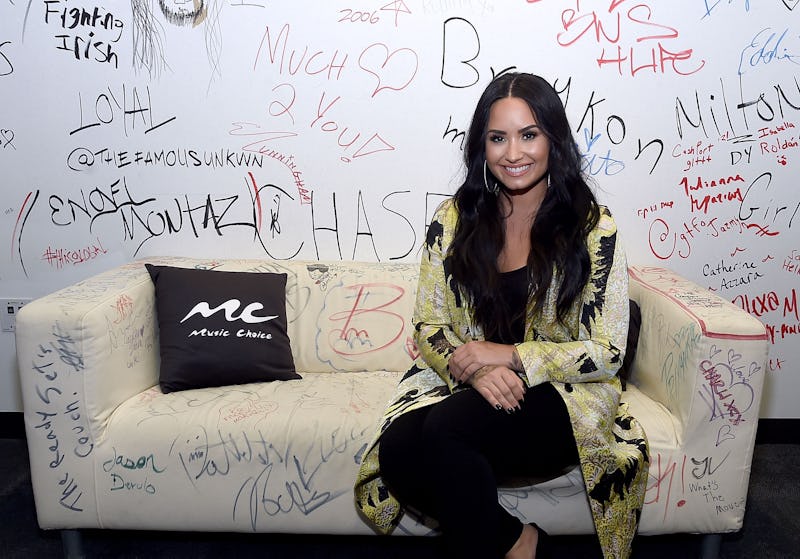 Jamie McCarthy/Getty Images Entertainment/Getty Images
For those who grew up in the early aughts, coming up with an AOL Instant Messenger screen name was a rite of passage. And this morning, Demi Lovato revealed her AOL screen names, and in doing so, let the world in on her favorite pop star growing up. Clearly, Lovato only has one American Idol.
Recently, Lovato tweeted, "Tbh I'd rather live in 2004 right now. Partially because all I want to wear are juicy couture track suits and platformed flip flops." She asked fans if they "miss quoting The Simple Life on our Sidekicks" and whether or not they also "remember posting Dashboard Confessional lyrics" on their Myspace. So, it's really no surprise that the host of the Morning Mash Up radio show wanted to get nostalgic with Lovato, who was clearly game to take a trip down memory lane.
Lovato was the one who got on the topic of AOL Instant Messenger and was quick to share not one, but two of her screen names. "I had 'Demilicious,'" she said without going into detail. Though, wouldn't it be fun to imagine it's named after Fergie's 2006 hit "Fergalicious." Especially since her second screen name was a pop reference. "I had one, 'Little Kelly,'" she said. "Because I was obsessed with Kelly Clarkson."
This isn't the first time Lovato's talked about her screen name being a nod to Clarkson. Back in 2015, on a different radio station, 104.3 MY FM, Lovato talked about being "Little Kelly" on AIM.
But, even before then, Lovato told ABC News that she grew up "singing every single song [Clarkson] sang." She said, "There were times where my mom would hear me, I would be upstairs in my bedroom, on repeat, or I finally got a karaoke sound system, so I would be blaring it in the living room." Like her screen name implied, she really was trying to be Little Kelly Clarkson.
Over the years, Clarkson has shown that Lovato's love is definitely reciprocated. Back in 2015, Clarkson covered Lovato's track "Cool For The Summer" in honor of Demi's birthday. "It's one of my girls' birthdays tomorrow," Clarkson told the crowd at her L.A. concert. "And when I say my 'girl,' I mean Demi Lovato. She's always been so supportive and so cool. To see a kid that used to go to my shows have this huge, lustrous career... she's just killin' it."
Lovato almost lost her cool after that shout-out, though. "WOW WOW WOW.. @kelly_clarkson thank you SO MUCH for covering #coolforthesummer at your show tonight!!!" she tweeted. "BEST BDAY GIFT EVER!! *literal tears*"
That same year, Clarkson told MTV News that she really loved Lovato. "She's so sweet," she said. "Every time we see each other, she's always like, 'I like Kelly Clarkson,' she's always so nice, she's like my biggest fan and I love it. It's so awesome, we're both Texans." Apparently, everything's bigger in Texas, even fandom.
The year before. Lovato tweeted that her dream was to collaborate with Clarkson. She even wrote "duh" because it just seems so obvious. The two pop stars have yet to record a song together — though, they did share the stage in 2011 to perform at New York radio station Z100's Jingle Ball, which led Lovato to tweet, "Oh my God….. Oh my God…. Oh my God….. #shaking, I. Just sang. With Kelly. Clarkson. #ahhhhhhh."
But, Clarkson revealed in 2015 that the two actually did almost collaborate together. "She was touring, I was super pregnant and not feeling well and it didn't work out this time," she told MTV News, "but it totally will." If it does, it's unclear whether Lovato could actually handle it. After all, she's been a fan ever since her AIM days.