Demi Lovato Returned To Instagram With An Important Reminder To Make Your Voice Heard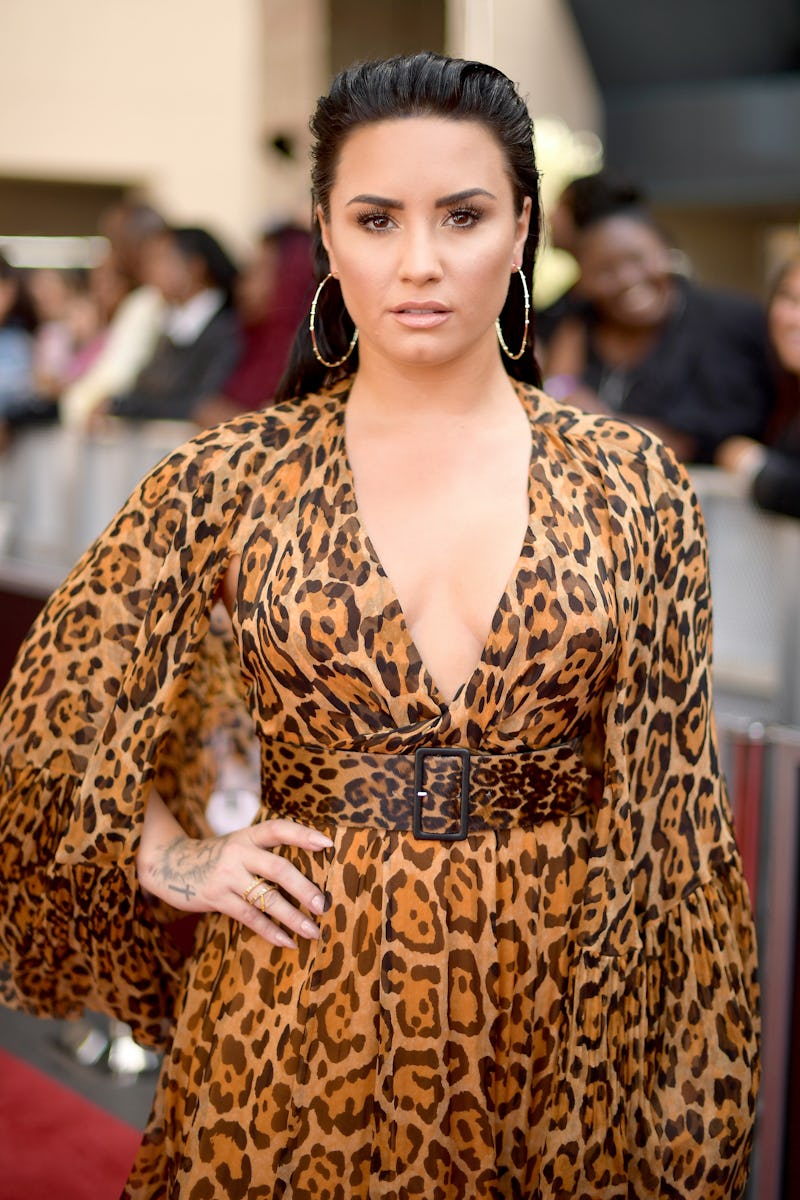 Matt Winkelmeyer/Getty Images Entertainment/Getty Images
On Tuesday, Nov. 6, plenty of celebrities shared messages encouraging their followers to head to the polls for the midterm elections. But one post was especially exciting to see: Demi Lovato shared an Instagram about voting, marking the first time she's posted since August, when she wrote a lengthy statement about her hospitalization and thanked everyone for their support. (It appears the latter post has since been deleted.)
Along with a photo of herself filling out her ballot, Lovato wrote:
"I am so grateful to be home in time to vote! One vote can make a difference, so make sure your voice is heard!🗳 🇺🇸 now go out and #VOTE!!!!"
Within 20 minutes of posting, the Instagram garnered more than 870,000 likes. Messages of support flooded the comment section, ranging from heart emojis to prayer hands.
Over the weekend, People reported that Lovato left rehab after spending three months in treatment. She reportedly was spotted out and about at various locations, including a restaurant in LA, a spa in Beverly Hills, and Universal Studio's Halloween Horror Nights. (At the time, Bustle reached out to the singer's team for comment, but did not hear back.) People's source claimed, "She just got back to L.A. a couple days ago. She seems to be doing well so far." And based on Lovato's new IG post, it really does sound like she's back home and better than ever.
Lovato has never been one to shy away from politics. During the 2016 election, she publicly supported Hillary Clinton on multiple occasions. She also previously called out TIME magazine for featuring Donald Trump as a runner-up for the 2017 Person of the Year, alongside "The Silence Breakers," who had spoken out about sexual assault and harassment. On top of that, Lovato wore a shirt supporting gender neutral bathrooms while performing at the 2016 Billboard Music Awards.
Basically, Lovato sets a strong example for making her voice heard. And the fact that her return to Instagram, after an understandable hiatus, makes the moment all the more powerful. As fans likely know, Lovato was hospitalized for an apparent overdose in July. At the time, her rep told Bustle,
"Demi is awake and with her family who want to express thanks to everyone for the love, prayers and support. Some of the information being reported is incorrect and they respectfully ask for privacy and not speculation as her health and recovery is the most important thing right now."
When Lovato posted a month later in the since-deleted IG statement, she wrote, in part:
"I have always been transparent about my journey with addiction. What I've learned is that this illness is not something that disappears or fades with time. It is something I must continue to overcome and have not done yet."
Her message continued, by stating, "I now need time to heal and focus on my sobriety and road to recovery. The love you have all shown me will never be forgotten and I look forward to the day where I can say I came out on the other side. I will keep fighting."
Based on her new Instagram, it sounds like she's doing exactly that. Lovato has always been a fighter — and her dedication to being so open and making her voice heard only further proves it.