Here's Everything You Need To Know Hailey Baldwin & Justin Bieber's Upcoming Wedding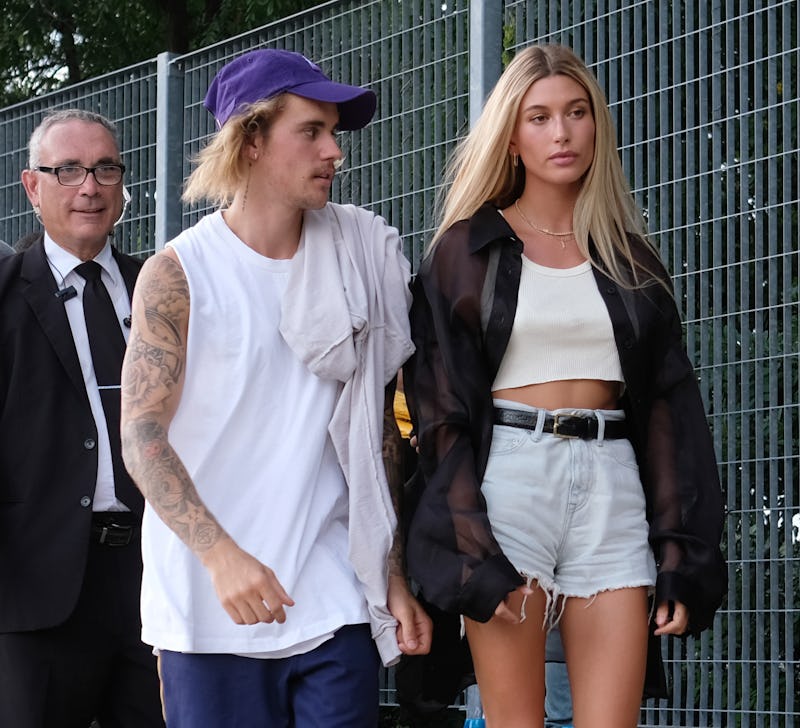 Nicholas Hunt/Getty Images Entertainment/Getty Images
They may not be married yet, but the details about Hailey Baldwin and Justin Bieber's upcoming wedding plans — per E! News — will keep you excited about their nuptials.
After being spotted at the New York City courthouse's marriage bureau Thursday, Sept. 13, folks speculated that the couple had officially become husband and wife. But according to a Friday, Sept. 14, tweet from the 21-year-old model, also reported by TMZ, Baldwin and Bieber have yet to tie the knot. In the tweet, Baldwin wrote, "I understand where the speculation is coming from, but I'm not married yet," hinting that the big day is still in the planning stages.
A visit to the courthouse is the ultimate sign that the pair just may be tying the knot sooner than later, however. A source close to the couple told E! News that they were there to obtain paperwork, and though they didn't relinquish any other details to exactly what kind of paperwork it might be, grabbing a marriage license application isn't too far fetched to believe. As E! reported, the application is valid for sixty days following submission, and the soon-to-be-wed couple would have to have an actual ceremony — whether at the courthouse or at another location within New York state lines — within the timeframe.
Baldwin may have shut down rumors that she and Bieber are officially married today, but reported quotes from unnamed sources close to the couple hint that a ceremony is definitely on its way.
While speaking with E!, a source revealed that "they are doing a separate ceremony out of the country with a few family members soon as well," and another, religious source co-signed that bit of info, telling People that, "they're going to have a big blowout, in front of God and everyone they love."
But, what do Baldwin and Bieber actually want their big day, or days, to look like, you ask? While speaking to The Cut recently about her wedding plans, Baldwin shared a bit of insight as to what she envisioned for the upcoming nuptials. "I just picture lights strung everywhere," she said. Illustrating her vision even further, continued, saying, "I think having it in the woods would be so beautiful. And when it comes to who she wants by her side at the altar, Baldwin said that her sister, Alaia Baldwin, would totally be her bridesmaid, and Bieber's younger sister would be the flower girl.
So, a wedding in the woods, with lights hanging everywhere, and Baldwin's sister and, soon-to-be, sister-in-law by her side? Check! Though Bieber hasn't shared his decor preferences for the big day with the masses, there's no doubt that he isn't looking forward to it any less than Baldwin. TMZ reported that while at the courthouse Thursday Bieber was overheard, saying, "I can't wait to marry you, baby," to his fiancé, and was so overjoyed by what was transpiring (picking up the supposed marriage license application, of course) that he shed a couple of tears. So, yeah… he seems pretty stoked.
If the reports are the least bit true, it's nice to see that the newly engaged couple is still on the up-and-up. Here's to hoping those wedding bells are actually on the way.