Cardi B (And Dictionary.com) Just Taught Us All A New Word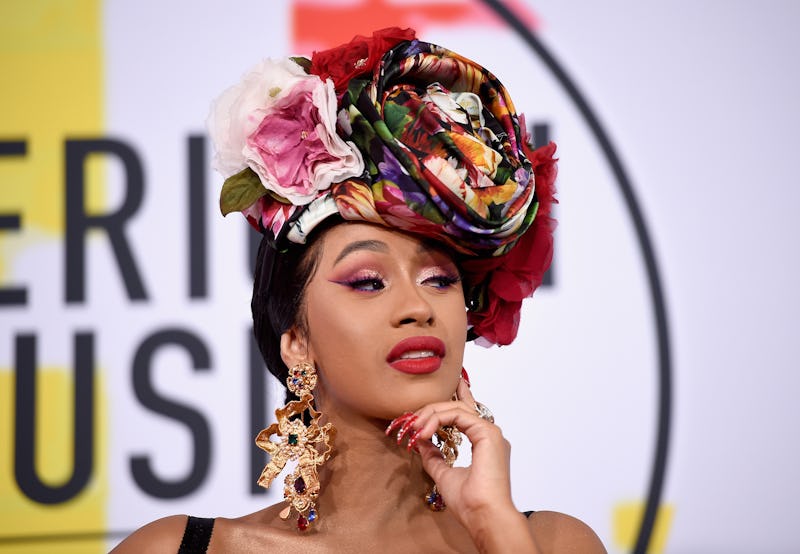 Kevork Djansezian/Getty Images Entertainment/Getty Images
I consider myself a decently well-read person, and yet I still learn new words almost every day. Such is the nature of language, of course. It's ever changeable, it's pliable, and it's subject to all manner of new slang. I mean, just think about how many words you used in high school that have already fallen out of the popular vernacular...and how many words you've only just discovered this year thanks to memes and Instagram captions. Even "meme" and "Instagram" were words that did not exist 10 years ago. And now, thanks to rapper Cardi B, I've discovered yet another word I did not know existed: footages. And there's a dictionary entry to prove that yes, it is a real word.
OK, I know you're probably a little bit confused right now. Let's break this down: on Oct. 29, Cardi B posted a video to her Twitter account in which she responded to a statement by fellow rapper Nicki Minaj in which Minaj claimed that Cardi B had been beaten up by Minaj's friend Rah Ali during their now infamous fight at New York Fashion Week. (There's a lot to unpack there that I won't get into, but you can check out all of the many details on the ongoing beef right here.)
In Cardi B's Oct. 29 video, which you can watch on Twitter, the rapper uses the word "footages" twice. Now, you're probably thinking, "Oh, Cardi B. It's footage. Not footages. Footages is so totally not a word." And I agree with you. And many other Twitter users did, too, including some who took to the comments of Cardi B's post to drag the rapper for her "improper" use of the word. But, my friends, we were all very wrong. According to the Dictionary.com Twitter account, footages most certainly is a word and clearly world-famous rapper Belcalis Almanzar has just taught us all a thing or two about the English language.
After the collective Twitter outrage over Cardi B's use of the word "footages" Dictionary.com, the world's leading digital dictionary, stepped in with some much-needed clarification. According to their website, footages is a word and it can be used exactly the way Cardi B used it in her video: to mean a motion-picture scene or scenes.
Both Dictionary.com and Merriam-Webster have been keeping up with the times in recent years, adding such words and phrases as "mansplain," "subtweet," "life hack," and even "dumpster fire" to their long lists of definitions. In a time when social media is undeniably a major part of the forming of our collective consciousness, it only makes sense that the keepers of the English language would want to evolve with the Tweeting times. Perhaps the use of "footages" won't be quite as ubiquitous as a word like "selfie," but let's just say that from now on, I won't be judging anyone's grammar before I check the dictionary first.