There May Be More To That Shocking 'Riverdale' Death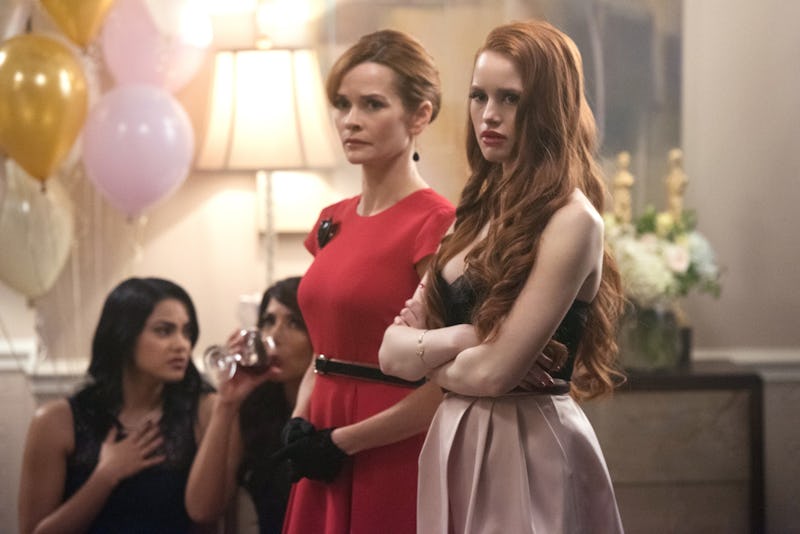 Dean Buscher/The CW
After 12 episodes, Riverdale finally gave fans some answers surrounding Jason Blossom's murder in the May 4 episode. But then it left off with a major cliffhanger. After it's revealed that Clifford Blossom killed his own son for reasons unknown, the cops find him hanging from the family barn. Now the big question is if he committed suicide or if Cheryl and Penelope murdered Clifford?
Personally, I am crossing my fingers that the truth involves Clifford's wife and daughter. They were obviously devastated by Jason's death, and apparently the secret of the murder was just the beginning. There were a lot of drugs hidden in those syrup barrels in the barn, so I'm still as confused as ever as to what's actually happening in the tiny town of Riverdale.
So much happened in the May 4 episode that I think we need a quick recap: FP was framed for the murder of Jason Blossom, and someone had planted the gun in his home. The first bombshell of the night came when it was revealed that Great-Grandpa Cooper and Great-Grandpa Blossom were actually brothers, making lovers Jason and Polly cousins. Betty, Archie and the gang then find a thumb drive which shows Clifford Blossom murdering his own son, but FP isn't exactly innocent as he was hired by Clifford to essentially kidnap Jason. Are you still with me? Clifford threatens to kill Jughead if FP doesn't confess to the murder, but the video on the thumb drive speaks for itself. Betty runs to Cheryl to warn her to get out of the house and in the best scene of the night, Cheryl turns to her father at dinner and says, "You did a bad thing daddy." The cops show up at the Blossom mansion to find Clifford hanging from the rafters with a pile of drugs falling out of a maple syrup barrel. And that wasn't even the season finale.
So are Cheryl and Penelope behind the patriarch's death or did he kill himself?
First, there are the drugs. It's very clear that Penelope knows all about the little side business Clifford had going on. You may have forgotten this quick scene, but Cheryl goes to Penelope and asks her why Jason and their father were arguing the day before they went to the river. Cheryl says, "If it wasn't about Polly, then it must have been about the business," and that Jason was scared of something. Penelope then drags her out to the barn — where the cops later find Clifford — and shows her the big "secret." It seems like the maple syrup business isn't going so well and they've turned to drugs to keep their fortune. It seems like Jason couldn't handle that lifestyle. 
The important moment in that scene is that it's very clear that Penelope Blossom believes in her husband's innocence. But it also shows that she can be just as evil as him, as she violently grabs Cheryl. That move suggests that you really don't want to piss her off. Earlier in the episode, Cheryl lashes out at Jughead after his father's faux confession, showing the same type of rage when provoked.
But the most telling moment of the episode is the expression on both Cheryl and Penelope's faces when the cops pulled up to arrest Clifford. There are no words spoken; they simply point towards the barn, looking somber but not distressed.
There's lots more to uncover about the death of Clifford Blossom, the secret behind the Blossom family fortune, and why he murdered his own son. Hopefully, some answers will come in the finale, but I have a feeling fans will have to wait until Riverdale returns for Season 2 for all of them.