Joyce & Hopper Have More History On 'Stranger Things' Than You Even Knew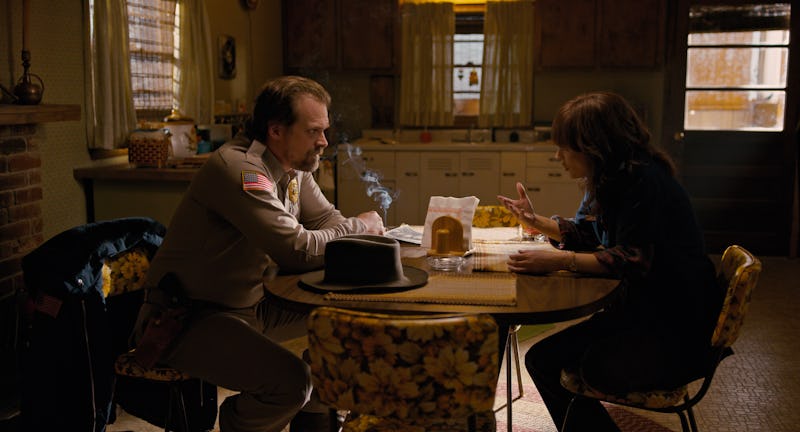 Netflix
Spoilers for Stranger Things Season 2, Episodes 1-3 ahead. The first season of Stranger Things focused mostly on Mike, Lucas, Dustin, and Eleven's efforts to get Will back out of the Upside Down (and poor, poor Barb.), leaving very little time for the grownups. What we do know is that Joyce is a frazzled single mother and Hopper is a gruff, tough sheriff whose young daughter died of cancer and whose wife divorced him soon after their daughter's death. But, that's about it. Still, Hawkins is a small town, so the details are bound to come out eventually, and one clue seems to suggest that Joyce and Hopper dated in high school on Stranger Things.
These two go way back, so it's not a stretch — they went to high school in Hawkins together, which was revealed in the second episode of Season 2. Joyce and Hopper, crushed by Will's latest "episode" (his time in the Upside Down has left him with visions of a horrible monster) reminisce about the good old days when they would hide from teachers and smoke cigarettes together during school hours. Say what, now? The conversation feels wistful, almost, like they're both leaving something out, something unsaid. That would lead viewers to believe that Hopper and Joyce were more than just friends when they were in high school, and the fact that they are thrown together once more to fight a literal monster is kind of a cool reunion for them. Also, I guess viewers shouldn't be surprised that they went to high school together — Hawkins is a super small town. Still, it was a surprising revelation that they not only had class together, but were actual friends years before the demogorgon brought them back together.
But will it lead to more romance? Well, that's complicated. Firstly, Joyce is in a relationship with a man named Bob (Sean Astin, who was also in The Goonies and has a lock on being in 1980s entertainment), and they seem pretty happy. Bob works at RadioShack (remember when RadioShacks were a thing?), and he visits Joyce at her job to make out in the back room like teenagers. This relationship is in the honeymoon stage, when you want to make out in the back room like teenagers, and things appear to be going well for them. Bob is even over for movie nights and trying to give Will advice about bullies and scary stuff. And he has a video camera, which, in 1984, makes him the coolest. Jonathan isn't a fan, but Jonathan is a 17-year-old boy, and they're not into much of anything that has to do with their parents.
Hopper, on the other hand, has his plate full in dealing with Eleven, so not a whole lot of time for romance on his end either. After Eleven escaped from the Upside Down, she took off through the woods of Hawkins, throwing logs at unsuspecting hunters (I didn't trust that guy, either) and searching for Eggos. Hopper brought her in, setting her up at his cabin in the woods, and going so far as to make trip wires and the like around the place so that they'll know if any of those governmental baddies come looking for her. Except Eleven was born to run, so Hopper has to keep a constant watch.
Shared trauma brings people together, but Joyce and Hopper are two adults with their own lives and their own special set of circumstances. Plus, I really like Bob. If Joyce and Hopper dated, it was in high school, and that's where it would stay — these two are better off as alternate dimension-fighting friends.