People Think J. Lo Lip Synced At The Billboard Music Awards & They're Being SO Rude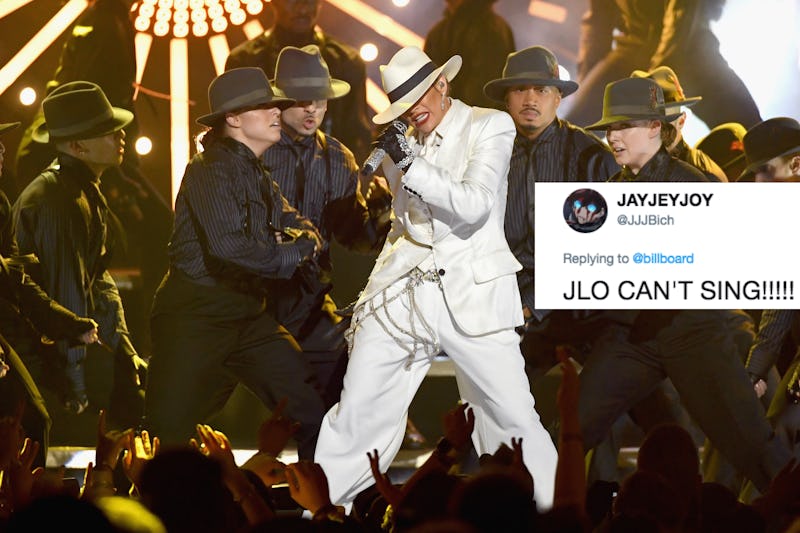 Ethan Miller/Getty Images Entertainment/Getty Images
During Sunday night's performance of her new song, viewers of the 2018 Billboard Music Awards accused Jennifer Lopez of lip syncing her rendition of "Dinero." The lavish performance stood out for many reasons — it had everything from gold lion statues, money raining down, DJ Khaled smoking a cigar, and backup dancers in 1940s gangster getup. But, viewers were focused on one thing: Whether or not J. Lo was really singing those words. (Bustle reached out to Lopez for comment but has not yet heard back.)
The Spanglish song is all about making millions and still wanting more, appropriately featuring Cardi B, whose hit "Bodak Yellow" also taps into wanting the finer things in life. The crowd was quite energetic, cheering her on and going wild when Lopez sings the line "Soy la Princesa, San Juan, Puerto Rico" — a nod to her Puerto Rican heritage. Viewers who were watching from home were less supportive, however — some suggested that she was focusing more on her dance moves than her singing, and that she may have been lip syncing, though this has so far been neither confirmed nor denied by Lopez's reps.
Many took to Twitter to question whether the performer was actually singing — and they rudely called her out on claims of lip syncing. Some even alluded to Mariah Carey's infamous 2017 New Year's Eve performance.
It's not as apparent at first, but some fans claimed that Lopez didn't sing into the microphone during the second half of her performance, which involved elaborate choreography that served as a homage to Michael Jackson — both in her moves and "Smooth Criminal"-inspired outfit.
If she was leaning on a backing track for that portion, well, who can blame her? Dancing and singing at the same time is hard, y'all.
This is hardly the first time anyone's been called out for potentially lip syncing at the Billboard Music Awards. Last year, Cher was criticized for seemingly lip syncing her classic "Believe" during her first awards show performance in nearly two decades. Back in 2016, there were plenty of others who were believed to not be singing live, including Britney Spears and Justin Bieber.
Lip syncing is actually pretty common during live events. In 2013, Beyoncé was criticized for potentially lip syncing at President Obama's inauguration. During an appearance on The Daily Show, Jon Stewart asked Lopez what she thought about Beyoncé's blunder. She responded saying, "When you're in certain stadiums and in certain venues and stuff, they do pre-record things because you're gonna have that terrible slapback." Lopez points out that there are times when it's perfectly fine to do it, so perhaps she had a backing track for her performance.
Whether it was performed live or not, this performance became one of the most memorable of the night. Lopez's moves and mid-performance outfit change were impressive, and it would've been very difficult for her to pull off all of that while also fully singing live. Besides maybe lip syncing, the biggest bummer of the performance was that Cardi B couldn't attend, since she's set to give birth soon. She would've definitely made it even better. Instead, they showed her part of the song in a screen in the background, serving as the perfect moment for Lopez to change from her diamond-crusted bustier to her "Smooth Criminal" getup.
Let's face it: Doing elaborate dance routines while singing and pulling off an outfit change is tough. Regardless of if Lopez actually did lip sync, she was able to give fans a great glimpse of what's to come for her awaited bilingual new album Por Primera Vez.