Lifetime's 'Harry & Meghan' Movie Got One Fact MAJORLY Wrong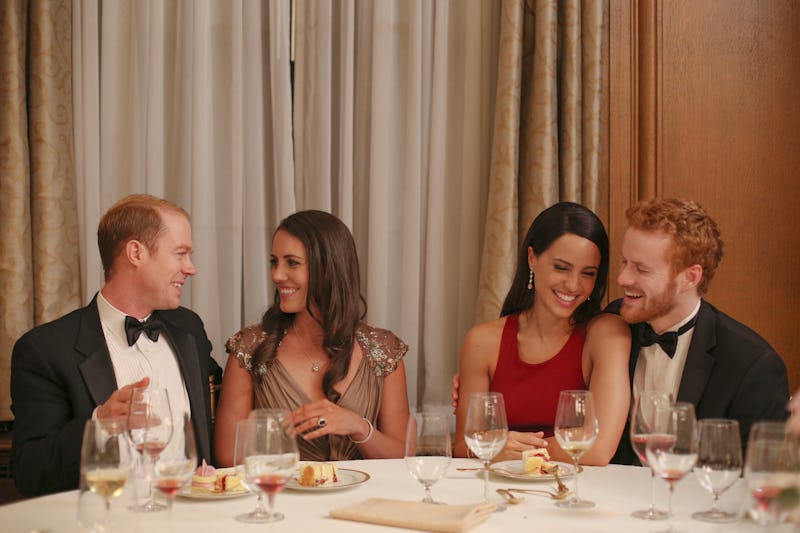 Lifetime
About two-thirds of the way through Harry & Meghan: A Royal Romance, Princess Kate Middleton whisks Megan Markle away to the bar at sister Pippa Middleton's wedding. She tells her not to worry about the people at their table, who were chattering about Markle's "biological clock," before she orders a virgin cocktail and divulges a juicy piece of information. So did Kate Middleton really tell Meghan Markle she was pregnant at Pippa's wedding?
Let's look at the real-life timeline of events, shall we? Pippa Middleton wed hedge fund manager James Matthews on May 20, 2017, according to a report from the Today Show, and though Markle wasn't spotted at the church where the ceremony took place, she had been previously rumored to be attending the festivities in some way. Prince William and Middleton announced the couple's third pregnancy on September 4, 2017, through a tweet from Kensington Palace's official account. So, if Middleton was very newly pregnant at her sister's wedding — which the Lifetime film suggests, as her character states that her ladies in waiting don't even know about it yet — she would have been nearly four months pregnant in early September when the public announcement was made. That's not out of the question, right?
Well, at the time, no. But Middleton gave birth to Prince Louis on April 23 of this year, which definitely skews the timeline the film presents. If Middleton told Markle about her pregnancy on May 20, she would have been a whopping 11 months pregnant when finally having her third child on April 23. Sometimes babies surpass the 9 month mark — sure — but not that much. So, it would seem as though the people behind A Royal Romance fudged or condensed the timeline to fit their narrative needs. It's not necessarily a mistake. It could have been a conscious choice to stray a little from the truth to send the message they wanted to send, which here seems to be that Middleton and Markle tend to "stick together" as the ones who married into this foreign life, and Middleton's pregnancy was a way to accentuate that idea.
At a press event for the film in Beverly Hills, screenwriter Scarlett Lacey acknowledged that there were some instances in which they chose to differ from how things probably happened in real life. "[Regarding] artistic license, we tried to be really really truthful wherever we could," she said. "The broach incident [in which a royal cousin wore an offensive pin to an event] did not happen where it does in the movie. But it did happen. So I'm really hoping that everyone's gonna watch the movie knowing that, you know, it would've probably been quite boring if it would've been completely truthful. We have used our imaginations in places."
Lacey also said that though the production remained as true to reality as it could by using the few interviews and comments that the couple has given, there were some blanks that still needed filled in. "In addition to what is true in fact, there were things that we knew had to be true in spirit," she continued. This referred to Harry and Markle's relationship and the milestones that typically accompany that, but could also fit in with the friendship the film wanted to foster between Markle and Middleton.
So while the timeline of Middleton's pregnancy might be manipulated a bit to best fit the movie, that doesn't automatically mean A Royal Romance as a whole doesn't try to stick to the truth. Any biopic is bound to take some creative license, and that can be achieved while still maintaining the overall integrity of the film. It is a movie, after all.