Beyonce Could Join Lady Gaga At The Super Bowl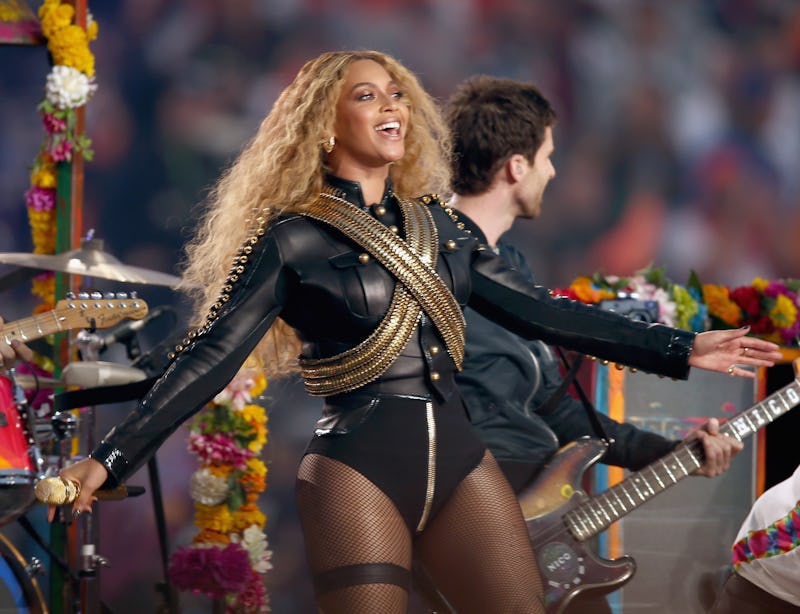 Matt Cowan/Getty Images Sport/Getty Images
I don't know about you, but ever Beyoncé revealed her second pregnancy to the world, it feels as if the world is a little brighter. The "Formation" singer's incredible snapshot of her pregnant belly, and the revelation that she is expecting twins with husband Jay Z, has understandably eclipsed all other news. And as if there wasn't already enough Beyoncé-themed excitement in the air, Lady Gaga just dropped a major hint about the Super Bowl by posting a certain emoji on Instagram. Now the question on everyone's lips is will Beyoncé perform at the 2017 Super Bowl with Lady Gaga? Fans think the "Bad Romance" singer just dropped a major clue about a potential duet at the game.
Gaga has continued to express her excitement about performing at the 2017 Super Bowl halftime show, which is obviously a major accomplishment for any performer. The American Horror Story star has shared several teasers regarding her performance, but a photo the singer posted on Wednesday night has caused the most speculation. In the shot, Gaga looks ponderously into the distance, dressed in work out clothes, clearly prepared for her big performance. And the caption reads, "Houston, you are beautiful. 🐝".
The reason that fans are worked up about the post is because many are convinced that Lady Gaga's use of the bee emoji is a reference to Beyoncé.
The bee emoji is often used to refer to Beyoncé, as she is the Queen Bey, after all. While Gaga's use of this particular emoji isn't definitive proof that she'll be reuniting with her "Telephone" duet partner, it's certainly suggestive of it. Since the pair have recorded music before, it's very possible that Beyoncé could join Lady Gaga at the Super Bowl halftime show.
This wouldn't be the first time that the former Destiny's Child member has sung at the Super Bowl, either. Beyoncé's solo performance at the Super Bowl in 2013, during which she reunited with her former bandmates, was totally legendary. And, in 2016, she brought the world to a halt when she joined Coldplay and Bruno Mars on stage, sharing a live performance of "Formation" with the world.
With Beyoncé's baby news taking over the internet, it would be the perfect time for the singer to make a high-profile appearance. We'll all have to keep our fingers crossed.