Andrew Cunanan Didn't Choose His Victims Randomly, According To 'American Crime Story'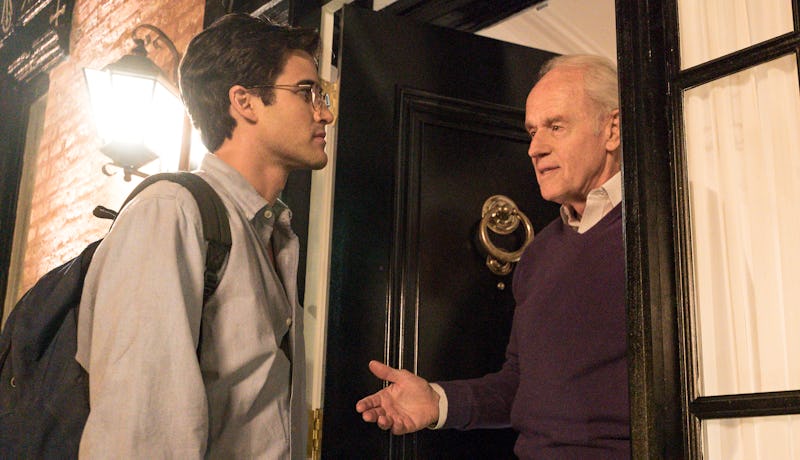 Matt Dinerstein/FX
The Jan. 31 episode of The Assassination Of Gianni Versace: American Crime Story (executive producer: Nina Jacobson), "A Random Killing," focuses on the murder of Lee Miglin, a real estate mogul from Chicago. The episode's version of events depicts that Lee Miglin knew Andrew Cunanan before Cunanan allegedly killed him. Yet, this version of events goes against what Miglin's family has maintained for 21 years.
The Chicago Tribune reported on the murder after Miglin was killed in May 1997 and before Cunanan was named as a suspect. As The Assassination Of Gianni Versace (editor: Emily Greene) accurately shows, Miglin and his wife Marilyn were prominent figures in the city. Lee, portrayed by Mike Farrell of M*A*S*H, had his real estate company and Marilyn, played by Judith Light of Transparent, owns a cosmetics and fragrance company. Both companies still exist in some form today. The Chicago Tribune also reported in 2018 that the couple was married for 38 years in 1997 and had two children.
The initial Chicago Tribune article reported that the 72-year-old Miglin was found dead in his garage. There had been no forced entry into his home, which implied that Miglin could have known his assailant. The perpetrator stole $2,000 and some of Miglin's personal items. As for the murder, the details are particularly disturbing. Miglin had suffered multiple blows to the chest. His face was wrapped in masking tape, his feet were bound, and his throat was slashed.
Police spotted a car with a Minnesota license plate near Miglin's home after the murder, another report from The Chicago Tribune noted. The car belonged to one of the men that Cunanan was suspected of murdering in Minneapolis. While those are the facts of the gruesome murder, what isn't known is why Cunanan targeted Miglin specifically, if in fact he did.
Maureen Orth wrote the book that The Assassination Of Gianni Versace is based on. And in her Vanity Fair report on Cunanan, she wrote that he was a sex worker. People who knew Cunanan also told Orth that he often sought out wealthy, older, gay men to date in his personal life. Because of these details, there were rumors that Miglin had known the young man who allegedly killed him and perhaps even had a sexual relationship with him. Speaking to The Chicago Tribune a year after Lee's murder, Marilyn denied these rumors about her husband and Cunanan. "We don't even think about it," said Marylin. "We know who we are and what we stand for."
Another connection that Orth investigated was one between Cunanan and Lee and Marilyn's son Duke. Duke Miglin was an aspiring actor in the 1990s, with a role in Air Force One. According to Orth's report, a friend of Cunanan's had told the FBI that Cunanan had said he was going to start a movie set business with a friend. That friend was allegedly Duke Miglin.
In a 2017 interview with ABC7, the local Chicago affiliate, Duke denied that he or his father ever knew Cunanan. "There was no relationship whatsoever," Duke said. "A lot of false things were brought up and they were very hurtful, very painful, for me personally and there were attacks on me as well that I really didn't appreciate. And I still don't."
Despite what the Miglin family says, The Assassination Of Gianni Versace gives a version of events where Miglin did know Cunanan. In fact, the series depicts Miglin as being a closeted homosexual who hires Cunanan as a sex worker. The series also shows Marilyn using her influence with city officials to bury this information. In an emailed statement to The Chicago Sun-Times, American Crime Story executive producer Brad Simpson said:
"What specifically happened in the moments leading up to Lee Miglin's death is known only by Andrew and Lee. This is true for almost all of Andrew's victims. Our writer, Tom Rob Smith, had to dramatize what we believe happened that weekend starting from the established facts of the crime scene. Based on the evidence, we believe that Lee and Andrew did know each other, and Andrew's attack, as with all his victims except for William Reese, was targeted and specific. We used Maureen Orth's book and consultancy, as well as the FBI records and the statements from witnesses inside the records for research and background."
Bustle reached out to FX and the network declined to give additional comment.
In its original report on the murder, The Chicago Tribune noted, "The police department was extraordinarily tightlipped about the case — a testimony to Miglin's position of influence in political circles here." But American Crime Story is still giving a very controversial account of the murder, especially since authorities never found solid evidence of a connection between the two men. "I can tell you unequivocally that we have not found a link between Andrew Cunanan and anyone in the Miglin family," former Chicago police superintendent Matt Rodriguez told ABC in July 1997. And in its 2017 article on Duke Miglin, ABC7 also noted, "The FBI looked into a few claims that Cunanan knew Miglin or his family, but no link was ever nailed down."
Crime specialists told Orth for her Vanity Fair article that Cunanan randomly killing Miglin didn't make sense to them. But that doesn't mean that what The Assassination Of Gianni Versace portrays is fully accurate. As ACS executive producer Simpson said, no one will ever know what happened in the moments leading up to Miglin's murder. So it's important to remember that this episode is a dramatization of an incomplete set of facts.