Lucy Hale Is The Subject Of Breakup Rumors... Again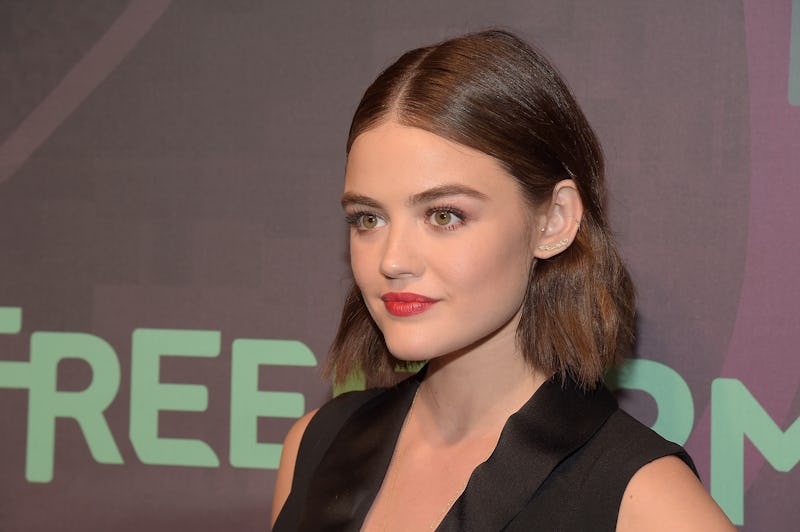 Theo Wargo/Getty Images Entertainment/Getty Images
Aria Montgomery and her real-life beau might be through — that is, if you believe the latest rumor. According to Entertainment Tonight, Pretty Little Liars star Lucy Hale and Anthony Kalabretta reportedly broke up. As ET claimed, the couple, who started hanging out in 2015, not only unfollowed each other on social media, but reportedly purged photos of one another from their accounts. (Bustle reached out to Hale's rep for comment, but did not receive an immediate response.) However, before you jump to any conclusions, keep in mind that this isn't the first time Hale and Kalabretta have been the subject of split talk.
In January 2016, Us Weekly reported that the pair ended their relationship. However, Hale denied the report by sending a succinct and clear-cut tweet to Just Jared. In response to a tweet about the then-alleged split, she simply wrote, "false." And as recently as September 2016, Hale was still shutting down breakup rumors, telling People magazine, "He's great."
I suppose we shall just have to wait until Hale fires off another unambiguous tweet, eh? I mean, given her past reactions to breakup chatter, I don't think it's wild to assume she'll respond to the latest report. That being said, she really shouldn't have to keep explaining her relationship status to the world, you know?
Between the upcoming PLL finale and the recently green-lit Life Sentence, she has plenty of awesome stuff to talk about. She really doesn't have to respond to breakup chatter if she doesn't want to. Live your truth, Hale. And whatever the case may be, I'm wishing both Hale and Kalabretta the best.