Disney Parks Are Celebrating Halloween With A Massive 'Hocus Pocus' Villain Spectacular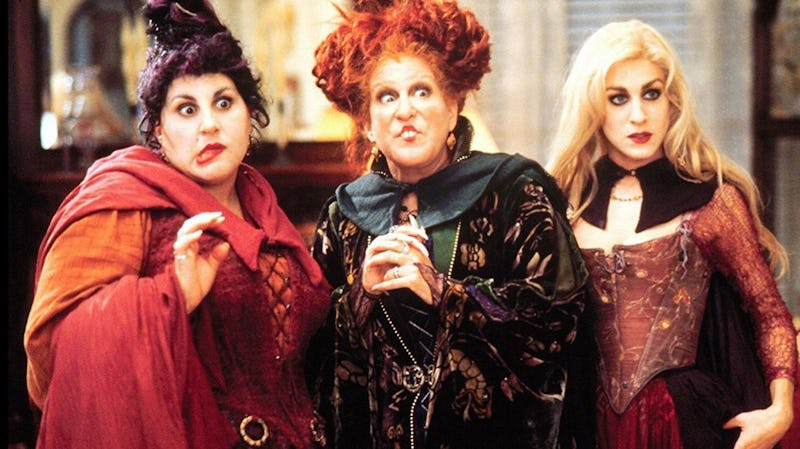 Disney
If you've always been a bigger fan of the Disney villains than the heroes, princesses, and princes, then Disney World's 2018 Halloween event is the place for you. As always, Disney World's Magic Kingdom is celebrating the holiday with Mickey's Not-So-Scary Halloween Party. This year, the big show at the center of it is the Hocus Pocus Villain Spectacular, which pairs the movie's Sanderson Sisters up with other famous villains of Disney past.
According to the Disney World site, the other villains include Dr. Facilier from The Princess and the Frog, Oogie Boogie from The Nightmare Before Christmas, and Maleficent from Sleeping Beauty. As for the show, Disney says that there's "amazing dancers, wild visual projections, and otherworldly special effects". It also looks super colorful and like there's a bunch of fireworks. Not that anyone should expect anything else from Disney World.
But it's not just this big show that makes up Mickey's Not-So-Scary Halloween Party. The festivities, which are meant for all ages, also include trick-or-treating, ready for Halloween character mascots, and all of the other rides and food that visitors can normally expect at the Magic Kingdom with a Halloween spin. There is also a party for little kids called Junior Jam, and for this year's Not-So-Scary event it features Vampirina from the Disney Junior series.
If you want to attend the Halloween party, tickets are still available. The event started on August 17 and ends October 31. It only takes place on certain dates, so be sure to check the schedule before you buy your tickets.
For Disney fans on the west coast, there is also a Halloween celebration at Disneyland. This one includes spooky decor, the Haunted Mansion getting a makeover inspired by The Nightmare Before Christmas, Space Mountain Ghost Galaxy, and the Main Street Pumpkin Festival. Halloween is being celebrated at both Disneyland Park and Disney California Adventure Park. The events run through October 31 and while tickets are still available to experience Halloween at Disneyland, tickets for Disneyland's Mickey's Halloween Party are sold out.
Those who aren't able to go to either Disney park can also take part in the Disney Halloween fun, especially if they are fans of Hocus Pocus. A lot of Disney's Halloween merch this year features the 1993 movie. This includes T-shirts that look like the Sanderson sisters' dresses, a spirit jersey that says "Amuck, amuck, amuck", a tote bag, a cauldron-shaped mug, and more. And aside from the Hocus Pocus items, the Disney shop carries a ton of Halloween apparel and products.
Also, since this year marks the 25th anniversary of the movie starring Sarah Jessica Parker, Bette Midler, and Kathy Najimi, it will be returning to the big screen in honor of that milestone. AMC announced the news on October 1. Hocus Pocus will be in AMC theaters from October 26 to October 31. To see if the movie is being shown in a theater near you, search your zip code on the AMC site here.
You see, there are plenty of ways to celebrate the holiday that are perfect for the biggest Disney fans out there.