Disney's Halloween Dessert Lineup For This Year Includes Maleficent Horn Ice Cream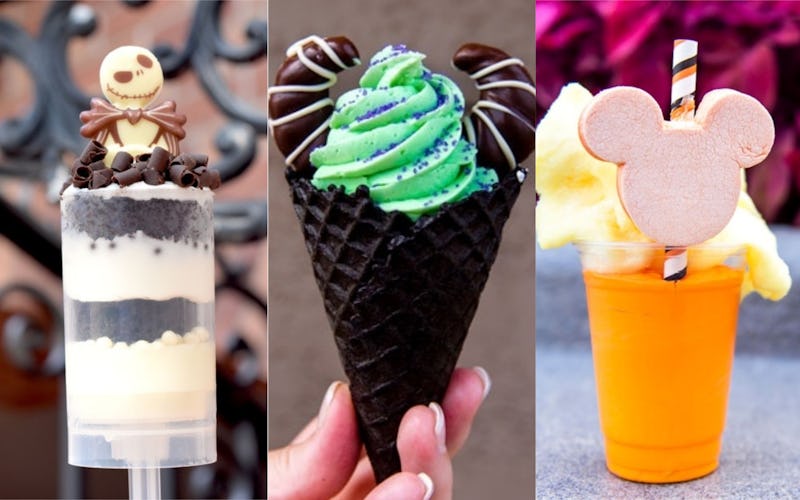 Disney Parks Blog
Winter is fine. So is spring. Summer is OK, I guess. But you know which season is the best? Fall. Hands down. And not just because of sweater weather and the availability of pumpkin spice everything — but because of one very specific holiday: Halloween. And no one does Halloween like Disney does Halloween, so it would stand to reason that no one does Halloween desserts like Disney does Halloween desserts, either, right? Right. I mean… just look at these photos of all the sweets that will be available at Mickey's Not-So-Scary Halloween Party at the Magic Kingdom in Walt Disney World this year. They are truly something else — and right now, I really, really wish I lived in Florida so I could try each and every one.
Mickey's Not-So-Scary Halloween Party is actually a relatively recent addition in the grand scheme of things; despite the fact that Walt Disney World itself first opened its doors in 1971 (on Oct. 1, even!), the now-annual event didn't see its inaugural celebration until 1995, according to Best Of Orlando. That first year, the party occurred on only one night — Halloween itself — but due to its popularity, it expanded year after year until we ended up with the months-long seasonal celebration that occurs now.
In 2018, Mickey's Not-So-Scary Halloween Party kicks off in August, occurring on just four nights throughout the month; in September, the number of party nights expands to 12; and in October, more than half the month features party nights — 18 nights in all. The event is separately ticketed from park admission, so if you want to go, you still need to get yourself, at minimum, a one-day, one-park pass to the Magic Kingdom; then, a separate ticket for the Halloween party will set you back an additional $85 per adult or $80 per child between the ages of 3 and 9.
It's certainly not cheap; for what it's worth, though, you do get a ton of fun extras for shelling out the additional cash. In addition to being able to ride some of your favorite rides — often with shorter lines than you'll see during the day — you can trick-or-treat throughout the park, watch Mickey's Halloween Parade, take in a special Halloween edition of the nightly fireworks show, and visit with some of your favorite characters (especially the villains), and bop along to a Hocus Pocus stage show (HECK YES). A couple of classic rides also get a seasonal facelift; for example, according to Undercover Tourist, "new, interactive pirates will invade Pirates of the Caribbean on the hunt for 'Gunpowder Pete.'" (Who is Gunpowder Pete? No idea. I suppose we'll find out, though.) Costumes are encouraged — and, of course, there are plenty of spooky and delicious treats to be found throughout the park.
(Yes, that GIF is from the Hocus Pocus show. It looks fabulous, does it not?)
Worth noting: Because these desserts are specifically meant to celebrate Mickey's Not-So-Scary Halloween Party, according to the Disney Parks Blog, many of them — not all of them, but many — are only available on party nights. So, before you get your heart set on acquiring and devouring any of them, make sure you check what their availability is like. The good news, though, is that even if you're just hitting up the Magic Kingdom during the day and not planning on going to the party itself, you'll still be able to get a hold of a solid number of options — one of which happens to be my favorite dessert of the bunch.
Seriously, folks. It's spectacular.
So! Without further ado, here's a rundown of 14 Halloween-themed desserts you'll be able to get at the Magic Kingdom at various points throughout the Halloween season. I guarantee you that you will want to try them all. Because how could you not?