Disney World Is Now Serving Millennial Pink CHAMPAGNE Complete With Mickey Ears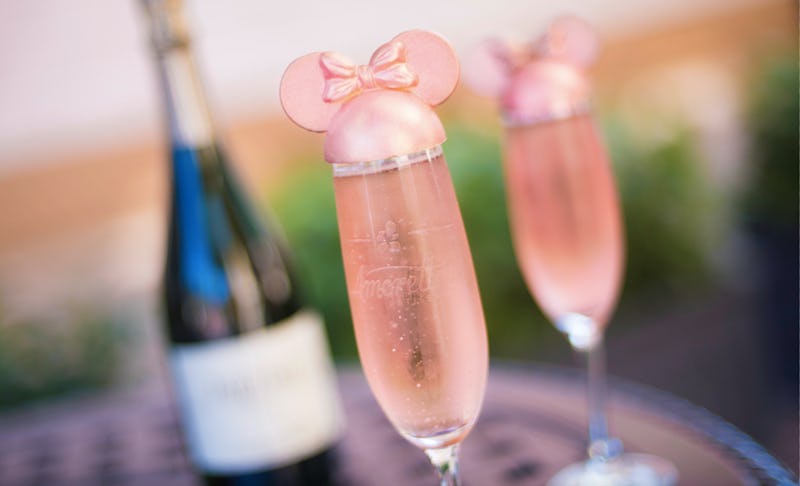 Disney Parks Blog
As if the announcement of a whole bunch of millennial pink Disney desserts wasn't already exciting enough, there's actually another worthy foodie story hiding in all that goodness that deserves its own moment in the sun: You can get pink champagne at Walt Disney World now. OK, so technically it's not champagne; we are all aware that only sparkling wine that comes from the Champagne region of France is actually champagne. Everything else is just referred to as plain ol' sparkling wine — but that doesn't make it any less delicious. And in this case, it doesn't make it any less pink, either.
The drink's official name is the Millennial Pink Celebration Toast (which, as I previously noted, refers to the kind of toast you make with a beverage, not the kind of toast that's made of bread and frequently topped with avocado), according to the Disney Parks Blog. As of this week, it's available at Amorette's Patisserie, a pastry shop/the literal realization of all of my dreams located in the Disney Springs area of Disney World in Orlando, Fla. Amorette's is a relatively new addition to Disney World; it opened in 2016, when the totally revamped Disney Springs held its own grand opening. Previously known as Downtown Disney, the area became known as Disney Springs after a massive renovation project began in 2013. The renovations brought a number of new shops and restaurants to Disney World's retail space while also creating a strong sense of theme.
Amorette's was one of those new restaurants — and believe you me, I am just searching for an excuse to go down to Florida so I can check it out. It offers a variety of the fanciest-looking pastries you ever did see, including gorgeous princess-themed cakes, rainbow-colored macarons, and cakes that look kind of like what might happen if you took Mickey's pants and made them into a hat. I know that sounds weird, but it's adorable:
The cuteness! It is too much for my soft and tender heart to handle!
There are drinks on the menu, too, of course — and happily, it's one of the places on Disney property where you can get boozy adult beverages, including the Millennial Pink Celebration Toast. The pink drink isn't really a cocktail, per se; it's just a hearty pour of sparkling wine — although you could make the argument that the presentation raises it to cocktail levels of sophistication: The wine is bubbly and pink; it's presented in a beautiful glass flute; and it's topped with a tiny, millennial pink Minnie ears hat that's made of chocolate.
You heard me.
The drink has a hat.
And it's made of chocolate.
There is nothing about that which I do not love with every fiber of my being.
Oh! Right — you'll probably want to know exactly what kind of sparkling wine we're talking about here. According to the Disney Parks Blog, it's "a tall glass of Fairy Tale Celebration Cuvee," which a little digging reveals is made by Sonoma County winery Iron Horse Vineyards. According to the Washington Post, Fairy Tale Cuvee was the first private blend the winery ever created; it was designed specifically for Disney and can generally only be acquired at Disney Parks and on the Disney Cruise Line.
Wine.Woot offers the most comprehensive description of the wine I've been able to find. Apparently, the 2007 vintage was 88 percent pinot noir and 12 percent chardonnay, the combination of which gives it its delightful rosé hue. The nose is characterized by strawberry, minerality, and red apples, while the notes you'll taste as you drink it include apricot, cherry, strawberry, cardamom, cinnamon, and lime. Wine.Woot suggests pairing it with brunch, drinking it as an aperitif or as a nightcap, and (of course) using it for toasts.
It's not clear whether the Millennial Pink Celebration Toast is a limited-time offering or if it's getting added to Amorette's menu in a more permanent capacity; either way, though, it's worth stopping by the next time you're in the area. By which I mean, people who live in Orlando? Please go there sometime, order this thing, take pictures of it, and send them to me. Because even if I can't get a hold of it myself, I could gaze longingly at it all dang day.
Is it five o'clock yet?