Jasmine Is Getting Her Own Solo Song In The Live-Action 'Aladdin' — FINALLY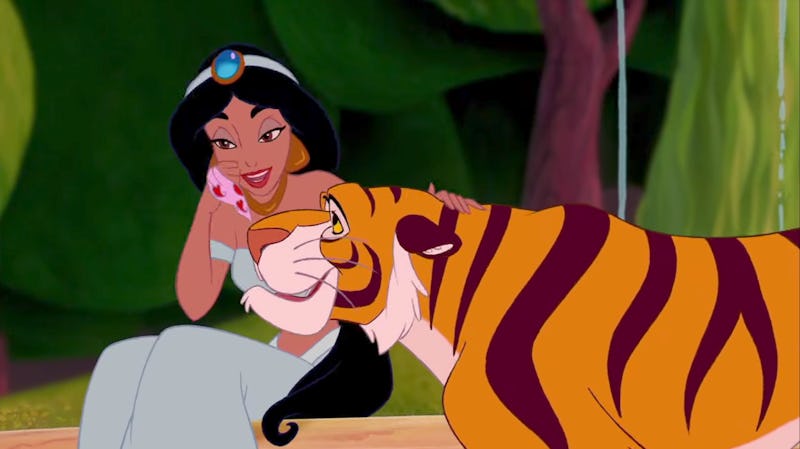 Disney via YouTube
A whole new world will open for Disney fans when the live action Aladdin reboot hits theaters, and that new world will include a brand new musical number for one of the film's most important and iconic characters. It has been revealed that Jasmine will sing her own solo song in the live action Aladdin remake. The news was announced in a recent interview Oscar-winning songwriters Benj Pasek and Justin Paul gave to Variety.
Pasek and Paul, it seems, teamed up with legendary composer Alan Menken to create a new solo song for Naomi Scott's Jasmine to sing. According to Variety, the La La Land and Greatest Showman songwriting team were hired to write a few new tracks for the movie. These new songs include a "sweet" new duet for Jasmine and Aladdin (who will be played by Mena Massoud) to sing, as well as a solo song for the film's leading lady. "Alan [Menken] wrote a beautiful piece of music and [Scott] is incredible," Paul revealed, adding that the pair also contributed a new verse to the animated film's iconic opening number, "Arabian Nights."
Of all of the pair's updates to the animated film's soundtrack, it's Jasmine's solo song that seems the most promising, especially when you realize that the princess' only sang on one track in the entire film: "A Whole New World." The animated film does give some screen time to the princess' hopes for more freedom and independence, but Jasmine never gets a moment in the film to express herself through song, the way that Aladdin, the Genie, and even Jafar do. And considering that the most memorable parts of the film are the musical numbers, it feels like a missed opportunity to not let Jasmine belt something out with all of the focus strictly on her.
Of course, the reboot wouldn't be the first time that Aladdin's soundtrack was expanded in order to give Jasmine more of a spotlight: The Broadway adaptation of the film features a song called "These Palace Walls," in which the trapped princess sings about her desire to experience life and escape the pressures of royal life. While it's not as show-stopping and explosive as say, "Friend Like Me," the number is still just as important, as it gives the audience a chance to hear from Jasmine on her own terms.
There's still so much about Jasmine and her pre-Aladdin life that even the most hardcore Disney fans are wondering about, so why not use the reboot as an opportunity to really bring her character to the forefront and celebrate her, as the iconic, independent and inspiring princess that she is. Adding a solo song for her is just one way to do that; hopefully the new script will offer even more opportunities for Jasmine to shine and for the audience to get a new look at a character they've loved for decades.
Jasmine deserves more than just a single duet in "A Whole New World." And while it's wonderful that she and Aladdin will also have a new song with which to charm us all — Pasek and Paul are, after all, the songwriters who made Ryan Gosling serenade us and had Zac Efron and Zendaya "Rewrite the Stars" and fall in love while flying through the sky — the song most likely to inspire audiences and bring new fans to the Disney fold is probably Jasmine's big solo moment.
Unfortunately, the world will have to wait until Aladdin is released on May 24, 2019, in order to hear this princess sing her mind once more.