Disney Released Stunning Vinyl LPs Of Your Fave '90s Movies & You'll Want Them All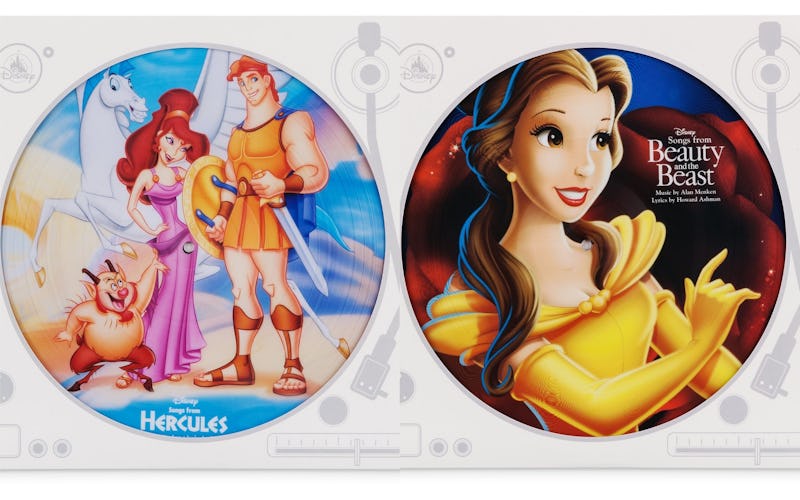 shopDisney
Listen, I try to stay humble. But last July I tweeted at Disney's Twitter handle "release the Hercules soundtrack, you cowards," and guess what, fellow humans of the internet? They did just that, and then some. I'm not talking Spotify and iTunes, y'all. This is the nostalgia big leagues. Disney released vinyl LP records of '90s movies that are so magnificently vivid in color and detail that I can't tell what's louder, the screaming of my little '90s baby heart, or the weeping of my bank account.
The records are available online via shopDisney as part of the Oh My Disney '90s Flashback Collection, which is full to the brim with what I like to call ~millennial bait~. I'm talking clutches and journals shaped like VHS tapes, clocks with Simba's face on them, rainbow click-y pens with Hercules designs, keychains, enamel pins, mugs — the whole nine yards. It's like the truck full of all the stuff your parents gave away from your childhood bedroom just pulled back up on your lawn and chucked them back out, except now you kind of want them so badly you may or may not just lose control of your human body in the middle of the work day, hit "add to cart," and shamefully click out of an order confirmation email letting you know that Hercules on vinyl is headed to your door in the next week. (I'd say send help, but it's clearly too late.)
Behold.
Each of the vinyl records in this collection is fully-colored on either side, depicting characters from the beloved films, and features songs from their soundtracks as well as singles that were released in conjunction with them. I am talking some 1997 realness, y'all. They also include plastic slip cover with a circular window sleeve, so you can still admire the art of your childhood even when you don't have it playing on your turntable (although to be honest, when am I not going to need "Zero To Hero" cued up for emergencies?).
The full collection includes vinyl records of the soundtracks from Hercules, Beauty and the Beast, Aladdin, and The Lion King. To be clear, there are definitely vinyl records of all of the Disney movies available online and in specialty music stores — but these are distinct in their colorful artwork, which tap specifically into that '90s kid nostalgia vein.
This, of course, has presented quite a profound problem I did not anticipate having in adulthood, which is deciding which of these movie soundtracks to play when I get home from the office and need to either unwind by shouting "prince AaaaallliiIIIIIIII!" or the all of the riffs from "Circle Of Life" at the top of my lungs. Prayers up for my neighbors, y'all.
Anyway, sorry for letting you know about this, because I basically just helped you kiss a hundred of your hard-earned dollars goodbye. If it makes you feel any better, shopDisney usually has some kind of free shipping deal every few weeks! And also if it makes you feel any better, I'm $25 less rich now, too.