Kevin & Astrid's Relationship Post-'BiP' Might Surprise Some Fans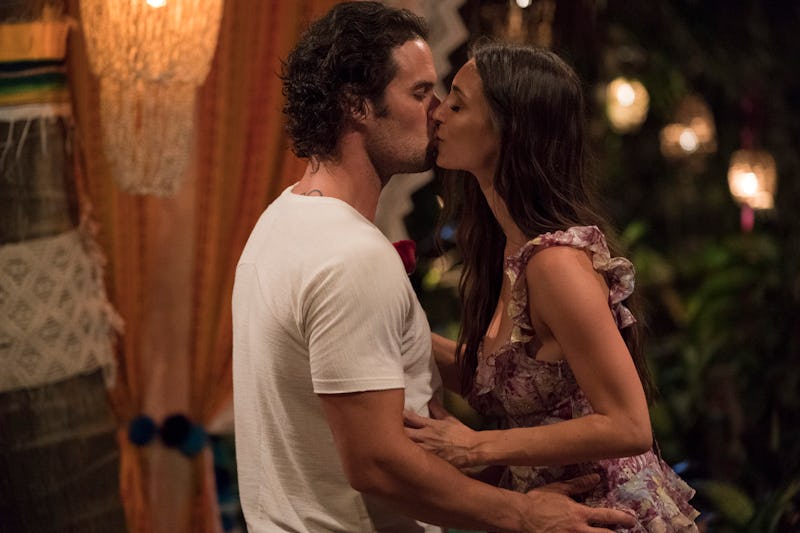 Paul Hebert/ABC
The idea of a couple falling so deeply in love in three weeks that they can make the decision to get married and stay together forever is pretty implausible, but shows like Bachelor In Paradise make us forget these things for the sake of entertainment. The relationships burn hard, bright, and fast, and that's OK. But every so often, a couple comes along, a couple that is rational and thoughtful and wants to try and make it in the real world. For Season 5 of Bachelor In Paradise, that couple is Kevin and Astrid. Do Kevin and Astrid get engaged on Bachelor In Paradise? This pair may not take the path you think.
Kevin and Astrid are Bachelor pros — she was on Nick Viall's season of the show, and Kevin was on the Canadian version of The Bachelor, as well as on The Bachelor Winter Games. He left that show with Ashley Iaconetti, but the two broke up mostly because Jared Haibon confessed his love to Ashley, and now the two are engaged. Kevin, as we learned in the premiere episode of this season of Bachelor In Paradise, got his heart broken by Ashley when she cheated on him, so he was ready for some tender loving care.
Enter Astrid. Usually, the coupling up on Bachelor In Paradise seems extraneous and superficial, but Astrid and Kevin locked instantly, and they're not just bonding over haircare products and favorite colors. Kevin and Astrid have had some serious talks on Bachelor In Paradise, ranging from their insecurities in relationships to how important therapy is to keep a sound mind. These two have gone deeper than any other couple on this season, which I think means that they're potentially in it for the long haul.
But does that mean that Kevin will pick a Neil Lane sparkler and propose on the show? Well, not exactly. If professional Bachelor spoiler Reality Steve is to be believed, Kevin and Astrid might not get engaged and instead opt to split during the Bachelor In Paradise finale. Shocking? Well, not really. As of the reunion special, according to Reality Steve, they're together, which is a good thing.
It's great that they didn't get engaged because it shows that they're really serious about their relationship. Taking it slow is never a bad thing here! Being a couple post-Paradise isn't easy because real life comes in and messes it all up. Getting engaged at the end of Paradise is to ignore all of the obstacles that are going to come up once you've rinsed all the sand out of your shoes. By not getting engaged and by deciding after filming wrapped to get back together — if Reality Steve is to be believed — Kevin and Astrid are showing good faith in their relationship by living it out on their own terms. That means these kids may have a shot in the dark when it comes to living happily ever after post-Bachelor In Paradise. Best of luck to them.