Doctors Have Lots Of Tips For Avoiding Coronavirus. Wearing A Mask Isn't One Of Them.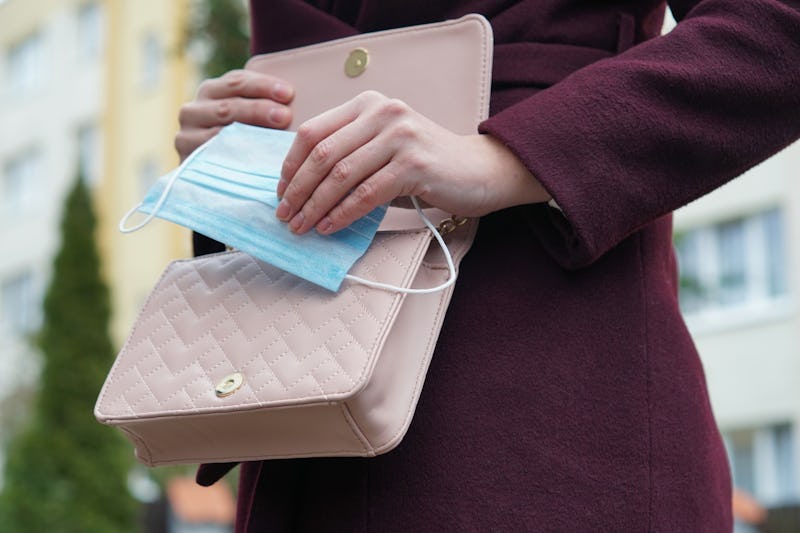 Shutterstock
This post is updated regularly to reflect the latest news and science around coronavirus, also known as COVID-19.
As COVID-19 continues to spread and fear around the pandemic intensifies, people all over the world are stockpiling disinfectant wipes, hand sanitizer, and masks to protect against coronavirus. Hysteria is never helpful, but it can be particularly harmful when consumers are causing manufacturing shortages of the very equipment that medical workers need to do their job safely — face masks.
"Everyday wear of a mask isn't recommended [as a preventative measure], Dr. Janine Kelly, M.D., an attending physician at Maimonides Medical Center, tells Bustle. "I only suggest wearing a mask if you're being exposed to someone who might have been in contact with the virus." The CDC reiterates this recommendation.
But due to confusion and myths about the coronavirus, lots of people have already rushed to buy face masks as a precaution. There's now a global shortage of face masks, driving concerns that those who actually need masks aren't be able to access them.
Who Should Wear A Mask During The Coronavirus Outbreak?
As of March 11, the Centers for Disease Control and Prevention (CDC) does not recommend that the "general public" wear a face mask as a means of preventing the spread of coronavirus. In fact, it actively recommends that you don't wear one. You should only wear a mask if you have to interact or share close quarters with an infected person, whether personally or professionally.
Instead, the federal agency suggests that people take the following precautions: Avoid close contact with sick people; stay home if you're sick; clean and disinfect surfaces that might be contaminated; and wash your hands with soap and water for at least 20 seconds frequently.
While a mask does help protect you from viruses that pass through respiratory droplets, it won't guarantee your safety.
"We don't routinely recommend the use of face masks by the public to prevent respiratory illness," Nancy Messonnier, M.D., a director for the National Center for Immunization and Respiratory Diseases, said in a briefing in late January. "And we certainly are not recommending that at this time for this new virus."
Can N95 & Surgical Masks Protect You From Coronavirus?
It's true that coronavirus can be passed via respiratory droplets, which is why many people think masks are an easy solution. However, masks often don't fit tightly around the skin, so small airborne particles can still get through.
If you have to interact with someone who was infected, then two of the most common options to choose from are a surgical mask and an N95 respirator, which offer are thicker and a tighter fit. N95 is a reference to the designation used by the U.S. National Institute for Occupational Safety and Health, which confirms that the mask can prevent the inhalation of at least 95% of airborne particles. As for surgical masks, the CDC reports that they're able to prevent "large" respiratory droplets from inhalation, but can't necessarily filter out smaller droplets.
There's varying research, regarding a potential difference in efficacy between the two options. For example, one clinical trial conducted by scientists from UT Southwestern Medical Center and carried out at 137 outpatient sites in seven U.S. cities from 2011-2015 found no "significant difference" between the two masks, in terms of how well they prevented influenza.
In contrast, a 2013 study led by Australian researcher Raina MacIntyre and conducted on Chinese hospital staffers in Beijing, China, from 2009-2010 suggested the exact opposite conclusion. Specifically, the results of the study argued that the staffers who wore N95 respirators "all the time" experienced much lower rates of respiratory illnesses than those who wore surgical masks, or who only wore N95 respirators in specific instances at work.
Of course, the efficacy of any mask will depend on whether or not you wear it correctly. "For [an N95 respirator] to be worn properly, it must fit over the nose and mouth, coming in contact with smooth skin," Dr. Mariea Snell, M.D., an assistant director of the Online Doctor of Nursing Practice program at Maryville University, tells Bustle. "Facial hair would impact its ability to make the seal it needs to be effective." Like Kelly, she doesn't recommend wearing one as a preventative measure unless you know you'll be in contact with someone who's infected.
Coronavirus Fears Are Causing Mask Shortages
On March 9, The New York Times reported that some hospitals around the country are running out of N95 respirator masks. A March 3 press release from the World Health Organization estimates that the industries behind these products will have to increase manufacturing by upwards of 40% to meet the global demand in the coming months.
On March 5, Mike Bowen, the executive vice president of one of the only U.S.-based manufacturers for respirators and surgical face masks, told NPR, "I've got requests for maybe a billion and a half masks, if you add it up." Bowen said he gets at least 100 calls and emails a day, requesting masks. On a "normal" day, he usually doesn't get any.
The WHO has warned people and companies against stockpiling masks, since this shortage is "endangering health workers worldwide." A March 3 news release from WHO reads in part:
"Healthcare workers rely on personal protective equipment to protect themselves and their patients from being infected and infecting others. But shortages are leaving doctors, nurses and other frontline workers dangerously ill-equipped to care for COVID-19 patients, due to limited access to supplies such as gloves, medical masks, respirators, goggles, face shields, gowns, and aprons."
If you want to stay up to date on the latest news about coronavirus, Snell suggests taking advantage of your social media apps. "Social media is a great way to get up to date information," she says. "Following the CDC and World Health Organization (WHO) on Twitter and Instagram will provide you access to the latest information as things develop." In the meantime, you probably shouldn't worry about rushing to the store for a mask.
If you think you're showing symptoms of coronavirus, which include fever, shortness of breath, and cough, call your doctor before going to get tested. If you're anxious about the virus's spread in your community, visit the CDC or NHS 111 in the UK for up-to-date information and resources, or seek out mental health support. You can find all Bustle's coverage of coronavirus here, and UK-specific updates on coronavirus here.
Studies Referenced:
Radonovich, L. (2019), N95 Respirators vs Medical Masks for Preventing Influenza Among Health Care Personnel. The Journal of the American Medical Association, https://jamanetwork.com/journals/jama/fullarticle/2749214
MacIntyre, R. (2013), A Randomized Clinical Trial of Three Options for N95 Respirators and Medical Masks in Health Workers. American Journal of Respiratory and Critical Care Medicine, https://www.atsjournals.org/doi/full/10.1164/rccm.201207-1164OC
Experts:
Dr. Mariea Snell, M.D., assistant director of the Online Doctor of Nursing Practice program at Maryville University
Dr. Janine Kelly, M.D., attending physician at Maimonides Medical Center