Georgie & Molly's History Could Make That 'Our Girl' Love Triangle Awks AF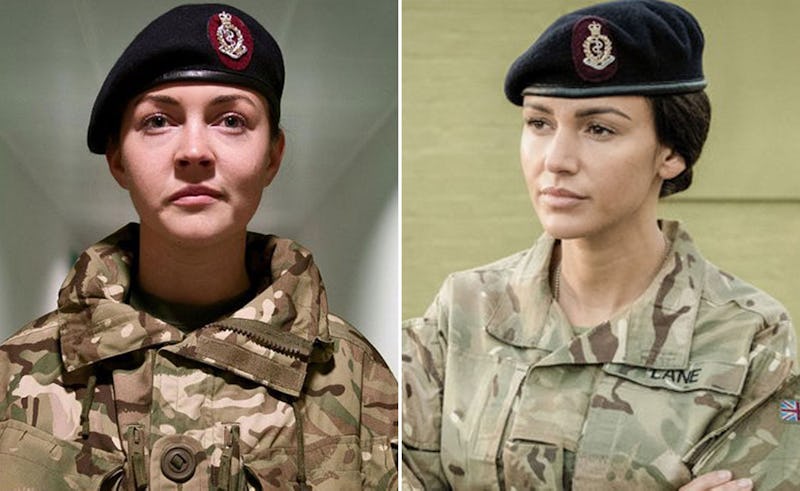 BBC
Our Girl Series 3 is swiftly coming to an end, and there's certainly no shortage of drama — especially after Captain James (Ben Aldridge) revealed his true feelings for Georgie (Michelle Keegan). I mean, he's literally just separated from his wife, former medic Molly (Lacey Turner). She hasn't even left their marital home yet, but already, her hubby appears to be moving on. Rubbing salt in the wound, don't Molly and Georgie know each other in Our Girl? Aren't they supposed to be friends? What's the deal? Well, let's examine the evidence.
While we've never seen them together on screen, all signs are pointing to a resounding yes. Firstly, Captain James was best friends with Elvis Harte (Luke Pasqualino), Georgie's fiancé, before he was killed in action. They were so close that Aldridge suggested Elvis played a big role in Captain James' wedding when he married Molly. He told What's On TV: "The pair of them would have been each other's best men basically."
Erm, if Elvis was best man at the wedding, surely he would have been allowed to bring a plus-one? And surely, his plus-one would have been his fiancée, Georgie?
In the current series of Our Girl, Georgie confirmed that she definitely does has some sort of friendship with Molly. During a heart-to-heart with Captain James, the medic admitted that she is friends on Facebook with his wife. Now, I'm not saying this means that they're BFFs or anything, but all the signs to me suggest that Molly and Georgie do know each other and are at least acquaintances. And if Georgie did attend Molly's wedding and now decides to pursue a romance with her hubby just days after their marriage broke down, I suspect some serious drama is about to go down in Series 4.
Even though their marriage occurred off-screen, the relationship between Captain James and Molly captivated the hearts of viewers. So, when he revealed that the relationship was over in last week's episode (July 17), fans were gutted. Making matters worse, Captain James told Georgie that he had feelings for her. Let's just say fans were not exactly pleased. Just check out the reaction on Twitter:
It's not as though Molly and Captain James have only been married for a few months. There has been a pretty substantial amount of time between the couple saying their vows and the dissolution of their marriage.
Opening up about his character's relationship with Molly, Aldridge said in an interview with the Radio Times that people want them to be a "happily ever after couple, which hardly ever happens in a TV drama because there's no conflict, no drama." Hinting that the couple may work through this, he added: "I think people do like the idea of them lasting and making it work, and who's to say they might? But there are struggles along the way."
Um, what? Molly and James could make still make it work? That definitely goes hand in hand with the theory that Georgie may be killed off, meaning that Molly could actually make a return on screen rather than via phone calls.
I mean, what better drama could there be than Captain James falling for Georgie only to have her taken away from him, in turn allowing him to re-evaluate his failed marriage with Molly?
Our Girl creator Tony Grounds is certainly more than happy for Turner to come back to the show. He told the Radio Times: "If she ever wanted to do it she's only got to ring me up … I don't know how EastEnders works and we're invariably filming abroad. But I love that Molly Dawes character."
Whatever the result may be, it's most certainly going to end in heartbreak for all three characters. You'll just have to wait and see how this developing love triangle may pan out.
Our Girl returns to BBC One on Monday at 9 p.m. The final episode of the series will air on BBC One on Tuesday at 9 p.m.