How The VMAs' Genderless Categories Actually Impact Women's Chances Of Winning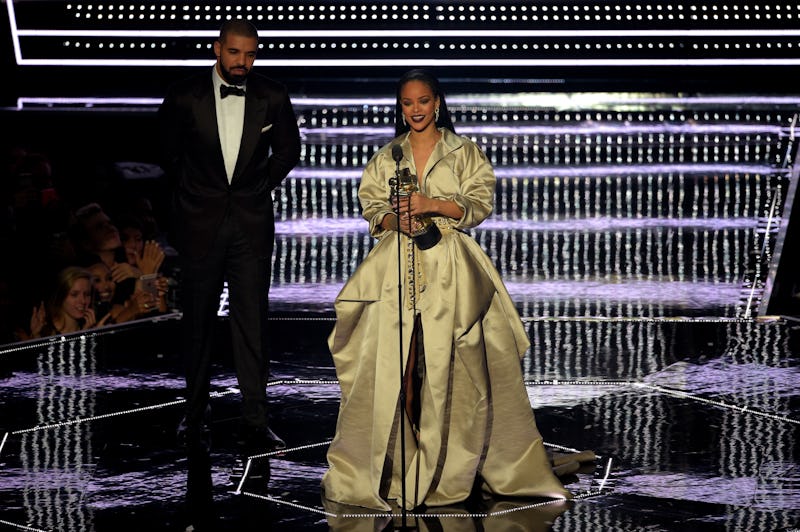 Jason Kempin/Getty Images Entertainment/Getty Images
For this year's Video Music Awards, MTV broke tradition to roll out a progressive new concept, abolishing male and female-specific categories in favor of non-gendered nominations. It's an ambitious step forward in theory, but in practice, it raises an important question: Do the VMAs genderless categories give a better chance to women, or worse?
Unfortunately, it seems to be the latter, at least based on this year's VMA nominees. Of the 15 total categories, women only outnumber men in one — Best New Artist — while men have the majority in 12. Five of those include no female nominees whatsoever, and only two — Best Pop and Best Collaboration, which features several male-female team-ups — are evenly split. On average, women have roughly a 28.8 percent chance of winning a newly christened "Moon Person," while men's odds are a staggering 83.1 percent. That's a significant drop when compared to last year, which averaged a higher (though still imbalanced) 41.25 percent chance for women and 76.25 percent for men.
It's an interesting disparity, given that up until recently, women had long dominated the charts, though this is likely a reflection of the music industry as a whole. The 2017 Best Rock and Best Hip-Hop categories, for example, include no female nominees, and both are genres that have historically shut out women, regardless of the many female artists that continue to drive them. And as you move into the more behind-the-scenes VMA categories — direction, cinematography, editing, etc. — there are even fewer women on the list, which seems to quite obviously mirror the gender inequity still plaguing Hollywood.
But even putting the greater politics of the gender gap aside, you'd expect a somewhat closer tally. It's unclear who exactly decides the nominees, but it's certainly not a fan vote. And considering the broader message behind non-gendering the show suggests an attempt to foster a more even, inclusive playing field, you'd think the network would have done better to ensure the change actually does so.
Still, that's not to say MTV isn't moving in the right direction. As underrepresented and often misgendered members of society become more visible, it's only natural that cultural touchstones like awards shows will shift to embrace them, too. But if you're going to pride yourself on staking new ground, you better make sure you're not burying anyone else in the process. And surely, there's a way to advance the conversation without leaving anyone behind.