You Have To See The Sweet Tribute At The End Of Pixar's 'Coco'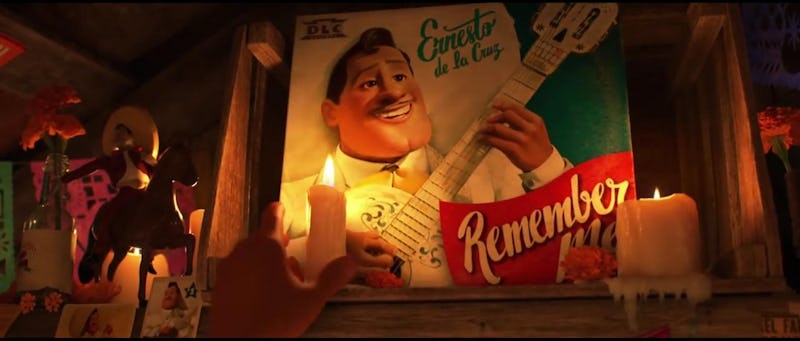 Disney/Pixar
Pixar's newest animated film, Coco, takes a page out of parent company Walt Disney's book by diving head first into the world of larger than life musicals — and this one's especially larger than life since it takes place in the Mexican Land of the Dead. The film is filled with music, culture, color, laughs, and tears, and it's already being hailed as an instant classic for the legendary studio. So it's no wonder that fans don't want the movie to end while watching it, but is there a Coco post-credits scene to satisfy their desires?
There isn't, at least not in the traditional sense. Once the credits roll on Coco, that's it as far as the story is concerned. There's no jokey tag, no tease of a sequel (which is somewhat surprising given that Pixar has recently morphed into a veritable sequel factory)... there's not even an extra scene featuring everyone's favorite xolo dog, Dante. However, there is a little something that should appeal to fans of the film's message. After the credits roll on Coco, there is a brief dedication from those who worked on the film to the people who inspired them, and photos of their family members are shown. While it's not explicitly stated, the people in these photos are likely deceased, as the film's main theme is honoring loved ones who have passed on. If this is indeed the case, then it's a very fitting tribute indeed.
And while it may not technically be a post-credits "scene" per se, it still follows the Pixar tradition of including something extra for fans at the end of the film. Although these days many people think of Marvel movies and big sequel teases when they think of post-credits scenes, Pixar films had been including them as a way to squeeze in one more joke for a decade before the Marvel Cinematic Universe even existed, and the majority of Pixar's films have some kind of scene after the movie ends. So here are all of Pixar's post-credits scenes so far, in chronological order.