Here's What Khloé & Tristan Have Said About How Many Kids They Want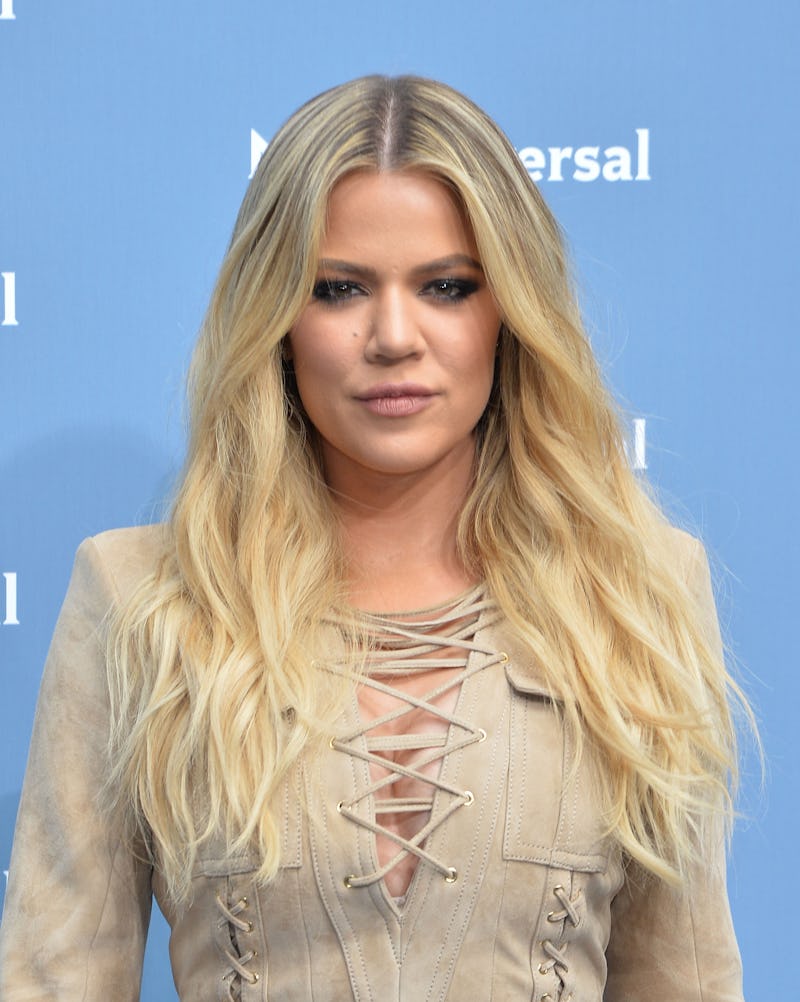 Slaven Vlasic/Getty Images Entertainment/Getty Images
Khloé Kardashian has always been open about how much she wants to be a mom, so it's been really exciting for fans to see that dream come true for her. But, is her baby-to-be going to be her only one? Does Khloé Kardashian want more kids? Although she's been super vocal about how much she loves children (especially her nieces and nephews), that doesn't necessarily mean that she wants to have more kids after this one.
And so far, it doesn't seem like there's a clear answer to that question — although Kardashian has been open about what her boyfriend, Tristan Thompson, is thinking. Apparently, he's looking to have a whole gaggle of children with her (plus the one he has from a previous relationship), so if she's into it, they could end up raising a Kardashian-sized brood of their own.
On the season finale of the last season of Keeping Up With The Kardashians, she talked about how Thompson is definitely into a huge family — and it sounds like she's OK with that plan. "He wants to have about five or six kids with me, and that's lovely," she said. "We could start at one and we could grow from there. But now knowing I'm not on birth control is scary. It's like a really big step."
But what Kardashian hasn't been open about is what number of children she'd like to have herself. It does sound like she's on board with having more, so it's doubtful that her first baby will also be her last. That's a good thing for fans, too. We've all seen how adorable babies with Kardashian genes turn out.
Another clue that Kardashian is planning to have more children in the future? Oh, just about everything she's ever said about motherhood. For a very long time, it's a topic she's been vocal about, especially since she and Thompson have been together.
In fact, she told Evening Standard in an interview last April that it's something the couple has always talked about. She said:
"I would love to have a family. We've talked about it. He is a father, and I know for a fact he would be an impeccable father ... I definitely want to be a mom. But I don't put the pressure on it. It's not like, 'the clock is ticking.' I feel in my soul it will happen.
From seeing her interact with Kourtney and Kim's kids, as well as Rob's daughter, Dream, over the years, it seems like Aunt KoKo has a solid foundation going into this whole motherhood thing. It's so obvious that she loves her nieces and nephews so much, and it seems like she's got this mommy thing on lock before she even gives birth. And by the way, it sounds like she's going to be a total blast as a mom, since she's always finding fun things for her nieces and nephews to do when they hang out with her.
"I'm a really fun aunt, so I hope I'm going to be a fun mom!" Kardashian told Refinery 29 in 2015. "I like to have fun and be silly and not take myself too seriously with the kids, so I hope that will translate when I actually have my own."
All evidence points to Kardashian having a big family, and if that's her dream, hopefully, it will come true — at whatever pace she feels comfortable, because having one baby is a huge deal in the first place.
It's going to be wonderful to see Kardashian in action once her little one arrives (and to finally see all those cute baby photos on Instagram). And if she decides to have more down the line? Well, the more the merrier when it comes to Kardashian babies.