Khloé Kardashian Just Shared A Photo Of Her 8 Month Baby Bump That Will Give You Feels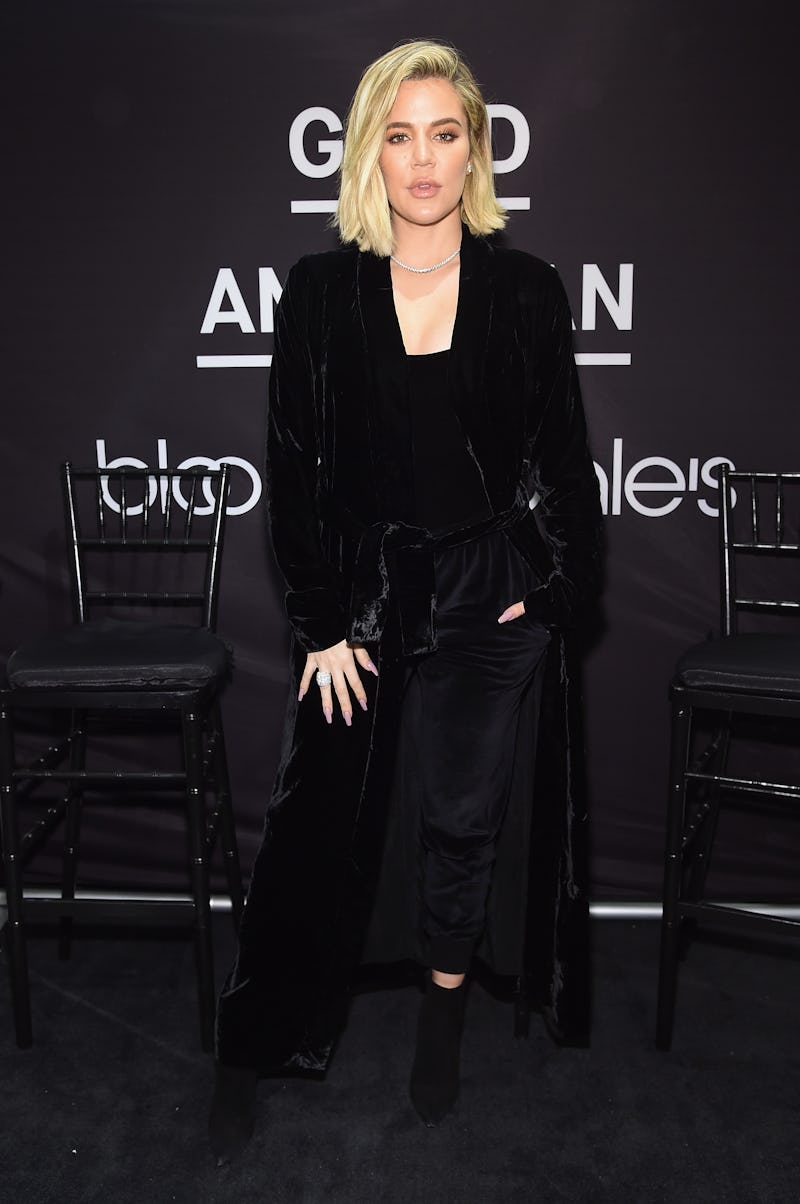 Jamie McCarthy/Getty Images Entertainment/Getty Images
In just one more month, Kris Jenner will be a grandma for the third time this year, and fans are getting another sneak peek at her future grandchild. Khloé Kardashian revealed her 8-month baby bump on Snapchat while vacationing with her sisters in Tokyo, Japan. Since Khloé's pregnancy announcement two months ago, she's been posting photos of her belly, but this one is really a tease for the big reveal to come. The reality star will reveal her baby's gender on the season finale of Keeping Up With The Kardashians this Sunday, after all.
"8 months bumpin'," Khloé captioned the photos of her in a brown body-con dress, which accentuates her baby on board. To add a little more cuteness to the shot she also posed as a "little puppy" and a mouse with help from a Snapchat filter. That mouse filter seems to be popular with the Kardashians, since it's also the one Kim used for Chicago West's first photo.
Since announcing she was having her first baby with boyfriend NBA player Tristan Thompson, Khloé has put her bump on full display. Seriously, check out her Instagram and you'll see lots of photos of her in some bangin' maternity wear. It's no surprise that she'd want to show off, considering that she called being pregnant "my greatest dream realized!" Case in point: shortly after the new year, she shared a photo with Thompson that she sweetly captioned, "Mom and Dad."
Khloe Kardashian/Snapchat
Khloe Kardashian/Snapchat
Khloé was six months along when she let the world know she was expecting – her due date is sometime in April, which she shared in a very casual tweet — and said that she kept quiet because "we wanted to enjoy this between our family and close friends as long as we could privately."
But she's not keeping things private now. Unlike her little sister Kylie Jenner, who didn't announce she was pregnant until after her baby Stormi was born, Khloé's spent the last two months sharing photos of her pregnancy. She even shared a shot of her and Kylie showing off their bumps right after her little sis shared the news that she had her baby.
"I'll miss you bumping along with me," Khloé captioned the photo. "Never in a million years did I think we would do this together but it's been that much more special because of it."
But Khloé's not only sharing photos; she's sharing lots of details about her pregnancy. Like, how she's going to give birth in Cleveland, Ohio where Thompson lives and works as a player on the Cleveland Cavaliers. She's talked about why she's wearing her hair curly (the chemicals from her Brazilian blowouts shouldn't be used while pregnant) and how she's going to eat the placenta, just like Kim and Kourtney did.
Khloé even opened up about her hilarious struggle to find a name for her baby. "I can barely decide what I want to eat. Let alone name a baby," she tweeted at a fan who said they were excited to see what she calls her little bundle of joy.
While Khloé hasn't revealed the gender of her baby yet, it's been rumored that she's having a boy, as People pointed out. Adding fuel to that fire is the fact that last month, Khloé told Ellen DeGeneres she has a boy's name in mind. "I think if it's a boy I'll go with Junior — Tristan Jr.," she said. "Then for a girl, I don't know where to begin."
Of course, she might not even have to worry about a name for a girl if she's having a boy. Luckily, fans will only have to wait until this weekend to find out what Khloé's having. Even better, they'll still have a couple of months worth of baby bump photos to peruse before Khloé's baby enters the world.