The Subject Of 'The Staircase' Could Attract Controversy With More Novels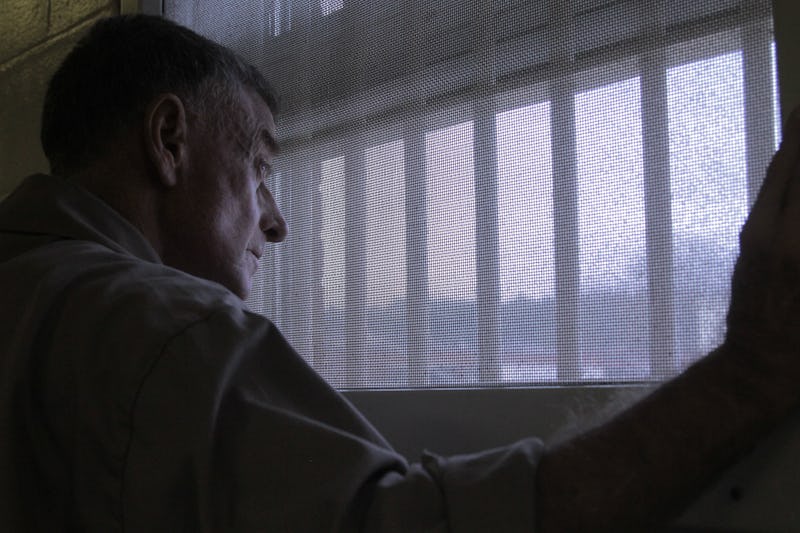 WhatsUp / Netflix
Michael Peterson was once best known as a novelist, but following the death of his wife, the conversation around Peterson changed drastically. The Staircase, a documentary series that debuted in 2004 and returns on June 8 with new episodes on Netflix, shines a renewed spotlight on the author and the controversy surrounding him. Now that he has walked free, does Michael Peterson still write books today?
Peterson was convicted of first-degree murder in 2003, according to the Associated Press, after the court found him responsible for the death of his wife Kathleen, who was found dead at the bottom of a staircase in the couple's home in 2001. He was sentenced to life in prison without the possibility of parole. But in 2011, the AP reports, the judge who heard Peterson's case concluded that a blood analyst had given faulty, misleading testimony during the trial, and Peterson was released pending a new trial.
In 2017, as the AP reports in another article, Peterson accepted a plea deal that allowed him to walk free. The plea deal in question, known as an Alford plea, allowed Peterson to maintain his innocence in his wife's death even as he acknowledged that the prosecutors' evidence was enough to convict him. Peterson pleaded guilty to manslaughter. According to IndyWeek.com, Peterson said that pleading guilty to something he claims he didn't do was "one of the most difficult decisions I have made in my life."
As far as how his career as a novelist has fared in the years since Kathleen Peterson died, Michael Peterson doesn't appear to have published anything under his name since before his wife's death. WRAL News reported in 2007 that Peterson was the uncredited co-author of Operation Broken Reed, a book about the Korean War by Lt. Col. Arthur Boyd. According to its Amazon page and several reviews, only Boyd is listed as the author. Aside from the book that Boyd claims Peterson helped write, the most recent of the novels listed under Peterson's name on Amazon is Charlie Two Shoes and the Marines of Love Company, published in 1998.
Many of Peterson's published works deal with the military and war. Charlie Two Shoes, for example, focuses on a young Chinese boy who was befriended by American Marines after the end of World War II. A Time of War (1990) centers on the lives of people affected by the Vietnam War. And A Bitter Peace (1996) tells the story of negotiations of peace between American and Vietnamese forces. Judging by the reader ratings available online, Peterson's books were generally well received by their audience.
As for any potential plans to continue writing, Peterson said in an Associated Press interview in 2017 that he was unsure of his plans after walking free, other than visiting family and working on a new book.
If Peterson were to write a new novel, it would likely attract controversy. Despite the fact that he walked free after the Alford plea, not everyone is happy with that ending to his story. "It's great that Michael Peterson finally acknowledges in court that there is enough evidence to convict him," Kathleen's sister Lori Campbell said following the final hearing, according to the News & Observer. "Yet it's wrong that after a jury sentenced him to life in prison for the murder of his wife that he gets to be a free man while Kathleen lies in her grave. Closure is for a door, not for my murdered sister."
After Netflix debuts the latest installments of The Staircase, audiences will likely have renewed interest in what Michael Peterson could plan to write next.