Lifetime's Movie Claims That Prince Harry Is "Of Mixed Race" — Here's The Real Deal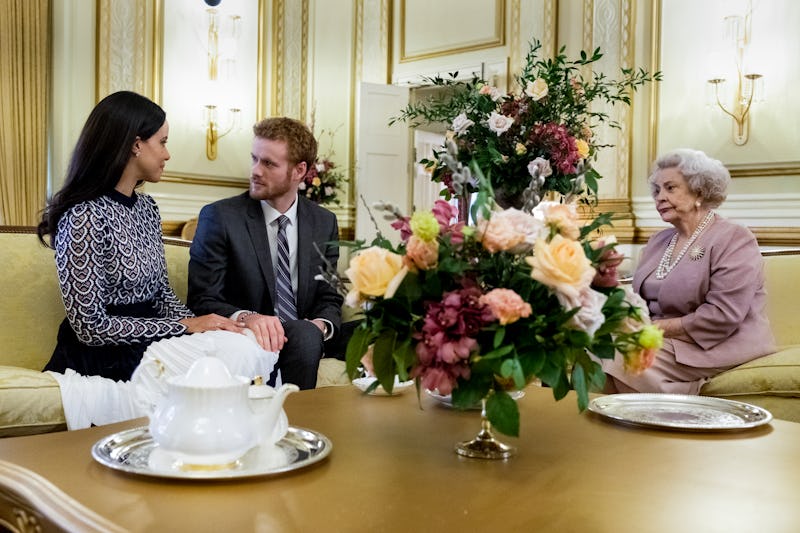 Lifetime
Toward the end of Harry & Meghan: A Royal Romance, the film's Queen Elizabeth takes Prince Harry and Meghan Markle on a walk to observe some of Buckingham Palace's portraits. And as she does so, she points out one in particular. Because of one historic ancestor, the royal family, according to the her, is "of mixed race." So, does Prince Harry really have a black ancestor? (Bustle reached out to a royal press office rep for comment, but did not hear back.)
Apparently, there's always been some speculation that Queen Charlotte, the portrait in question, came from African descent. According to The Washington Post, Charlotte was a German princess who traveled to England to wed King George III in the mid-1700s. That would make her a direct ancestor of Prince Harry and Queen Elizabeth, and historians have long dissected Charlotte's physical features and possible ancestry, speculating that she might have come from an African background.
But scholars are still split on whether or not this is actually the case. "This has been rumored for years and years," Buckingham Palace spokesperson David Buck told the Globe, according to the same Post report. "It is a matter of history, and frankly, we've got far more important things to talk about."
"I've always loved this painting of our ancestor, Queen Charlotte, because the painter, Ramsey, didn't try to hide her African heritage," the Queen says in the Lifetime film, as Markle and Harry shoot her a shocked look. "Oh yes, you're of mixed race, Harry. So am I. Many of her portraits tried to hide that fact, but this one is most authentic."
There is absolutely historical significance in having a potentially biracial woman in the royal family's lineage, but saying a white person is of "mixed race" because a relative from nearly 300 years ago is thought to be of African descent is ... a stretch. Aside from the possibilities surrounding Queen Charlotte, Markle will definitely be the first biracial woman in modern years to become part of the British royal family, and that fact has been both scrutinized and celebrated since news of her engagement to Harry broke.
The actress has been open about her identity as someone with a white father and a black mother, and how she's come to be proud of something that didn't always allow her to fit in when she was growing up. She said she often had trouble finding roles in TV and movies due to her biracial identity. "I wasn't black enough for the black roles and I wasn't white enough for the white ones, leaving me somewhere in the middle as the ethnic chameleon who couldn't book a job," she wrote for Elle magazine in 2015.
It's something she's come to be proud of, though, regardless of how she may have struggled to sort out what her identity means to her. "While my mixed heritage may have created a grey area surrounding my self-identification, keeping me with a foot on both sides of the fence, I have come to embrace that," she wrote in the same piece. "To say who I am, to share where I'm from, to voice my pride in being a strong, confident mixed-race woman."
Since the royal engagement, some have said that they see themselves in Markle. "Most fairytales don't feature women who look like me, so it was heartening to see black and brown women across the globe eager to celebrate a black princess," Terryn Hall wrote for Time magazine, adding that Markle's story feels different than black women marrying into other monarchies because of the unparalleled fascination the entire world has with Britain's royals. Though Queen Charlotte's roots are still debated, there's no denying that Markle's entrance to the royal family is a groundbreaking one.