Rachel Has A Real Shot At Winning 'The Bachelor'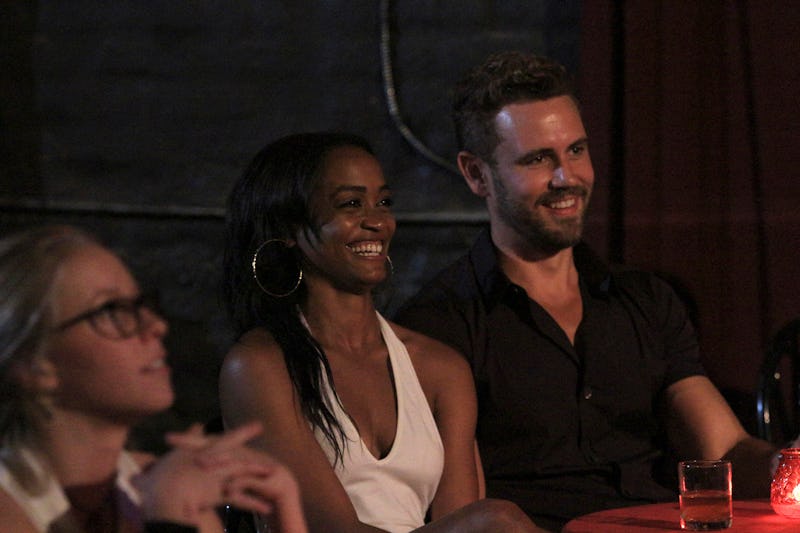 ABC/Mark Coffey
At this point in the game, there are a few frontrunners on Nick Viall's season of The Bachelor. It's pretty obvious that lawyer Rachel Lindsay could win The Bachelor this season, especially after her adorable New Orlean's one-on-one date last week. Throughout every season of The Bachelor, there are always some subtle signs in the way it's edited that give clues as to who makes it far and who will be kicked to the curb early on. The producers have definitely been angling Rachel to be a fan favorite, which could mean that she ends up engaged to Nick, or that she will be the next Bachelorette.
Last week, Nick took Rachel on their first official date in New Orleans. The couple went and ate beignets before walking around Bourbon Street. They join the second line of a parade and danced down the streets. Both of them seemed to throw their cares away and just have a great time and great conversation followed by a romantic dinner as usual. Rachel opened up about her past, her father, and, by the end of the night, Nick said he was super into her and gave her the rose. Between lots of kissing, there was clearly a really strong connection and I for one am fully on team Rachel for the win.
So, why do I think Nick should pick her?
She's Extremely Smart
She graduated from Marquette University Law School and passed the bar on her first try. She's been an attorney for six years now. She is one of the smartest people on Nick's season and that's not saying that anyone is stupid, but she is far and beyond one of the most intelligent people I've seen on the show.
She Challenges Him
Nick has done this show so many times at this point that he's met a ton of women who haven't been right for him. Maybe he gets bored easily, or he's not looking at the right type of women. Whatever it is, he needs someone that will challenge him. There's no question that Rachel could be that person.
She's There For The Right Reasons
I really hate using that phrase, but, in Rachel's case, I'll make an exception. She really is there to find love. She spent her time going to school and working on her career and she feels like it's time to find the right person. She's not there to get into the spotlight. She's not there for fame. She just wants to find someone and that is what the show is meant to be about.
She's Loyal To Her Football Team
Rachel may not be a Packers fan like Nick, but she's loyal to her Cowboys. The pair could spend their Sundays on the couch watching their games together.
She's Mature
Rachel is 31 years old and has her life together. She has a solid job and pretty much has everything in life figured out except for love. She's ready to get married and settle down into a life with a family. There's only a couple of women on the show right now that seem ready for that kind of lifestyle and, of those, I think Rachel is the best.
She's Close To Her Family
If we know anything about Nick it's that he's super close with his giant family and that kind of thing is important to him. He needs someone who has a solid relationship with their family too. Rachel told him during their date last week that she's extremely close with her parents. Just another reason he should pick her.
She Can Hold A Conversation
Their date last week was nothing elaborate, but it was still fun to watch and they had a great time walking around New Orleans. There's nothing worse than watching a Bachelor date where nothing happens and their conversation lacks any type of depth.
Good luck, Rachel. I'm cheering for you.