I Tried This New Velvet Makeup Sponge & I Liked It More Than The Iconic Beauty Blender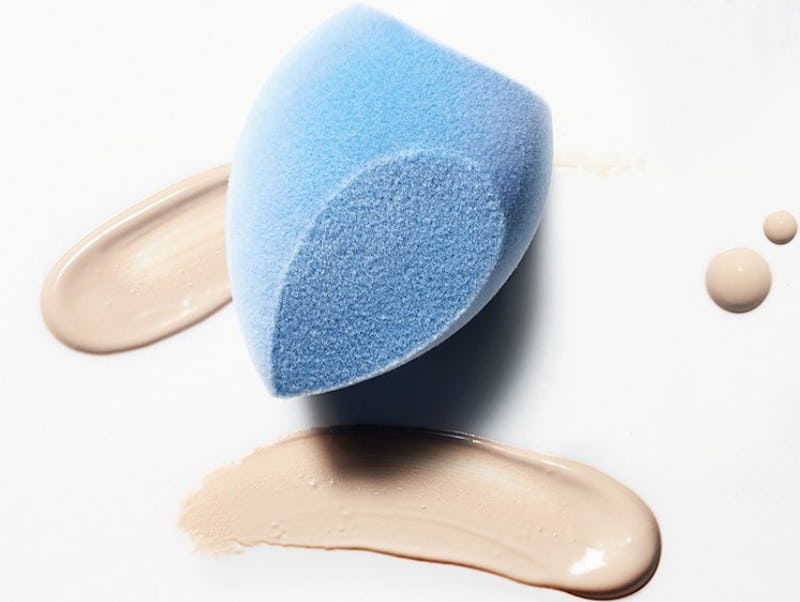 Courtesy of JUNO & Co
Beauty blenders, many of which are inspired the original, hot pink, and egg-shaped tool that is best used when damp, are plentiful and copious. They're available in all sorts of colors, shapes, sizes, and materials, like silicone. But the JUNO & Co. microfiber velvet makeup sponge is unlike any beauty applicator I've ever tried — and I've played with so many of 'em.
From the SiliSponge to the The MakeupDrop to the rubbery Silc Blender, I've incorporated all sorts of of squishy sponges and bouncy blenders into my routine in varying ways.
The JUNO & Co. sponge has proven to be an instant and Instagrammable sensation. The brand sold a whopping 250,000 (!!!) the applicators in just four months.
The velvet-y tool is baby blue, has a slanted edge, and is super soft to the touch. It can be used wet or dry and to apply cream, liquid, or powder products. There are several things about the JUNO & Co. velvet sponge that I prefer over its peers.
First, the JUNO & Co. sponge is most effective when used while dry — it gives my skin a smooth, airbrushed finish.
Also, the microfiber material feels utterly lush and luxurious when swiped against skin and while buffing and blending product. The texture feels expensive — but it's not. The sponges cost just $6 a piece. That's incredibly affordable for a tool I find myself reaching for daily.
Sure, the light blue surface gets stained with foundation and concealer. But that's nothing that can't be cleaned.
It's a makeup tool. It's meant to show signs of use. Function is more important than form. Plus, you can and should use a proper cleanser to keep yours so fresh and so clean.
As you can see, the product sits on, rather than sinks into, the sponge. Because of this, I found myself using a minimum of product and having incredible control of how I buffed and blended. I was the truly the architect of my airbrushed finish. Yes, it required a little extra elbow grease to blend a wet product. But the end result was worth it.
My dry-use JUNO & Co. blender mimics a no-nonsense puff for powder, too. It can be used to dip, tap, and pat product. Sometimes, I worry that my moistened blenders, which work best when damp, might be somehow secretly accruing or fostering bacteria. Opting to use the JUNO while dry allays some of those irrational germ fears. It doesn't absorb a lot of product and allows me to really buff a cream product to lightweight coverage and a diffused finish.
The velvet sponge can be used wet, though. It's adaptable. Squeeze and stipple when damp to achieve the desired level of coverage.
What makes the JUNO & Co. sponge so effective is the microscopic fibers that are smaller than a strand of silk. Said fibers can pick up and lock in product so that the sponge acts almost like a makeup brush. Application is ultimately as precise as it is simple.
The velvet texture feels like a kiss on the skin. At just $6 a powder blue pop, you can't beat it. If you love your beautyblender but are ISO an alternative that you use in concert with it and only when dry, consider adding the JUNO & Co. velvet sponge to your rotation. It's a keeper.