If The Beautyblender & SiliSponge Had A Baby, It Would Be This New Tool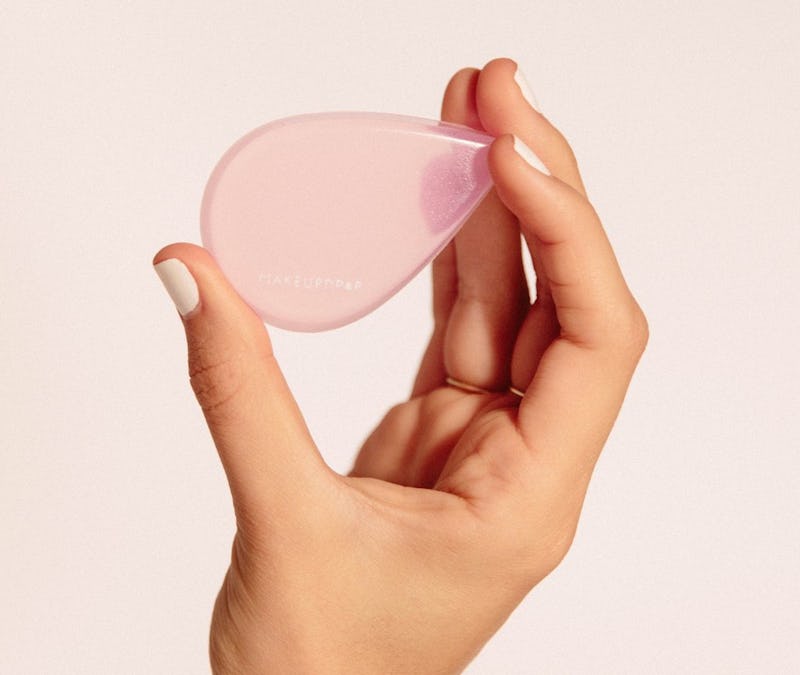 Courtesy of MakeupDrop
This tool a makeup mic drop moment. The MakeupDrop applicator is a silicone tool that combines the best qualities of the iconic beautyblender with the most effective design elements of the SiliSponge. Here's how it works — and how it compares.
Let's start with its fellow blenders. The original beautyblender is an egg-shaped, squishy sponge that expands when damp. It works wonderfully, but can be a bit tough to clean and can absorb additional product. Still, I reach for my black sponge daily because it's effective — a few dabs and I'm dunzo.
The SiliSponge took the Interwebs by storm just a few months ago because the tool allows you to apply makeup without wasting any liquid or cream. It's parallelogram-like in its shape, flat, and you use a bare minimum of product but still achieve full coverage. It's also super easy to clean with soap and water. But it does require additional strokes to further blend product into skin for that airbrushed look.
Then there is the Silc Blender, a silicone applicator that boasts the full egg shape, like the beautyblender. It bounces on skin, utilizes a tiny amount of product, and cleaning it is a breeze.
It seems like blender innovation should be at a standstill given all these options. Then you meet the MakeupDrop. The tool is teardrop-shaped and made of silicone. But it's flat unlike the beautyblender and Silc Blender — and that's to its credit.
The product costs $20, and is available at The MakeupDrop site.
Since I have tried all variants, here's how this millennial pink applicator (it also comes in clear) stacks up to its peers.
Its shape, namely the tapered tip, allows the tool to get in those hard-to-reach curves near the nose better than all of the aforementioned applicators.
It's designed for usage with liquid concealers, foundations, and highlighters. This dot of product was enough to provide full coverage when blended out. But the MakeupDrop is maaaj multi-purpose.
You can also use that tip to draw contouring lines, too. The MakeupDrop isn't solely for buffing liquid product, either. You can also use the edge as a guide for a cat eye. That will take some practice, though. I do a flick near-daily and I fumbled when attempting to employ the Drop as a lead for my line.
The flat shape also allows for better grip.
You can clean it with soap and warm water. It earns bonus points for being simple to store, as well. The flat shape prevents it from taking up space in your makeup bag or medicine cabinet. I slid mine between two jars of moisturizer.
If you are a product junkie and space is at a premium, you will further appreciate the design.
The verdict is in. The tapered tip makes MakeupDrop incredibly versatile, since it works around the curves of the face, can draw contouring lines, and can serve as an eyeliner guide. Plus, you won't waste a drop of precious, precious product.