Uh, Don Jr. Just Posted This Screenshot Of Instagram Commenters Calling Him A DILF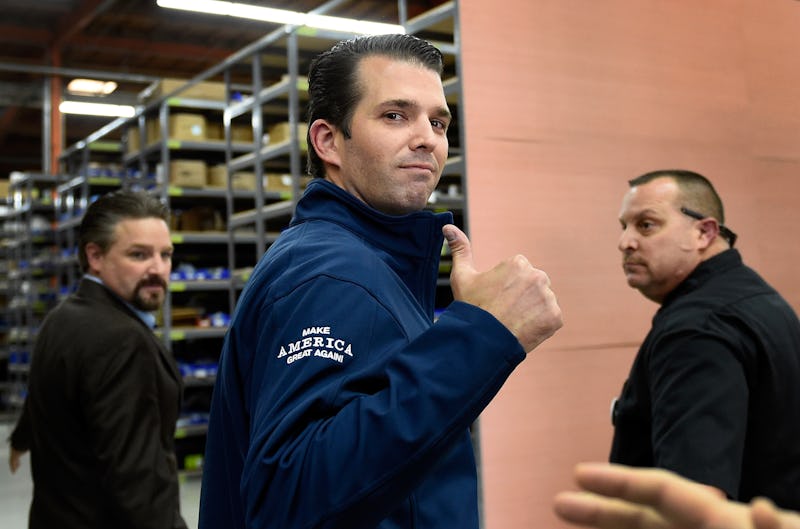 David Becker/Getty Images News/Getty Images
Don't look now, but Donald Trump Jr. posted an Instagram screenshot on Friday of his followers talking about how hot he is, and called it "pretty amazing." Some of the commenters identified themselves as gay, leading Don Jr. to claim in the post that Republicans are "the party of inclusion."
The screenshot, which Don Jr. claims was taken a week ago, depicts comments from several Instagram users proclaiming that they are physically attracted to the president's eldest son.
"I'm a proud gay republican and you sir, are HOT!," one commenter wrote, according to Don Jr.'s screenshot.
"im a proud lesbian conservative AMERICAN...AND I think he's hot too!," another user responded.
"I'm a straight female and I agree with the gay guy lol 😂," somebody else replied.
Another commenter then wrote that Don Jr. is "Making DILFs great again" and posted an emoji of an American flag.
"Ok this is what was going on on my Instagram account last week," Don Jr. wrote in the caption below the screenshot. "Pretty amazing and also pretty funny. All welcome here. Thanks for the laughs and the compliments guys. 🇺🇸🤣🇺🇸🤣🇺🇸Looks like we are the party of inclusion. #inclusion#diversity"
As the Huffington Post's Ashley Feinberg noted, the timestamps on the image indicate that Don Jr. took the screenshot roughly a week before he sent it it out to his 1.2 million Instagram followers.
Don Jr. is very popular with some of his father's supporters, and posts frequently on Instagram. His feed is a combination of family photos, praise for his father's policies and anti-left memes. In celebration of the July 4th holiday, Don Jr. posted a Photoshop that depicted his father as a military leader, holding a rotary machine gun in one hand and a bald eagle in another while standing atop a pile of smoldering wreckage (In actuality, Donald Trump requested and received five draft deferments to avoid serving in the military).
More recently, Don Jr. has been posting on Instagram about his new relationship with Kimberly Guilfoyle. The two reportedly began dating shortly after Don Jr. and his wife Vanessa got divorced earlier in the year, and Don Jr. has posted several photos of him and Guilfoyle since then.
Until Friday, Guilfoyle was a co-host of the The Five on Fox News. Some argued that this raised a conflict of interest, as The Five frequently reports on Trump-related news. On Friday, however, Fox News announced that it has "parted ways" with Guilfoyle; although the network didn't give a reason, Don Jr.'s spokesperson said on Twitter that Guilfoyle will be joining the president's son to campaign for Republican candidates in the fall.
According to Axios, Don Jr. is planning to hit the campaign trail for Republican candidates in that voted for his father in 2016 but are nonetheless represented by Democrats in the Senate. Those states include West Virginia, Indiana, Missouri, and Montana, all of which are top priorities for Republicans seeking to expand their majority in the Senate after the midterm elections.
In another Instagram post that received some attention, Don Jr. posted what appeared to be a post-workout selfie of himself at the gym shortly after his divorce from Vanessa.
"Donald Pump!," the president's son wrote on top of the selfie.