Donald Glover's Met Gala Suit Had A Fascinating Detail On The Back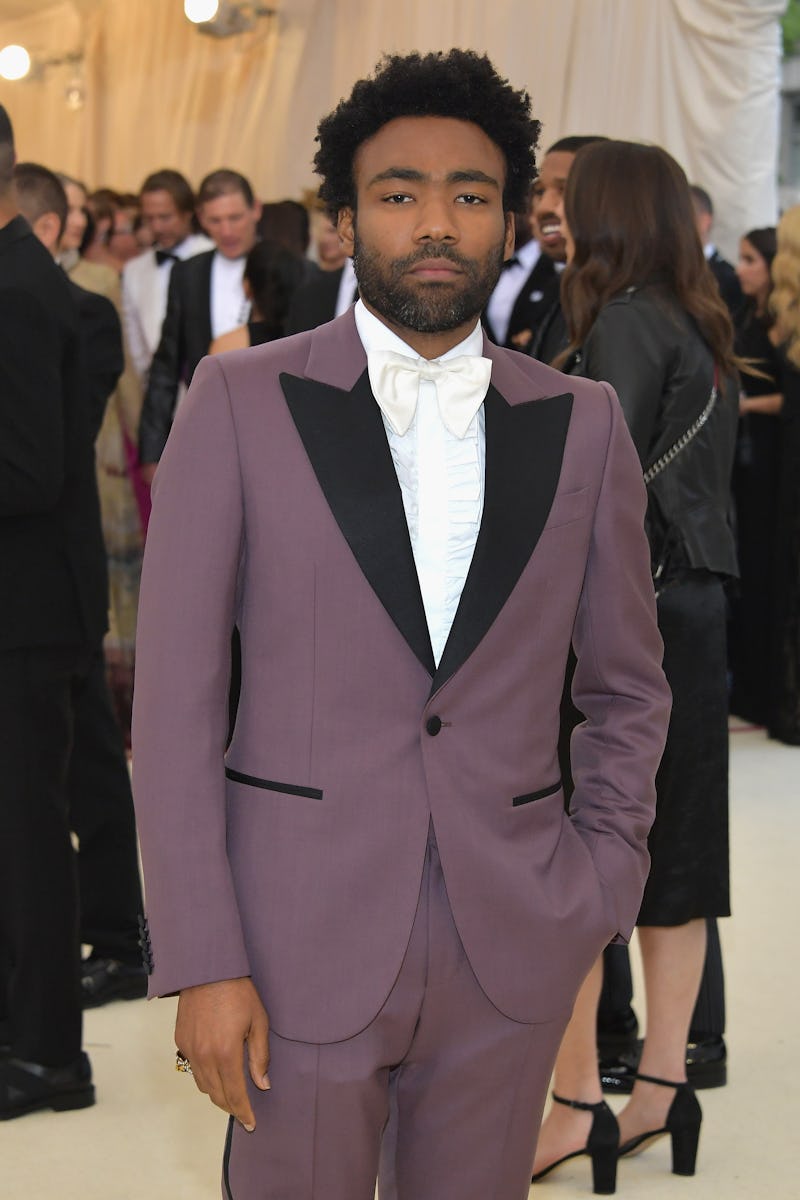 Neilson Barnard/Getty Images Entertainment/Getty Images
Now that we're well into the gala red carpet, we have gotten a good idea just how versatile the "Heavenly Bodies: Fashion and the Catholic Imagination" theme has turned out to be this year. And no one better proved that then Donald Glover at the 2018 Met Gala. The exhibit explores how Christianity and fashion have influenced each other over the centuries, and pays homage both to religious art and daring designers that have toed the line with Christian influences in their collections.
While some might have worried about how celebrities would interpret the delicate theme, the red carpet has proved to be versatile and wonderfully experimental. You got all kinds of different interpretations through the clothes. For example, some came looking like Renaissance-era paintings, from Cardi B dressing up like the pregnant Madonna, to Sarah Jessica Parker looking like a 15th-century Venetian queen. Others walked the red carpet looking like angels found in cathedral paintings, like SZA in her ethereal dress and Evan Rachel Woods in a cape of gold feathers meant to look like folded wings. Some went the other way and went dark and edgy, where Lily Collins looked like an evil nun and Solange looked like a BDSM Madonna — but in the best possible way.
So there is clearly not just one way to express the theme and interpret Christian art. But Glover's take might have been one of the best.
It's a little hard to get creative with the theme when one shows up to the red carpet wearing a low key suit, since the garment doesn't allow you to get as outlandish or expressive as a dress does. We have seen celebs in gowns portray everything from Mother Mary to Renaissance aristocrats, but the men in suits played it pretty tame.
That's why Glover's look was such a welcome breath of fresh air. Not only did he choose a more '70s-inspired silhouette — where he went with a brown tuxedo with contrasting black lapels and a ruffled white shirt — but he also chose to skip the shiny black shoes and go with Gucci loafers instead.
If you feel like that's a pretty cool sartorial look but not exactly out-of-the-box, just wait until he turns around. On the back of the suit jacket is the symbol encrusted in diamonds, tipping its hat to a different part of Christianity — the conspiracy part.
It's the same image found on the back of the US dollar bill, where we have the pyramid with the floating eye above it. Dubbed as the "Eye of Providence," it's meant to symbolize the all-seeing eye of God. It's meant to represent God watching over humanity, but seeing how it shows up on the back of money, Glover might be sending an interesting tongue-in-cheek message here.
It's no secret that the Vatican has accrued great wealth throughout the centuries. So to choose to portray the "Eye of Providence," which also appears on the back of our dollar bill, could be a statement on how religion can sometimes run like a business and is entwined with money — or it could just be an adornment. Glover isn't one to shy away from making a political statement — as is evidenced with his newest single drop "This is America," — so slyly hinting at that connection wouldn't be out of character for him.
During a red carpet where most men take the safe route with classic tuxedos and three-piece suits, seeing Glover translate the theme in his own way was amazing to see. One thing is for certain: When Glover is involved, it's definitely going to be surprising.