Donald Glover Explains The Key To 'Atlanta's Success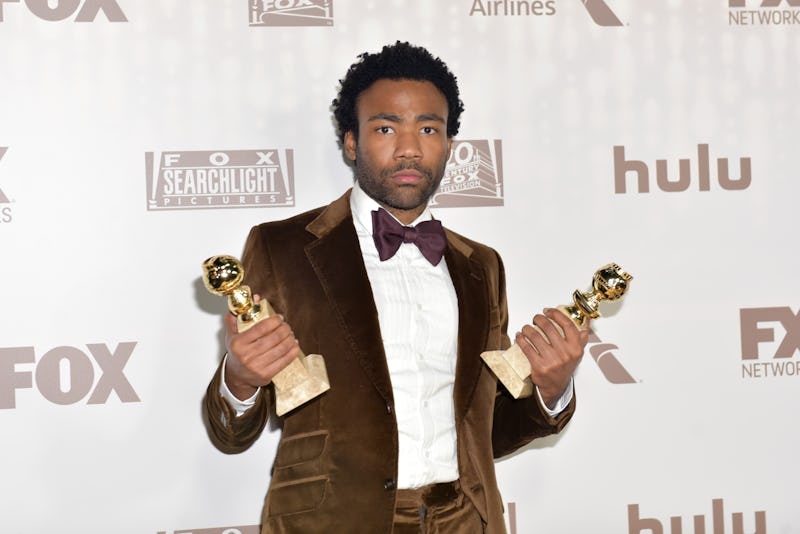 Rodin Eckenroth/Getty Images Entertainment/Getty Images
Can this guy get any more perfect? It's hard to put your finger on exactly what it is, but Donald Glover just has this "thing" about him. An aura that makes him feel like an unstoppable force of nature. A thing that easily transcends into his craft while creating magic both in front and behind-the-scenes on Atlanta. And while that quality may not be so clear to pinpoint for some, the actor manages to easily describe that special "thing" in just one simple word: confidence. Glover's confidence makes Atlanta great, as well as all of his many projects. Even better, the actor knows that, as his recent interview with Deadline proved.
As if playing Troy Barnes in Community, his upcoming roles in the new Star Wars, Spider-Man, and Lion King movies, or the undeniable musical aptitude he displays under his pseudonym, Childish Gambino, weren't enough prove just how great of an artist Glover is, his idealism in creating one of the greatest shows on television, Atlanta, should certainly help to lend validity to his unyielding brilliance. With that said, it's worth pointing out that he is certainly not your typical entertainer, by any means. On the surface he appears reserved and unassuming in personality, tending to shy away from the limelight of Hollywood when it comes to his personal life.
But, when speaking with Deadline, Glover explained the role that confidence plays in creating and directing projects, particularly when it comes to his brainchild FX project, Atlanta. He shares,
"I think directing is like everything else; if you're storytelling, then you have to be really confident in what you're telling. I think Atlanta only works because I was confident. Even if I was wrong, it had a perspective and I was very confident in what I wanted to achieve."
There's certainly no denying the fact that Glover's formula of tenacity has continually worked in his favor over the years. When it comes to Atlanta, he has more than proven his excellence in creating, producing, occasionally directing, and starring in one of the most thought-provoking and remarkable comedy-dramas on TV today. In just one season, the show has been awarded the 2017 Golden Globe for Best Television Series — Musical or Comedy while Glover took home the trophy for Best Actor — Television Series Musical or Comedy at the ceremony.
Both Atlanta and Glover were, no doubt, deserving of the accolades. The show was quickly renewed for a second season while Glover scored an overall production deal with FX, the network that airs the series.
At just 33-years-old, the actor's star is rapidly on the rise with no signs of stopping any time soon. If his confidence continues to cultivate projects like Atlanta, we can certainly expect many more phenomenal things to come from the Glover dynasty.