Trump Said He Was Worth $10 Billion When He Campaigned. He's Worth A Helluva Lot Less Now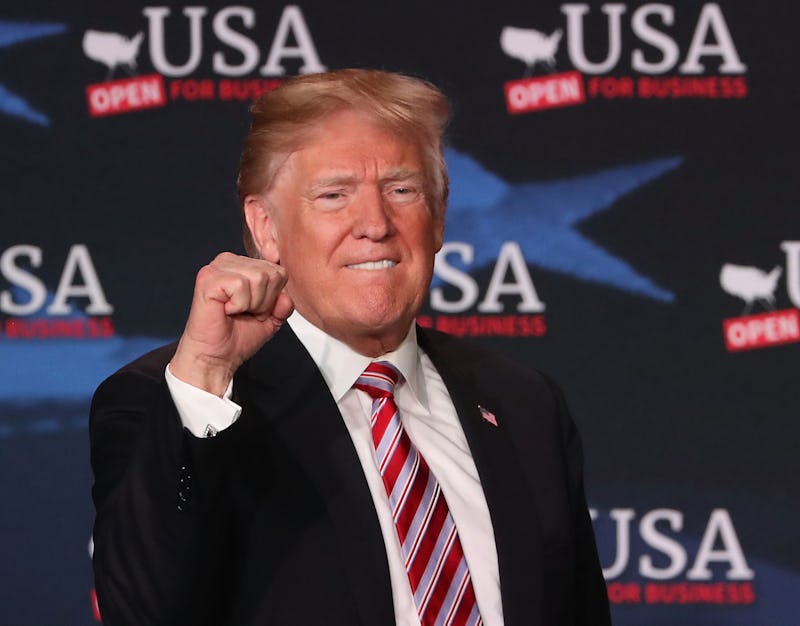 Joe Raedle/Getty Images News/Getty Images
In 2011, Donald Trump told Good Morning America, "Part of the beauty of me is that I am very rich." But the president's financial power has dipped, at least according to a recent Bloomberg report. On Thursday, the publication reported that Trump's net worth fell to $2.8 billion — an all-time low since he first announced his presidential campaign in 2015.
At the beginning of his presidential bid, Bloomberg Billionaires Index reported that Trump's net worth was $3 billion, which then fell to $2.9 billion in 2017. As time passed, and with a remarkable decrease in revenue generation from his various properties such as the Fifth Avenue Trump Tower in Manhattan, the president's net worth slipped further down from $2.9 billion to $2.8 billion.
A spokeswoman for Trump Organization, Amanda Miller, took issue with Bloomberg's methodology, according to the publication. Miller told Bloomberg that "the location of a property affects the rents it can achieve" and that the publication's calculation undermines "the value of our prime New York real estate assets."
Still, it's not a pretty picture. In a Bloomberg Billionaires infographic, you can see what feeds Trump's net worth and gives it the financial strength it has. With property assets located on New York's Fifth Avenue, Wall Street, a partnership with real estate investment giant Vornado, and other unspecified "liquid assets," Trump's net worth is no laughing matter.
But you can also zero in on the debt that seems to have made Trump's net worth dip. Bloomberg Billionaires estimates that debts amounting to $165 million in hotel-related finances, $150 million with his 40 Wall St. property, $100 million with the Trump Tower, $75 million with his golf courses, and $30 million in "other" expenses have collectively cost Trump $520 million in debt.
The report stands in stark contrast with Trump's personal assessment of his net worth. In 2016, his campaign announced that Trump filed a Personal Financial Disclosure form in which he claimed his net worth was above $10 billion.
Over the years, Trump has boasted about his financial prowess, the way he apparently handles deals, and other monetary issues with remarkable confidence. Even when it comes to foreign policy. In 2011, Trump told Fox and Friends on a phone interview about how he handled an unspecified "deal" with the former leader of Libya, Muammar Gaddafi.
"I dealt with Gaddafi. I rented him a piece of land. He paid me more for one night than the land was worth for two years, and then I didn't let him use the land," Trump said. "That's what we should be doing. I don't want to use the word 'screwed', but I screwed him. That's what we should be doing."
Still, it's not all bad news for the president. While Bloomberg reported that his resorts — such as Palm Beach, Mar-a-Lago, and Doral — are generating lower revenue than before, the president's golf courses in Ireland and Scotland have reportedly generated substantial revenue, which will be revealed later in 2018.
But while his properties in Europe seem to be faring better than his American estate, Trump's buildings have taken a beating for his political commentary. It's almost as if his presidency is affecting his assets. For instance, in January, Trump's hotel in Washington, D.C., received an avalanche of negative reviews for his "sh*thole" remark.
Now that Bloomberg has published its evaluation of Trump's wavering net worth, some observers may be curious to know if the president makes it to the publication's jaw-dropping list of the world's top 500 wealthiest people. The news may not please Trump; Bloomberg caps the lowest net worth at $4 billion, which leaves the president out. C'est la vie.