Meghan's Mum Brought Snacks For Her Royal Wedding Outfit Designers & It's The Cutest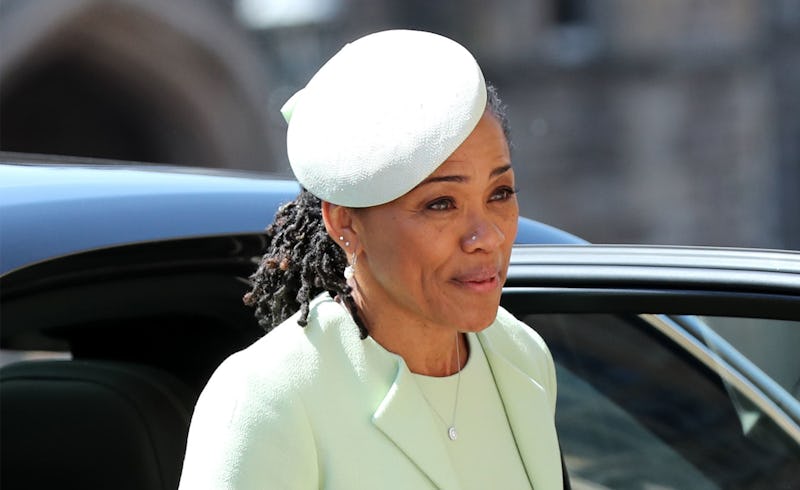 WPA Pool/Getty Images Entertainment/Getty Images
One of my favourite breakout celebrities of this year isn't a Hollywood actor or British celeb. Watching Meghan Markle's mother Doria Ragland holding her head high at the royal wedding despite being the only representative of her family was truly inspiring and I instantly fell in love. I wasn't the only one, as the internet exploded with fellow Doria Ragland stans. Even though she's stayed out of the limelight for the most part (especially in comparison to the rest of Markle's family), her few mentions in the media have been so lovely and her latest actually makes my heart melt. It turns out Doria Ragland brought snacks for her royal wedding designers and won over the team at Oscar de la Renta.
Laura Kim and Fernando Garcia, the creative directors of Oscar de la Renta, spoke with Buro 24/7 about what it was like dressing the Duchess of Sussex's mother for the big day. After the details were ironed out with Markle's assistant, they met with Doria Ragland for a fitting in Los Angeles and Doria went full on football mum — bringing snacks for the team to the game.
Garcia explained, "We flew to L.A. to meet Doria and she brought us snacks to the fitting."
His creative partner Laura Kim commented, "She's so sweet. Her snacks were so cute too."
Markle previously wrote in Glamour magazine about how healthy and active her mum is, revealing Ragland has worked as a yoga instructor and has previously run the LA marathon. Unsurprisingly, there were no cupcakes and crisps to be seen at the fitting as according to Garcia, Ragland brought "healthy snacks because she's a runner".
Kim added, "Yeah it wasn't like cookies, it was very thought out."
As if I could stan her any more. Although Oscar de la Renta didn't wind up designing Meghan Markle's wedding dress, they did pull together a bespoke piece for Doria Ragland to wear as she watched her daughter walk down the aisle. It was easily one of my favourite looks of the day and it was a breath of fresh air amidst the stuffier suits and gowns, as she wore a monochrome mint green look with a matching hat. IMO she looked more royal than other members of the monarchy, but don't let them know I said that.
Kim and Garcia also revealed that Meghan personally called them to ask if they would consider dressing her mother.
Garcia said, "That was a very exciting phone call. Meghan Markle's assistant sent us an email one night and said she would like to speak to you guys about something and this was a few months before the royal wedding so that was quite an alarming email to receive."
While initially it seemed like Markle might be ringing about her wedding dress, of course we now know that Givenchy and British creative director Claire Wright Keller had the honour of crafting her iconic bateau neckline gown. Garcia said, "I was like, there's no way she doesn't have her wedding dress figured out yet but it wasn't that and it was a very pleasant phone call."
Garcia also added that the reason why Meghan approached Oscar de la Renta was because she "wanted to have an American designer represented in the royal wedding because she's American". Although the brand might not sound like a cut and dry American name, it's a proudly American label and the original founder was actually Dominican-American.
In fact back in 2013, de la Renta was honoured with an exhibition about his life called "Oscar de la Renta: American Icon" - as if it could get any more red, white and blue than that.
Ragland was presented with two options according to Garcia, but eventually landed on the pistachio number she stepped out in on the big day. TBH even though I love what she ended up wearing, I secretly want to see what the dress she turned down looked like. Spill the deets, de la Renta.
Although the Kate Middleton and Meghan Markle effect on fashion has been well-documented — causing brands' websites to crash and pieces to sell out in minutes of them stepping out in a new outfit - it turns out Doria Ragland's got a bit of sartorial power herself. In fact, Kim explained they had "crazy press" on the morning of the wedding that apparently "paralysed" the brand and she also revealed she "gained like thousands of followers".
If you're a bit of a fashion geek like me, it'll probably interest you that it turns out Oscar de la Renta was working on their Resort 2019 collection at the same time they were crafting Doria's dress. Kim explained that they "started looking to porcelains", which seem to have inspired the white Wedgewood-esque florals on the hem of Ragland's wedding guest dress, and the pistachio shade drew on the collection's "pastel tones".
She said, "It is extremely feminine, the Resort, as we wanted to do that through soft dresses, florals, easy-to-wear pieces. It's transitional."
Although Ragland recently made an appearance at the launch of Meghan Markle and the women of Hubb Kitchen's charity cookbook Together: Our Community Cookbook, it's been a little while since we've seen her all dressed up for a grand occasion.
Quick, somebody throw a ball and invite Doria. I'll bring the juice boxes and orange slices this time.