Even Drake's Mom Is Included On His New Playlist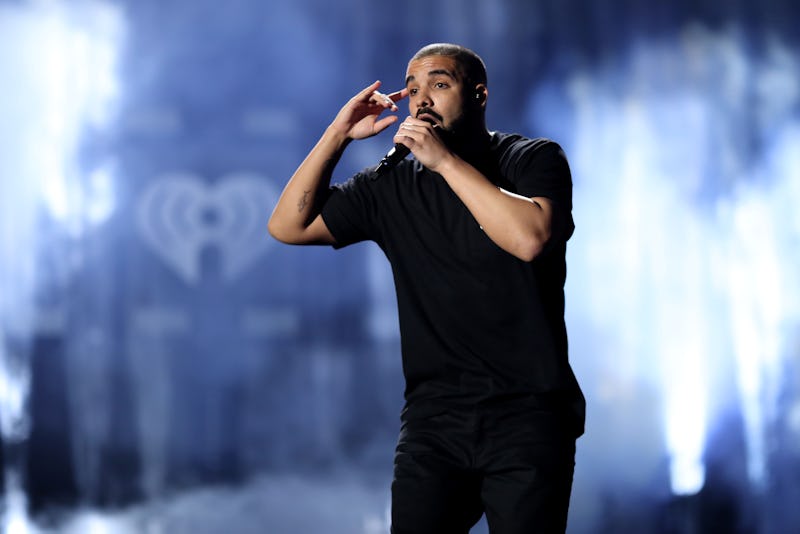 Christopher Polk/Getty Images Entertainment/Getty Images
You already knew that Drake was a bit of a mama's boy, but his latest project confirms it. On his More Life playlist, Drake's mom quotes Michelle Obama in the song "Can't Have Everything." It's a sweet mother-son moment, where she reminds the rapper to stay confident and avoid negative energy. This just further proves how close the pair truly is. There's no bond like family.
Near the end of the song, it sounds like a voicemail is being played over the track. Drizzy's mom, Sandi Graham, can be heard saying,
"You know, hon, I'm a bit concerned about this negative tone that I'm hearing in your voice these days. And I can appreciate where your uncertainty stems from, and you have reason to question your anxieties and how disillusioned you feel as well, feeling skeptical about who you believe you can trust. But that attitude will just hold you back in this life."
After telling him to stay positive and reminding him that she's confident in his abilities, Drake's mom concludes her message with the beloved former FLOTUS quote, "When others go low, we go high." Best message ever, or best message ever?
Skip ahead to the 3:00 mark in the Spotify song below to hear his mother's heartwarming message:
I wasn't the only one left feeling inspired by this sweet quote. Fans on Twitter also picked up on the Obama connection.
To be honest, this may be my favorite reaction:
Mothers really do know best, so here's hoping the singer listens up.
Previously, Drake posted a photo on Instagram of himself meeting Barack Obama and the leader's eldest daughter Malia. It's unclear whether Drizzy ever came face to face with Michelle IRL. But at least her words of wisdom live on through his own mother, right?
There's no better way to honor the most important woman in his life — his mama — than including her on his song. And the Michelle quote is a nice touch too.
Now, if you'll excuse me, I'll eagerly be awaiting some future Instagram of Sandi Graham and Michelle Obama meeting face to face. Maybe then they can sit Drake down and giving him a talking to together.