Drake Had The Most Adorable Reaction To Adele Attending His Concert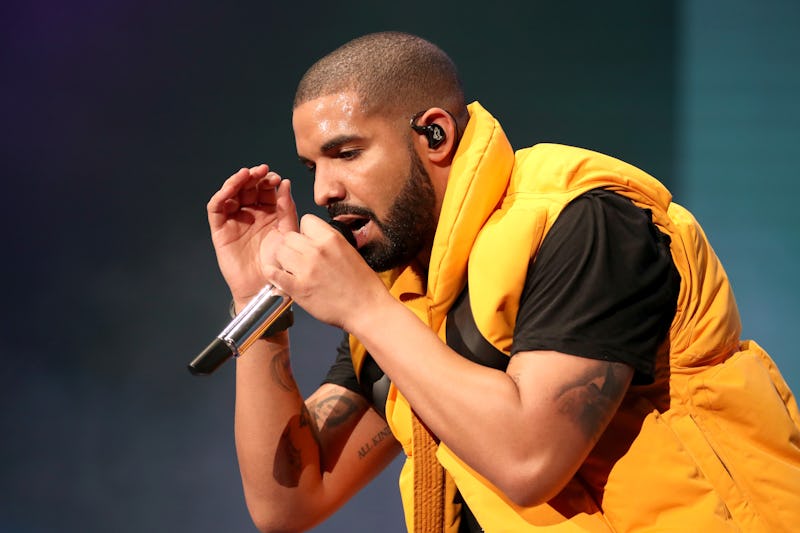 Christopher Polk/Getty Images Entertainment/Getty Images
It takes a lot to get one of the world's most popular rappers all up in his feelings, but Drake's reaction to Adele being at his concert proves that even stars get starstruck. On Friday, Oct. 12, the "Hello" singer tweeted about her amazing experience at Drake's concert, and when word got back to the rapper, he was shook. (And glad that he didn't know she was there.)
Adele kicked things off by tweeting,
"Oiii Champagne Papi blew my mind tonight! Best production I've ever seen hands down and way up there with one of my favorite shows of all time. Huge love"
The concert that Adele attended is the first of three planned to take place at the Staples Center in Los Angeles, according to Billboard. That means the ballad queen made sure she was there for Drake's opening performance. Given the sheer amount of fans he has and records that he's broken, it wouldn't have been too surprising if the "One Dance" singer took this information in stride. Instead, Drake revealed he's just as big a fan of Adele's as she is of him. He shared a screencap of the British singer's tweet on Instagram, and wrote in the caption:
"Oiiiiiii don't f*cking get me gassed right now I love this woman and she came to the show Thank god nobody told me I would have been SHOOK"
Drake's perfect reaction and Adele's love for the performer has the internet demanding a collab, and if you're feeling a sense of déjà vu, that's because these two icons stirred up collab rumors way back in 2015.
Adele and Drake's mutual admiration is nothing new, but it's always nice to be reminded of just how much they adore each other's work. During a 2015 interview with the Canadian outlet eTalk, the "Someone Like You" singer said of a potential "Hotline Bling" and "Hello" remix, "I really want us to do an official remix. I love Drake. I love Drake so much." She wasn't exaggerating either. Adele was living the "Hotline Bling" life in 2015, as reported by People, she even bought a red puffy jacket like the one the rapper wears in the music video.
Drake was equally excited about bringing "Hello" and "Hotline Bling" together at the time. According to People, he told Toronto reporters,
"I'd do anything with Adele. I'd literally go to Adele's house right now and do laundry for her."
Sadly, the remix never materialized, but it seems these two haven't stopped being major fans of each other. Could that mean there's still hope for a collab in the future? Anything is possible, and their fans are definitely here for it.
Whether or not these two ever serve up the duet the world is craving, it's wonderful to see stars of their caliber appreciating each other's work. It's a nice reminder that famous people are fans too. Now, if only they would take this time to finally make that "Hotline Bling" and "Hello" remix actually happen everything would be perfect — because there's no time limit on creating something that awesome.