Spotify's Most-Streamed Song Is Definitely Not The One You Would Have Guessed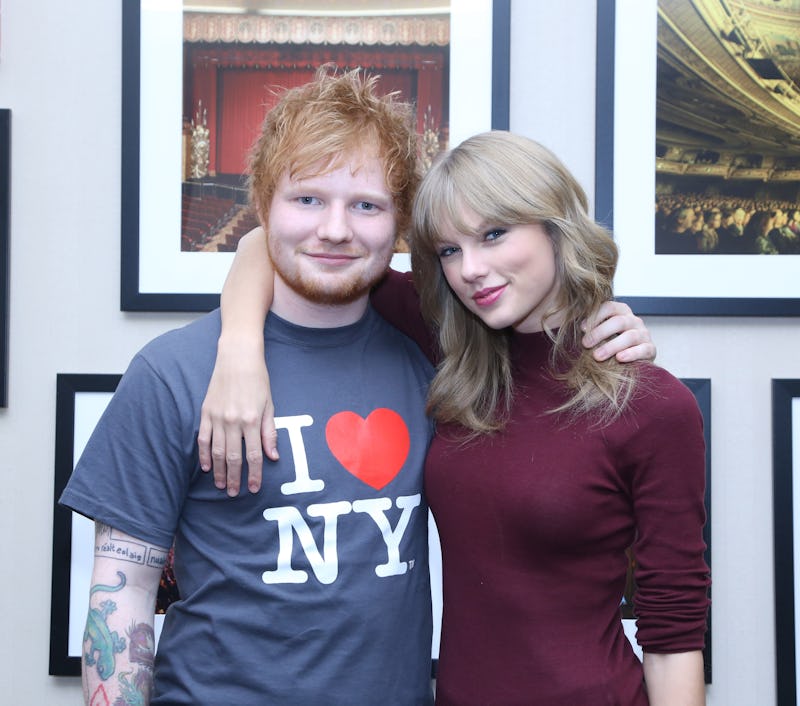 Anna Webber/Getty Images Entertainment/Getty Images
Music lovers may be divided on this one. Once all the math was calculated, Spotify's most-streamed song of all time is — drum roll, please — Ed Sheeran's 2017 Grammy winner "Shape of You," the streaming service announced in honor of its 10th anniversary. That's right, of the more than 40 million tracks that have become available on Spotify over the past decade, Sheeran's hit (off his Divide album) needed less than two years to rack up a record-breaking 1.32 billion streams. (That may explain why so many fans still can't get the tune out of their heads.)
Ironically, "Shape of You" almost didn't end up on Sheeran's album at all. "None of us thought that much into it," he told The New York Times last December. "I didn't make the song to be mine to sing." In fact, after penning the track with friend and fellow songwriter, Snow Patrol's Johnny McDaid — in just an hour and a half, no less — Sheeran envisioned it being a duet between Rihanna and Rudimental, according to NYT.
"The best songs that I've ever written, I don't really remember writing," Sheeran explained to the publication. "They take like 20 minutes and then they're just done. And then you move on to the next thing." (According to the singer, after playing the song for his record label, one exec "was kind of just looking at me ... Like, 'Why do you want to give this away?'" he told NYT.)
But the song became his, and the rest is history. In addition to earning the Spotify honor, "Shape of You" peaked at number one on the singles charts in 34 countries, according to Billboard, in addition to winning the Grammy for Best Pop Solo Performance.
That wasn't Sheeran's only hit to grace Spotify's list of most-streamed songs of all time. His 2014 ballad "Thinking Out Loud" also made an appearance (at number five) on the list, in the company of Drake's "One Dance," The Chainsmokers and Halsey's "Closer," along with three entries from Justin Bieber — "Sorry," "Love Yourself," and the remix of Luis Fonsi and Daddy Yankee's "Despacito" — among others.
Spotify also released a bunch of other mind-blowing stats, and Sheeran basically reigned supreme across the board. He boasted two of the most-streamed albums globally (with Divide and 2014's Multiply), and he came in second, only to Drake, for the honor of top streamed artist of all time.
Drizzy had plenty to be proud of in his own right. Along with being Spotify's top streamed artist over the past decade, 2016's "One Dance" was the top streamed song that year, as well as the second most streamed song in the streaming service's history, after Sheeran's "Shape of You." His 2016 album Views, as well as his latest effort Scorpion, also landed on the top 10 most streamed albums globally. (Scorpion also broke single-day streaming records, when it debuted this summer.) If that wasn't enough, he was also the ninth artist to ever reach 1 billion Spotify streams.
And let's not forget the woman power. The most-streamed female artists globally include fan favorites (in order): Rihanna, Ariana Grande, Sia, Beyoncé, Nicki Minaj, Adele, Taylor Swift, Selena Gomez, Katy Perry, Shakira.
It is worth nothing, however, that some artists opt not to stream their music, while others have held out from releasing music in that format for periods of time following their music's initial publication. In January 2018, Billboard pointed out several artists you can't find on Spotify (one being the late hitmaker Aaliyah). In addition, Beyoncé's groundbreaking 2016 visual album Lemonade was released exclusively on husband JAY-Z's Tidal streaming service.
Here are a a few of Spotify's categories worth checking out.
Top-streamed artists of all time:
Drake
Ed Sheeran
Eminem
The Weeknd
Rihanna
Kanye West
Coldplay
Justin Bieber
Calvin Harris
Ariana Grande
First 10 artists to reach 1 billion streams:
Rihanna (2013)
David Guetta (2013)
Eminem (2013)
Kanye West (2014)
Avicii (2014)
Coldplay (2014)
JAY Z (2014)
Katy Perry (2014)
Drake (2014)
Pitbull (2014)
Most-streamed albums globally
Ed Sheeran – Divide
Justin Bieber – Purpose
Drake – Views
Ed Sheeran – Multiply
Post Malone – beerbongs & bentleys
The Weeknd – Starboy
Drake – Scorpion
The Weeknd – Beauty Behind The Madness
Post Malone – Stoney
Kendrick Lamar – DAMN.
For fans who may be disappointed with where their faves fell on the lists, head over to Spotify and start streaming.