Drake's New Album Comes With A Legit Note To His Haters & You Need To Read It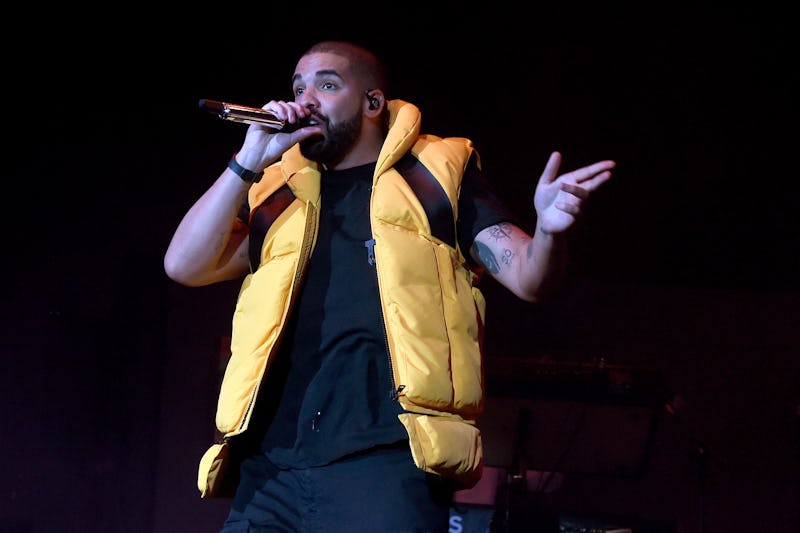 Kevin Winter/Getty Images Entertainment/Getty Images
Proving once and for all that he doesn't care what his critics think of him, Drake put a message to his haters on Scorpion. The rapper released his latest album on Friday, and included with it a laundry list of negative opinions that have been thrown his way over the course of his career. Some take aim at his talent, some with his beginnings on Degrassi, and some with his perceived lack of credibility. But all have been included by the artist himself, sending a clear message that he's owning his criticism along with his acclaim, and laughing all the way to the bank.
As fans quickly noticed upon Scorpion's release, anyone who wants to purchase Drake's album on Apple Music will first be confronted by the Scorpion's "Editor's Notes," which were added by the artist himself. They appear under the album and read, in all caps:
"I HATE WHEN DRAKE RAPS
DRAKE SINGS TOO MUCH
DRAKE IS A POP ARTIST
DRAKE DOESN'T EVEN WRITE HIS OWN SONGS
DRAKE TOOK AN L
DRAKE DIDN'T START FROM THE BOTTOM
DRAKE IS FINISHED
I LIKE DRAKE'S OLDER STUFF
DRAKE MAKES MUSIC FOR GIRLS
DRAKE THINGS HE'S JAMAICAN
DRAKE IS AN ACTOR
DRAKE CHANGED
ANYBODY ELSE > DRAKE ...
YEAH YEAH WE KNOW"
In case you maybe lost count, which would be understandable, that's 13 insults. (Or at least, what seem to be intended as insults, since everyone knows there's nothing inherently wrong with being an actor or "making music for girls.") But taken as a unit, they all target the rapper's identity, suggesting that he's a fraud who's undeserving of his successes — a criticism that Drake has repeatedly faced.
But the rapper lists them all out in one place nonetheless, and then caps them off with a simple, "yeah yeah — we know," giving a peek into his intentions. The line seems to suggest to fans and critics alike that Drake knows what's said about him, and not only does he not really care, his music is getting purchased anyway. After all, if you're reading this, it's too late — kinda seems like you already have plans to buy or at least listen to Scorpion, and a hate-listen is still a listen. The performer appears to be taking a cheeky dig at his own haters, encouraging them do their worst, because he hears it all, and he isn't going anywhere.
It's an unusual strategy, to put all that criticism right out front, but it's one that makes sense in a career like Drake's. After all, this new double album release is the rapper's fifth studio album, and he's just 31 years old. Moreover, that number doesn't even take into account Drake's mixtapes of extended plays, so his career is hardly suffering. Each new offering has its own journey on the charts, but nothing is very high stakes, because the rapper puts out new material pretty much every year. The dude has barely stopped moving since his first mixtape, 2006's Room for Improvement — there hasn't been a single year in the interim in which he hasn't released either an album, a mixtape, or a single.
So no matter how anyone labels his work, it's inarguable that the "God's Plan" singer is highly prolific. And when you churn out that amount of material on that kind of timeline, not everything is going to be a winner, and it's inevitable that you'll pick up some critics. Why not acknowledge the haters along the way to what is sure to be even more music and success?
What's impressive about Drake's approach here, though, is how he handles the negative attention exactly the way you might expect a celebrity to handle positive attention. Where other artists would want to put their best foot forward, Drake puts forward his worst, knowing that everyone's probably already heard these critiques anyway. It's almost like he's telling fans, now that we've all heard what the haters have to say, it's time to listen to some music.