Drew Barrymore Believes The 'Charlie's Angels' Reboot Should Happen For The Best Reason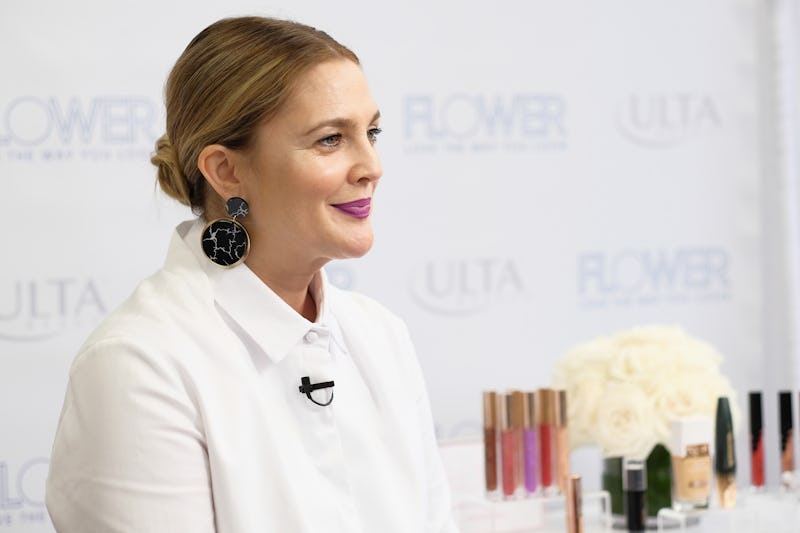 Dimitrios Kambouris/Getty Images Entertainment/Getty Images
If you're surprised that after spending her life to date in show business, Drew Barrymore is still like a beam of light, then you don't know the actor too well. It's true that Drew Barrymore approves of a Charlie's Angels reboot, but more than that, she's "excited" for it.
When Entertainment Tonight asked Barrymore what she thought of the upcoming reboot of Charlie's Angels, the actor only had kind words to say. "I'm just excited for them," she said. Barrymore, of course, was part of the early 2000s reboot of Charlie's Angels, which turned the 1970s television series into a fierce, feminist, and surprisingly funny pair of films. It also had a fire soundtrack.
This generation's Charlie's Angels — considering that the new TV show didn't exactly take off — is set to be equally spectacular. It's thought to star Kristen Stewart and Lupita Nyong'o, though that is not yet confirmed, and will be directed by Elizabeth Banks. It needs to happen ASAP, because it sounds incredible. Barrymore, to her credit, totally agrees.
On the subject of a possible Charlie's Angels reboot, Barrymore added:
I'm excited for them, because every generation that brings Charlie's Angels out into the world is about the power of three women and what they can do, while loving men and wanting to date them or working side by side with them. But there's just something about Charlie's Angels that make men and women so happy.
The actor continued, saying that Charlie's Angels "is so positive. So if they keep that alive in this new iteration, it's just going to be great."
ET also pointed out that Barrymore is close with Charlie's Angels co-star Cameron Diaz, almost 20 years after the release of the first film. The actor wholeheartedly agreed, and gave another precious quote — this time, about their friendship:
We're like more than best friends; she's my sister. We have much more of that kind of relationship, we're very honest with each other. We push each other. And we've had the majority of our lives spent side by side, really going through what real life is, which is an everyday high and low and we just have each other's backs.
Amazing. Just so amazing. Inspiring, even.
According to Screen Rant, filming for the new Charlie's Angels could begin as early as September. That may sound soon, considering it's already mid-summer, but that's supposedly been pushed back from the original filming date. The website's report conflicts with Entertainment Tonight, as they believe Stewart was confirmed for the film, and it's just Oscar winner Nyong'o who has not officially signed on. Screen Rant also reports that actor Naomi Scott, who co-starred with Banks in 2017's Power Rangers film, may also join the cast. At this point, an updated release date has to be just around the corner, right? Is summer 2019 too much to ask for?
If you're really hyped on the next era of Charlie's Angels, you're not alone, but it is important to take any news with a grain of salt. Representatives for Stewart and Nyong'o have not confirmed their involvement in the movie, and the Scott rumors are barely more than a whisper at this point. Back in 2017, when the project was first announced, Banks did discuss what it was like to work on the movie, so at least fans know it's happening. On being behind the camera for the future Charlie's Angels adaptation, she said the following to The Hollywood Reporter:
It was mentioned to me in passing at a meeting at Sony, like, "Hey, we'd love you to do something with Charlie's Angels." I went home and, as a lot of creative people will say, I dreamed about it. It has to stay with you, you have to visualize it, you have to have some seeds of ideas. I felt like I had a take, so I went back in and pitched it, and they really liked it.
She added that she loved being able to do "action and visual effects" in a major way as well. Other than that, she was tight-lipped on the subject. For Barrymore's sake (and ours), let's pray the Charlie's Angels reboot arrives soon.