Stores Are Selling Out Of Drinkable Yogurt Because Of Peter Kavinsky & Lara Jean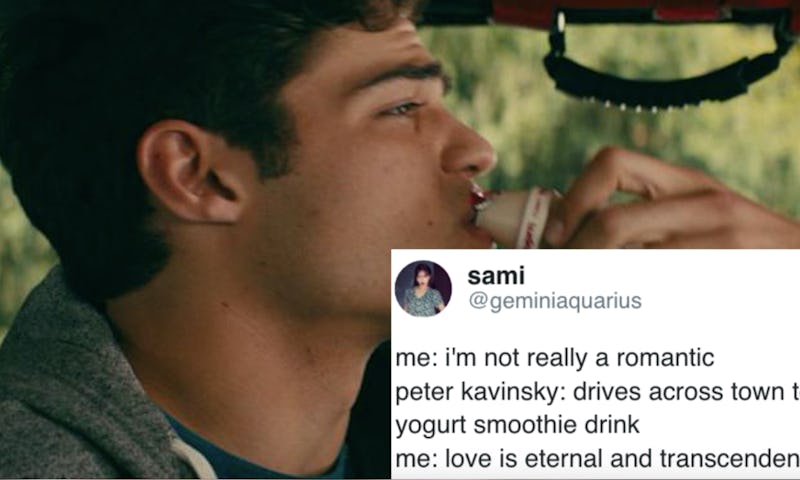 Netflix/Twitter
What a time to be young and alive and obsessed with yogurt! In case you haven't been on Twitter, a social media platform recently converted into a Netflix rom-com meme portal, the internet is very much in love with the new teen rom-com To All The Boys I've Loved Before, based on Jenny Han's novel of the same name. And while it launched a thousand fan accounts for its young actors within days of its release, it also launched something entirely unexpected: a drinkable yogurt brand's sales have gone up since the release of To All The Boys I've Loved Before, likely thanks to its inclusion in several of the film's iconic scenes.
Warning: Minor dairy-related spoilers for the film ahead (but honestly, if you haven't seen it yet, do yourself an infinite number of favors and DO IT). In the film, protagonist Lara Jean and her little sister, Kitty, are frequent consumers of a "Korean yogurt smoothie." Kitty offers one to Peter, Lara Jean's pretend boyfriend (and the new boyfriend of the collective internet) when he drives them to school; later in the film, in what might be the most romantic gesture this yogurt stan has ever heard, Peter drives way across town to get Lara Jean some of the same yogurts in a Korean grocery store. It seems that while the internet's thirst for Peter has gone up, so too has their thirst for the yogurt he so gallantly acquired.
According to Bloomberg, many Twitter users noticed the distinctive red foil top on the yogurt in the film was actually that of Yakult, a Japanese probiotic drink that's been around since 1935. TickerTags, a company that assesses the relationship between social media and product sales, has noted that since the film's release, sales have gone up: "While the brand is of Japanese origin and was never mentioned by name in the movie, it is clearly a Yakult bottle, which Twitter users quickly noticed," said Mark Bachman, head of TickerTags, in a note, according to Bloomberg. "Given the increasing conversation levels, we believe Yakult is achieving greater brand awareness, which should likely result in higher sales volume."
In fact, according to Bloomberg, the company's stock has risen by 2.6 percent since the release of the film on Aug. 17 — particularly worth noting because slower sales earlier in the year led to a 6 percent decline. More than sales, though, the yogurt has inspired more than a few memes, and a delicious new romantic ideal.
In conclusion, y'all, flowers are out and yogurt is in. Let this be a lesson to us all: True love is strong, but lactose is stronger. In the meantime, if you really do want to get your hands on some Yakult after your 17th viewing of this film, there's a store locator on its website here; as for getting yourself your own Peter Kavinsky, we have yet to formulate technology for that, but hopefully it will be underway by the time Netflix releases a sequel (!!), if we end up so blessed.