Lana Condor Is Ready For 'To All The Boys' To Change Her Life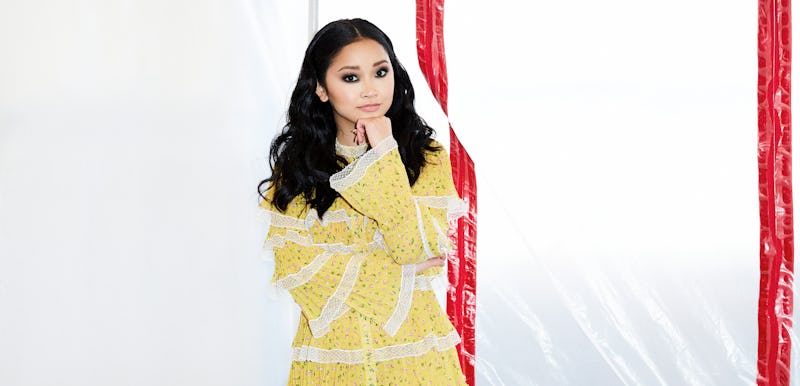 Lauren Perlstein/Bustle
To All The Boys I've Loved Before is a dream — and not just for all the Netflix subscribers who fell in love with the new teen rom-com. "Never in my wildest dreams did I ever think I would be able to get this opportunity," To All the Boys star Lana Condor tells Bustle, sitting in the green room at our New York City offices. It's just three days before the film's big premiere on Aug. 17 when we meet — Condor's first role as a leading lady — and the 21-year-old actor is buzzing with anticipation. "I hope I can do it again, and again, and again, you know? It's a dream come true," she says, smiling.
In To All The Boys , Condor stars as Lara Jean Covey, a high school junior caught in a fake relationship with her middle school crush Peter Kavinsky (Noah Centineo) after private love letters she's written to her past crushes are sent out, unbeknownst to her. One letter was sent to her older sister's longtime boyfriend, Josh — a former (but major!) crush — and a fake relationship with Kavinsky is just the thing she needs to convince Josh she's not in love with him. In other words, it's a complicated, messy, and devastating teenage romance, the kind we've seen many times before — with white actors in the lead. "Playing Lara Jean is the greatest gift that I could ask for as an actor... as an Asian American actress, for sure," Condor says.
Lauren Perlstein/Bustle
Lauren Perlstein/Bustle
From the outside, Condor's rise to fame might seem relatively quick. She booked her first job playing Jubilee in 2016's X-Men: Apocalypse after barely a few years in the business, and soon after, she appeared in both Mark Wahlberg's Patriots Day and the Lifetime movie High School Lover, co-starring James Franco. Yet these roles, while certainly big jobs for a relative newcomer, were also all supporting characters. Until To All the Boys came along, roles that put Asians like herself in the lead or escaped Asian stereotypes and tokenism were difficult to find for Condor.
Unlike many other roles she had auditioned for before, To All The Boys' Lara Jean wasn't a supporting character or a model minority stereotype, despite being written specifically for an Asian American actor. For this fact, Condor gives full credit to Jenny Han, the author of the book upon which To All The Boys is based. Says Condor, "Because Jenny wrote it, she didn't put borders and stereotypes onto this character, which is really refreshing as an actor, to work on something where you're not just 'the nerdy computer geek.'"
I want to represent our community, but also represent us Asian Americans in a way where it's like, 'Look, we are just like you! We're not this other entity. This is your girl next door.
In fact, Han tells Bustle via e-mail that she wanted Lara Jean to carry on "that classical tradition of bright, optimistic young heroines" like the March sisters of Little Women or Anne of Anne of Green Gables while also being modern. "To me, a modern American girl doesn't look like any one thing," Han explains. "And when I looked at the people I know, so rarely is anyone just one thing and I wanted to acknowledge that and honor it in this story."
What's so revolutionary about To All The Boys I've Loved Before isn't that it features an Asian American lead, it's that being Asian American isn't Lara Jean's main character trait. "There are stories where you specifically focus on race, and then there are stories where you just tell someone's life," Condor explains. To All The Boys is definitely the latter, but that doesn't mean that it's not an important film for Asian Americans. "I want to represent our community, but also represent us Asian Americans in a way where it's like, 'Look, we are just like you! We're not this other entity. This is your girl next door," Condor says.
Lara Jean's ethnicity is a part of who she is, but it's not crucial to the plot. As Condor's co-star Janel Parrish put it in a separate interview with Bustle, "We just happen to be the family that's in the story and our lead just is the girl next door but she happens to be Asian American." As such, Condor is hopeful that To All The Boys can help change a white audience's ideas of an Asian American protagonist, just as it helped reframe her own ideas of what was possible for Asian Americans in Hollywood. "To All The Boys was very refreshing, because it showed me that there are filmmakers and writers out there that are trying to shift the way that we are seen as a group," Condor says.
When the movie first came her way, the actor admit she was feeling pretty "jaded and cynical" about Hollywood; after all, it's nothing if not an appearance-driven industry, and, though Condor was used to being judged by her appearance thanks to her background as a dancer, she experienced a new kind of judgment when she started acting.
"I think my first couple of experiences auditioning was eye-opening for me in the way that people see you in Hollywood," she recalls. For Condor, that meant that, for the first time in her life, she realized that she was being seen as Asian first.
I was never really aware that I was different ... When I was a kid... when I met someone new, I was like, 'Oh, they're meeting me, Lana.'
Lauren Perlstein/Bustle
Lauren Perlstein/Bustle
Before coming to Hollywood, Condor — who was adopted from Vietnam by white American parents — says she never felt singled out because of her race. "I was never really aware that I was different. Of course I don't look like my parents, but that never crosses my mind," she says. Yet once she started acting, Condor's ethnicity moved to the forefront of any new social interaction — and it still is today. "When I was a kid... when I met someone new, I was like, 'Oh, they're meeting me, Lana,'" Condor recalls. "And now, because of how specific people are, and how I feel they see how I look first, 'I'm like, do you really want to sit down and talk to me as Lana, or do you want to sit and talk to me as Asian Lana?'"
In many ways, getting cast as Lara Jean in To All The Boys has helped soothe this somewhat abrupt shift in awareness. Instead of it being a limiting factor (or a disqualifying one) in the casting process, Condor's Asian American identity was suddenly a necessity. And it meant that for the first time in her career, Condor was able to represent Asian American young women on screen as a lead role, not a sidekick or a token.
"I'm thrilled that I do have the platform and the responsibility to represent my community on screen, and that's what I love the most about it, that I can do that for girls that look like us," she says now, so excited she's almost yelling. "That's all I care about!"
I'm ready for more commitment and more responsibility.
Condor is so enthusiastic about the role, she's already thinking about a potential To All The Boys sequel. "I want so badly to play her again, 'cause I know there's more books," she says, her voice getting louder and her words speeding up with excitement, "I'm so hopeful that I get the opportunity to play her again, because I think that'd be so fun." Han's original book is part one of a trilogy, so a sequel isn't out of the realm of possibility. In the meantime, Condor would also like to throw her hat in the ring for one of the coveted X-Men spinoff films.
After being all but cut out from X-Men: Apocalypse — an experience she is, nevertheless, nothing but thankful for — the actor won't reprise her role as Jubilee in the upcoming X-Men: Dark Phoenix. However, she has faith that fans could see her take on the Asian American mutant hero once again. "I do think that there's an awesome chance that we will see her again in a bigger capacity, which, you know, is also kind of one of my goals," she teases. "I've been working for a couple of years since that, and I've been hoping that the producers and everyone sees that I have a lot more experience now, and I'm ready for more commitment and more responsibility."
That's for sure. After its Aug. 17 Netflix release, To All the Boys exploded on social media, with much attention being heaped on Condor. If the movie's apparent success is any indication (as well as the box office numbers of a similarly Asian American female-led movie Crazy Rich Asians), audiences are ready to see more female Asian American leads. And there's no denying that Condor has what it takes to lead a film. Now the rest of Hollywood just has to take the leap.
Hair: Nicole Blais for Exclusive Artists using Oribe Haircare
Makeup: Clarissa Luna using Stila Cosmetics