This GOP Congressman Allegedly Used Campaign Funds To Buy A Plane Ticket For His Rabbit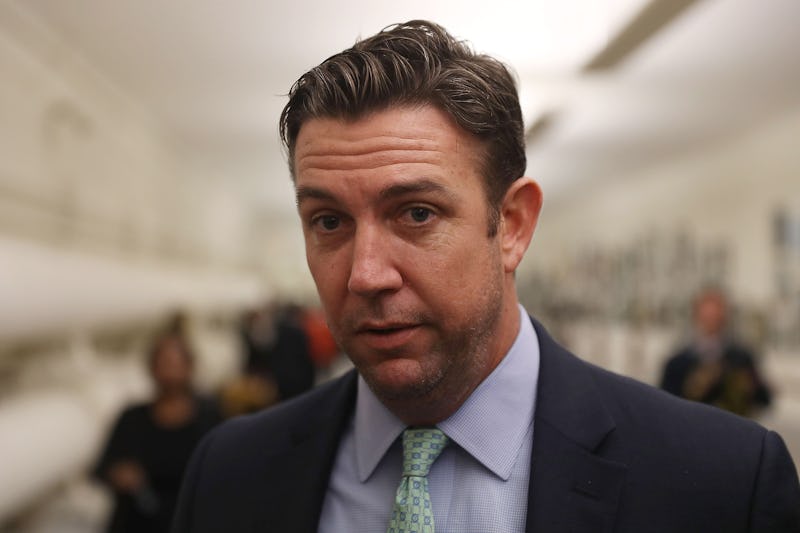 Joe Raedle/Getty Images News/Getty Images
The same day two close allies of President Donald Trump were found guilty of federal crimes, a Republican congressman was indicted by a federal grand jury for allegedly misusing more than $250,000 in campaign funds. The Justice Department claims Rep. Duncan Hunter (R-CA) illegally paid personal bills with campaign donations. Not just your average phone and electric bills, either — he and his wife, Margaret, allegedly made some pretty luxurious purchases.
A lengthy federal investigation uncovered that Hunter allegedly filed false campaign finance records with the Federal Election Commission while using campaign funds to pay for family vacations to Hawaii and Italy. The 47-page indictment, which was unsealed on Tuesday, Aug. 21, and obtained by CNN, also accuses Hunter of illegally using the money to cover delinquent dentist bills, his children's private school tuition, a $600 plane ticket for the family's pet rabbit, and a $462 bill for 30 tequila shots and one steak.
The indictment claims Hunter and his wife "knowingly conspired with each other" to illegally use campaign money for personal expenses, though Hunter denies any wronging. Michael Harrison, a spokesman for Hunter, told The New York Times on Tuesday that Hunter "believes this action is purely politically motivated." He's scheduled to be arraigned on Thursday morning.
Prosecutors allege Hunter's misuse of funds continued despite multiple warnings from his campaign staff, CNN reports. The indictment further claims that the Hunters were in financial trouble without the campaign's money, stating that they overdrew their personal bank accounts more than 1,000 times in the past seven years.
"By virtue of these delinquencies — as well as notifications of outstanding debts and overdue payments from their children's school, their family dentist, and other creditors — the Hunters knew that many of their desired purchases could only be made by using campaign funds," the indictment reads.
Another Republican congressman, Rep. Chris Collins, was also indicted on federal charges earlier this month. Collins pleaded not guilty to insider trading charges on Aug. 8, following an indictment claiming that he shared information with his son related to an Australian biotech company that he obtained as a member of the board. His son allegedly responded to the information about a failed drug trial by selling stocks in the company before the trial was made public.
As HuffPost pointed out, Hunter and Collins were the first two GOP members of Congress to publicly endorse Trump's bid for the White House. Both Trump's former campaign manager and his former personal attorney were found guilty of federal crimes on Tuesday, adding pressure to the president's own legal troubles. Paul Manafort was found guilty of eight fraud charges, while Michael Cohen pleaded guilty to fraud and campaign finance charges.
Hunter's indictment specifically puts his House seat in danger of flipping in November. "People disregard a lot of political issues, but the word indictment catches their attention," Claremont McKenna College political scientist Jack Pitney told The Washington Post. Because there's no way to remove his name from the ballot in California — and Hunter hasn't indicated that he would try to — he'll still face Democratic challenger Ammar Campa-Najjar in November.
Sen. Elizabeth Warren (D-MA) encouraged her supporters on Twitter to chip in to help elect Campa-Najjar on Tuesday, signaling how Democrats plan to leverage the indictment against Hunter in the midterm election.