Hanna Eyre's Knockout Song On 'The Voice' Was A Big Hit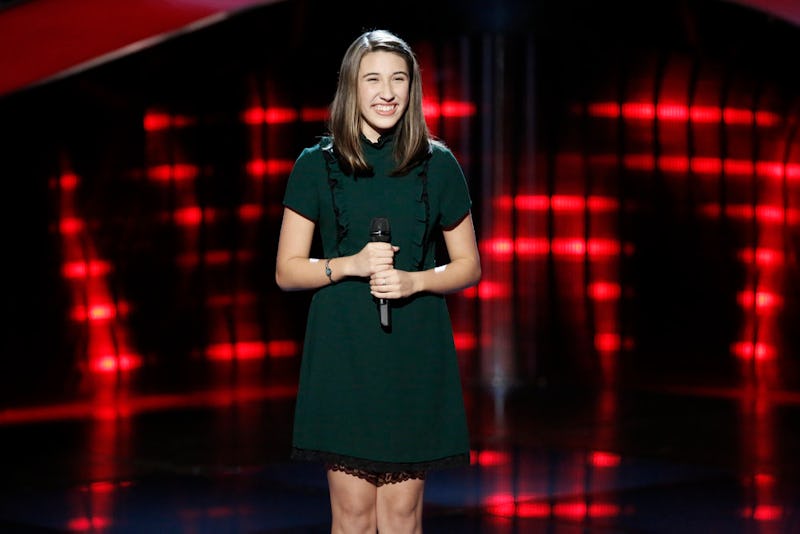 Tyler Golden/NBC
Jaws dropped to the floor on Monday night's episode of The Voice and it was mostly because of Hanna Eyre. After a blind audition which wowed the judges and a Battle round that confirmed she was the right choice for Team Adam, Eyre's Knockout performance on The Voice was an announcement that though she be little, she is fierce. A fierce competitor, that is. Seriously, I'm getting the sweats just thinking about how inadequate I am compared to one of the top contenders on Season 12 of The Voice. No biggie.
For her Knockout performance, Eyre chose the somewhat more mature tune "Bleeding Love" by Leona Lewis. While the song would be considered thematically a bit older than Eyre's teen demographic, all of that nonsense went out the window the minute she started to sing it in rehearsals with coach Adam Levine. Eyre, who is currently attends a performing arts high school, revealed that she sees herself as more of a pop and R&B singer, hence the choice to go the "Bleeding Love" route. She put a ton of intensity into that rehearsal and was not afraid to really push her voice into some deeper, equally mature places as the song demanded.
Levine was wowed, but wanted to make sure that she kept her control with the song. He also wanted to make sure she was building up those notes properly so that her voice didn't crack or falter. Lewis set a high bar when she sang the song originally; Eyre had the big challenge of having to keep up. After singing out the particularly tough bridge for Eyre, Levine left her to perfect the song for the live Knockouts.
Eyre totally brought "Bleeding Love" to life and, in the process, knocked out her competitor, Autumn Turner. This high schooler gets to spend another few weeks on The Voice, learning from Levine and honing her skills to transform into the artist she's always hoped to become.