This Timeline Of Val & Jenna's Relationship Takes 'DWTS' Fans On A Trip Down Memory Lane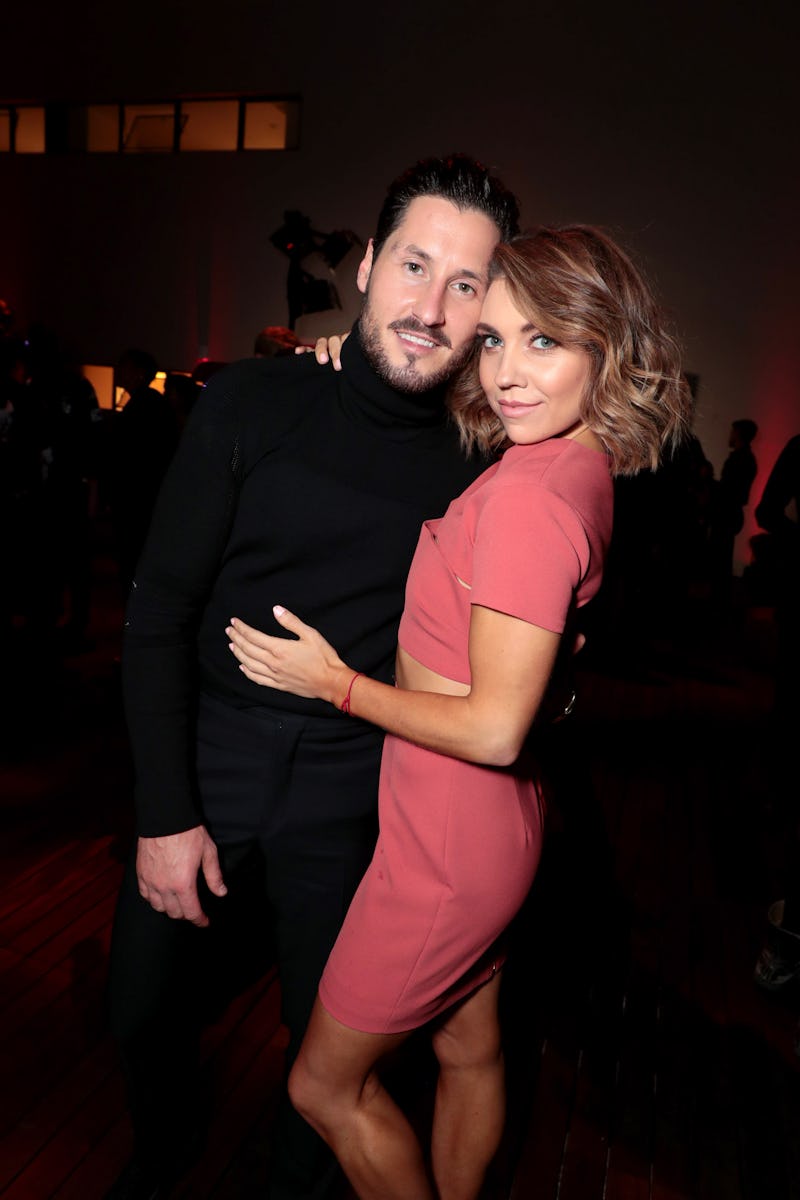 Eric Charbonneau/REX/Shutterstock
As you might have heard, there was some happy news coming from two Dancing With the Stars pros. Val Chmerkovskiy and Jenna Johnson are engaged, as they both detailed on Instagram. Seeing as though they took this major step, you might be wondering about DWTS' Val and Jenna's relationship timeline to find out how it all began for the two dancers. Well, wonder no longer. Their relationship timeline shows everything you need to know about their years-long courtship.
Val and Jenna have sort of had an up-and-down relationship ever since romance rumors about them first began to emerge in 2015, per People. But, it wasn't until some time after that that they went official with their relationship on Instagram (the classic 21st century sign of something romantic going on). Entertainment Tonight reported that they did make things official, after a brief breakup, in 2017.
Of course, the DWTS pros are stronger than ever right now, as their recent engagement would entail. They posted matching Instagram posts about the happy occasion, which took place in Venice, Italy. Basically, it couldn't have been a more romantic location to get engaged in.
Where and when did it all begin for Val and Jenna, though? It all started in 2015...
2015: The Romance Rumors Started
As previously mentioned, it was reported by People that the dancers started dating in 2015. Although, they didn't go official with their relationship until much later. They also didn't confirm whether or not they were dating at the time.
February 2016: Are Things Heating Up?
In February 2016, E! News reported that Val and Jenna were spotted getting close in West Hollywood after a day of dance rehearsals. But, were the two officially on at this point? That may not have been the case. A source later told E! News that the pair was "not dating."
At Some Point In 2016: A Brief Break
The two pros reportedly took a break in 2016. According to CNN, Val was in a relationship with Amber Rose, who appeared on the reality TV program with his brother, Maksim Chmerkovskiy, from late 2016 to early 2017 (he would later reconcile with Jenna shortly after this breakup). So, it was clear that the DWTS stars weren't dating around that time.
June 2017: Insta Official
Of course, they later reconciled in 2017. And come June 2017, the two would be Instagram official based on some very lovely photos. Both Jenna and Val posted photos of themselves in Rome, Italy, as Entertainment Tonight noted. The publication later reported that the pair had posted something even more romantic on their Instagram stories. While out to dinner, they posted photos of each other saying how much they loved the view (of their significant other). How romantic!
December 2017: Spending Christmas Together
You could tell that things were going extremely well for the couple, as they spent Christmas 2017 together with Val's family. In one special snap, the dancing pros could be seen hanging out together alongside Val's nephew, Shai. Based on the photo, it seems like Jenna already fit right in with her fiancé's family.
May 2018: Hinting At An Engagement?
Val may have hinted that he was going to propose to Jenna before it happened. In early May, he retweeted a fan's GIF of the reigning DWTS champ and said, "I should def put a ring on it" along with a slew of cute emojis. Well, cut to over a month later and he did just that.
June 2018: They're Engaged
The dancers posted photos about their engagement to their respective Instagram accounts. And they obviously couldn't be happier about this major relationship step. On her post, Jenna wrote, in part, "I knew the moment I met you, you were the man of my dreams and I wanted to be with you forever." On his post, Val wrote in the caption, "I can't wait to make you my wife."
The adorable dancing pros' relationship is nothing short of totally sweet. And since they're apt to share photos about their many milestones, you'll definitely want to stay tuned to see what's in store for Val and Jenna next.