Read Dylan Farrow's Response To The Rumor That Mia Farrow Brainwashed Her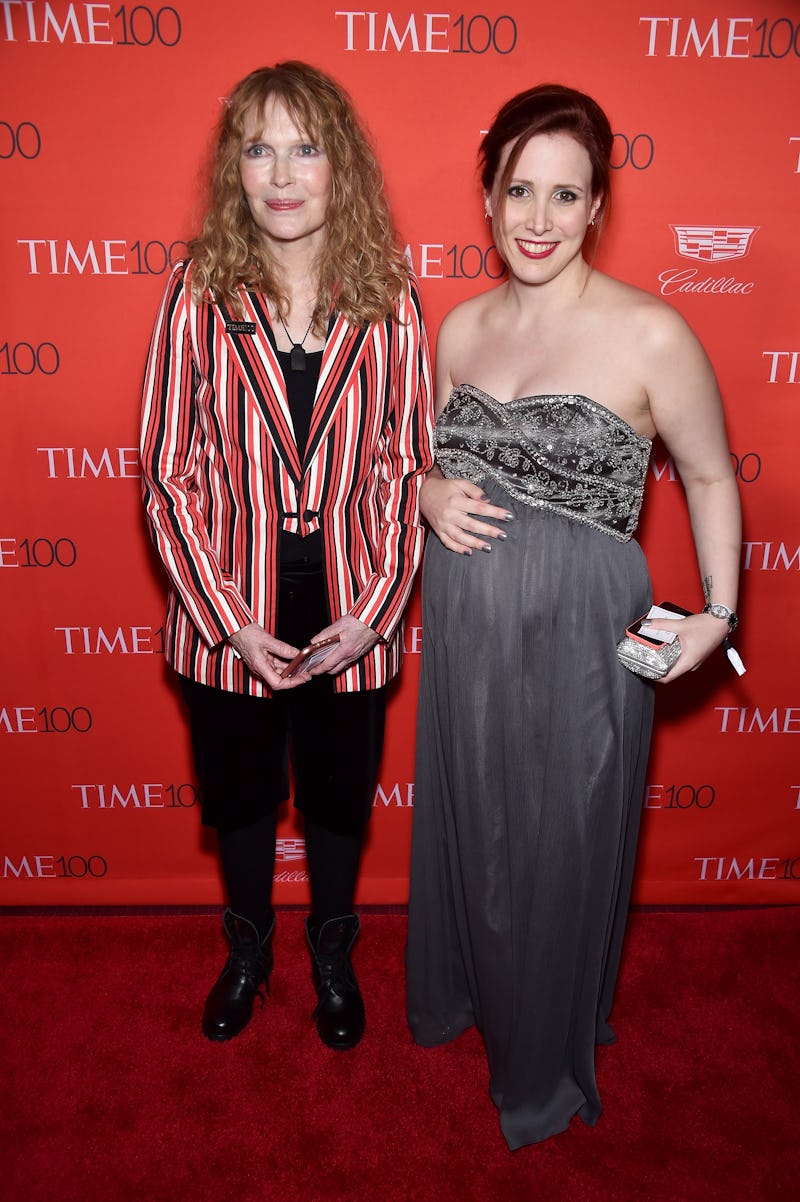 Dimitrios Kambouris/Getty Images Entertainment/Getty Images
On Saturday, Feb. 3, The New York Times published a new opinion piece about the allegations against Woody Allen. In the article, Allen's adopted daughter Dylan Farrow addressed the brainwashing rumors that suggest her mother, Mia Farrow, coached her to say that Allen allegedly molested her when she was 7-years-old. For her part, Farrow has been recounting the same story since 1993, when a custody battle between her parents entered into the public eye. Allen has always denied all allegations against him.
In an interview with NYT writer Nicholas Kristof, Farrow offered her view on why it seems to be easier for people to believe that she's been brainwashed than it is for them to believe her allegations against her famous father. Farrow said,
"I think it's more logical almost that the people who accuse me of being brainwashed are brainwashed themselves by the celebrity, the glamour, the fantasy, the pull they have to Woody Allen, their hero on a pedestal."
Allen's reputation as one of the best directors in Hollywood means that he does have many fans whose love for his art is hard to separate from Allen himself. However, in the wake of the #MeToo movement, some high profile actors — including Ellen Page, Greta Gerwig, and Mira Sorvino — have publicly expressed that they regret working with him. Additionally, actors Timothée Chalamet and Rebecca Hall have apologized for working with Allen and donated their salaries from the upcoming film Rainy Day in New York to the Time's Up movement. Seeing celebrities like Page and Sorvino offer apologies in recent weeks has been "incredibly healing," according to Farrow.
The #MeToo movement has left many people in a position where they have been asked to reevaluate how they view the powerful male celebrities who have had allegations brought against them by women and men with stories of harassment and abuse. Fans only see these men through their art, and art is a powerful thing — there's no denying it can spark strong emotional attachments to the people who make or star in the films and television series that you love. However, it's not the same as intimately knowing a person, and it's certainly not a valid reason to dismiss the stories of accusers.
For Farrow, continuing to share her allegations against Allen is about something bigger than herself. She told NYT that her ultimate goal is to be part of an environment where alleged victims voices are not only heard, but believed. While false accusations do occur, those situations are rare. It takes a great amount of courage to come forward with allegations against people who are in positions of power over you — particularly if you're a child whose voice is less likely to be believed by virtue of age alone.
It's important to note that both the New York State Child Welfare investigators and a report by the Yale-New Haven Hospital found no evidence of abuse in Farrow's case, and Allen was never charged with a crime. In light of Farrow's interview with CBS, Allen issued a statement once again denying the allegations against him. The director said,
"But even though the Farrow family is cynically using the opportunity afforded by the Time's Up movement to repeat this discredited allegation, that doesn't make it any more true today than it was in the past. I never molested my daughter — as all investigations concluded a quarter of a century ago."
It's also true that Allen had been in therapy sessions for alleged inappropriate behavior where Farrow was concerned before her allegations that Allen molested her were made. Additionally, prosecutor Frank Maco said that he did have probable cause to charge Allen, but that he chose not to because he didn't believe Dylan could handle such a public trial when she was so young.
There's no denying that Farrow's case is a complicated one, but she makes a strong point about why it shouldn't be easier to believe that someone was brainwashed than it is to believe that they were violated. Farrow's comments illustrate once again why the #MeToo movement is so important, and how there's still a long way to go before the voices of victims face less scrutiny than the arguments made by the men they are speaking out against.
If you or someone you know has been sexually assaulted, call the National Sexual Assault Telephone Hotline at 800-656-HOPE (4673) or visit online.rainn.org.