Language Experts Explain Why Celebs Keep Saying Nice Stuff About Woody Allen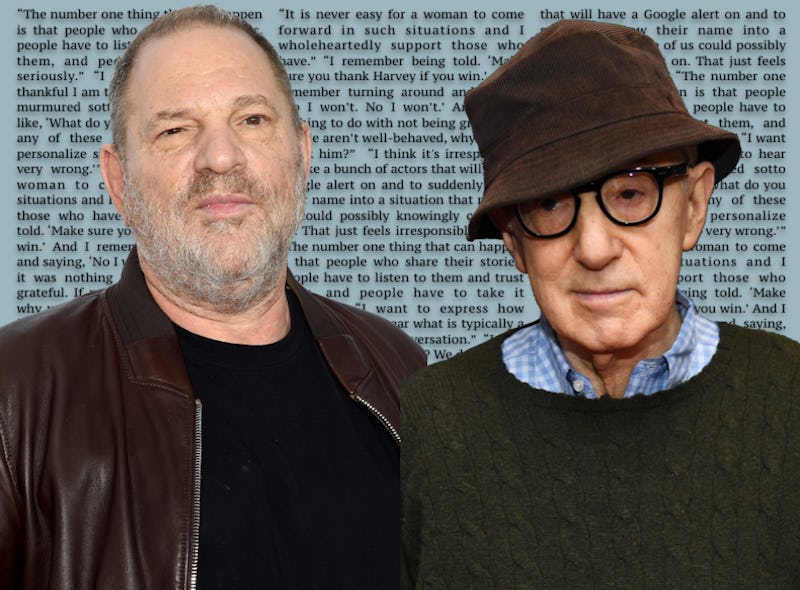 Jamie McCarthy/Getty Images Entertainment/Getty Images; Dimitrios Kambouris/Getty Images Entertainment/Getty Images; Jamie Primeau/Bustle
If there's a takeaway from 2017's outpouring of sexual misconduct allegations, it's that we may have finally reached a tipping point. Women's voices are being elevated, and in many cases, believed. Just look at TIME's Person of the Year cover honoring all of the "Silence Breakers." But when it comes to Hollywood's statements about Harvey Weinstein and Woody Allen and their respective allegations, there's a bit of a discrepancy. While plenty are quick to condemn Weinstein's alleged behavior, others say they "don't know" about Allen's situation enough to comment.
To date, more than 50 women have come forward with allegations against Weinstein, the latest being Salma Hayek, who claimed the film producer sexually harassed her and once threatened to kill her. (Weinstein has denied the allegations, but also issued an apology to the Times, stating, "I appreciate the way I've behaved with colleagues in the past has caused a lot of pain, and I sincerely apologize for it." His spokesperson told The New Yorker, "Any allegations of non-consensual sex are unequivocally denied by Mr. Weinstein.")
As for Allen, his daughter Dylan Farrow accused him of allegedly molesting her when she was 7 years old. Allen repeatedly denied the allegations, which were brought back into the spotlight when Farrow penned a New York Times op-ed in 2014. Soon after, Allen wrote his own story, blaming Farrow's mother and his ex-wife, claiming, "When I first heard Mia Farrow had accused me of child molestation, I found the idea so ludicrous I didn't give it a second thought."
Stars ranging from Blake Lively to Selena Gomez have been asked about working with Allen, given the allegations; this resulted in backlash for what were deemed inadequate responses. Taking this all into account, Bustle spoke with experts to analyze these women in Hollywood's statements.
"What they're trying to do is make a judgment between their personal experience, which is going to be much more meaningful and relevant than the report of someone else," explains Dr. Pamela Rutledge, director of the Media Psychology Research Center, over the phone. Since they may view it as an "an attack on their professionalism, their ego," the actor may grow a bit defensive. Comparing it to a "fight-or-flight" reaction, Rutledge clarifies, "I don't mean to say they're pushing this under the rug. I'm saying that the automatic response to anyone who is attacked is to protect themselves."
Meanwhile, Doug Cloud, an assistant professor of rhetoric and composition at Colorado State University, tells Bustle via email, "The first thing that jumps out about these interviews is the hesitation. You can almost feel the discomfort. Their wording is tortured; it's filled with hedges and qualifications — but only when they are talking about Woody Allen."
Selena Gomez
Among the most recent to voice comments about Allen is Gomez, who appears in his upcoming film, A Rainy Day In New York. Speaking to Billboard in November, she said,
"To be honest, I'm not sure how to answer — not because I'm trying to back away from it. [The Harvey Weinstein allegations] actually happened right after I had started [on the movie]. They popped up in the midst of it. And that's something, yes, I had to face and discuss. I stepped back and thought, 'Wow, the universe works in interesting ways.'"
(Bustle reached out to Gomez's rep about her comment and its backlash, but did not receive an immediate response.) As Cloud points out, "The way Selena Gomez directly says, about Allen, 'I'm not trying to back away from it' when she might just as well have said, 'I am trying to back away from this question.' One can almost hear her saying, 'I'm not trying to back away from [this question], but … really I am.'"
Gomez hasn't gone on the record to say anything specifically about Weinstein, though her statement in Billboard does reference the producer briefly.
Blake Lively
After appearing in 2016's Café Society, Lively found herself in the hot seat. She was asked about Allen's allegations and told the Los Angeles Times, "It's very dangerous to factor in things you don't know anything about. I could [only] know my experience. And my experience with Woody is he's empowering to women." She added, "It's amazing what Woody has written for women." (Bustle reached out to Lively's rep, but did not receive an immediate response.)
Referring to Lively's statement, Cloud says, "That is a hedge. She limits the certainty of her statement by locating it only within her experience. But when she talks about Weinstein, the hedges are conspicuously absent."
This is something Farrow acknowledged in a recent Los Angeles Times piece. She wrote, "Why is it that Harvey Weinstein and other accused celebrities have been cast out by Hollywood, while Allen recently secured a multimillion-dollar distribution deal with Amazon, greenlit by former Amazon Studios executive Roy Price before he was suspended over sexual misconduct allegations?" Farrow also claims her accusations haven't changed in 20 years.
It's true that Lively condemned Weinstein's alleged behavior, telling The Hollywood Reporter in October, "The number one thing that can happen is that people who share their stories, people have to listen to them and trust them, and people have to take it seriously." However, Dr. Rutledge explains the contrast may be because Lively knows Weinstein's accusers more personally, whereas she's not as familiar with Farrow.
Scarlett Johansson
In response to Farrow's initial op-ed, Scarlett Johansson told The Guardian in 2014, "I think it's irresponsible to take a bunch of actors that will have a Google alert on and to suddenly throw their name into a situation that none of us could possibly knowingly comment on. That just feels irresponsible to me."
Interestingly enough, she also used harsh language, similar to Lively: "I don't know anything about it. It would be ridiculous for me to make any kind of assumption one way or the other." She also claimed she was "unaware that there's a backlash." (Bustle reached out to Johansson's rep for any further comment on her 2014 statement.)
As for her word choice, Rutledge explains, "Scarlett Johansson is an influencer in some capacity, right? So it's irresponsible for her to make a statement that impacts other people without what she would consider adequate information. Because everything she has right now is hear-say."
For the record, Johansson has been silent when it comes to Weinstein. She starred in his company's movieVicky Cristina Barcelona (which Allen directed).
Kristen Stewart
Next up, there's Kristen Stewart, who also appeared in Café Society. She told Variety in May 2016 that she was aware of Allen's allegations and even talked it over with co-star Jesse Eisenberg. She said at the time,
"I was like, 'What do you think? We don't know any of these people involved. I can personalize situations, which would be very wrong.' At the end of the day, Jesse and I talked about this. If we were persecuted for the amount of sh*t that's been said about us that's not true, our lives would be over. The experience of making the movie was so outside of that, it was fruitful for the two of us to go on with it."
(Bustle reached out to Stewart's rep to see if there was any further comment.) However, when it comes to Weinstein, Stewart announced on stage in October at Elle's Women in Hollywood event, "I want to express how thankful I am to hear what is typically a murmured sotto conversation. We've all been talking about this forever, not to make it specific, but it is, ah, about this motherf*cker." According to The Hollywood Reporter, she continued,
"So kudos to those who felt hopeful and comfortable enough to be caught and received and heard by those around them."
Rutledge acknowledges that the Twilight alum seemingly weighed her options before making her decision. "I think the fact that she was concerned about it is a way of honoring the perception and the experience of Dylan," she explains, adding, "I think it's unrealistic to expect everyone to react to your own experience in the same way — to say this happened to me and therefore you all should do X, Y, and Z."
Kate Winslet
Winslet first defended Allen in September when asked about Wonder Wheel. She told The New York Times,
"I didn't know Woody and I don't know anything about that family. As the actor in the film, you just have to step away and say, I don't know anything, really, and whether any of it is true or false. Having thought it all through, you put it to one side and just work with the person."
And recently, Winslet faced backlash for telling the Sydney Morning Herald, "I think on some level Woody is a woman. I just think he's very in touch with that side of himself. He understands the female characters he creates exceptionally well." (Bustle reached out to Winslet's rep for further comment, but did not receive an immediate response.)
However, she isn't offering that same sympathy publicly to Weinstein. She told the Los Angeles Times in October, "The fact that I'm never going to have to deal with Harvey Weinstein again as long as I live is one of the best things that's ever happened and I'm sure the feeling is universal." She even claimed she intentionally didn't thank him for winning an Oscar:
"I remember being told. 'Make sure you thank Harvey if you win.' And I remember turning around and saying, 'No I won't. No I won't.' And it was nothing to do with not being grateful. If people aren't well-behaved, why would I thank him?"
Dr. Rutledge doesn't necessarily think women like Winslet are ignoring the accusations against Allen; rather, they're making judgments from their own experience. "I think every one of them was making that distinction, which is that I have personal experience here to go by, 'I haven't seen any evidence of anything that made me uncomfortable," she explains. "I'm trying to make a judgment in the best way I know how.'"
Cate Blanchett
Out of the bunch, Cate Blanchett's comments on Allen convey a different tone. She told The Guardian in 2014, "It's obviously been a long and painful situation for the family, and I hope they find some resolution and peace."
And in October 2017, Blanchett, who worked with Weinstein's company on Carol and The Aviator, said, "It is never easy for a woman to come forward in such situations and I wholeheartedly support those who have," according to Variety.
However, Cloud points out a contrast in Blanchett's words as well, telling Bustle, "Note that she puts the events [regarding Allen] in the past. That's quite different from what she says about Weinstein: 'It is never easy for a woman to come forward in such situations and I wholeheartedly support those who have.' And again, wholeheartedly is not at all a word one typically uses to hedge."
While Rutledge mentions how, whether consciously or not, people tend to defend their own decisions, she also acknowledges that maybe these women deserve a break. "If we every word we all said were examined so semantically, we'd all look like idiots," she says.
Regardless, there's no denying that Farrow has a point, too: The scales of justice in Hollywood are swinging more heavily toward Weinstein — who's since been fired from The Weinstein Company and kicked out of the Academy. Meanwhile, Allen and his films are still, inexplicably, chugging along.
If you or someone you know has been sexually assaulted, call the National Sexual Assault Telephone Hotline at 800-656-HOPE (4673) or visit online.rainn.org.