Amazon Studios Is Reportedly Considering Cutting Ties With Woody Allen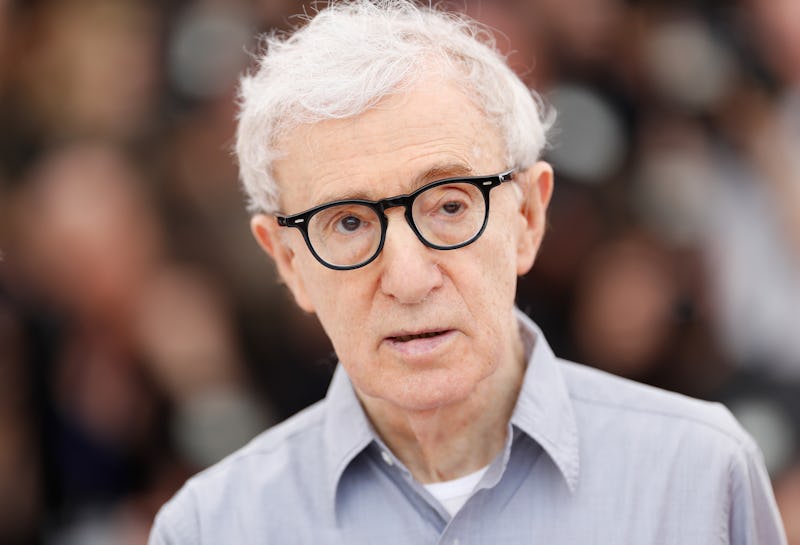 Pascal Le Segretain/Getty Images Entertainment/Getty Images
Amid the controversy surrounding the director, Amazon Studios may be considering cutting ties with Woody Allen. According to The Hollywood Reporter, the studio may reportedly offer Allen a "hefty payout" to void his five-movie contract. Neither Amazon Studios nor Allen has confirmed these reports. (Bustle reached out to Amazon and Allen's rep for comment, but did not receive an immediate response.) Regardless, it's not hard to see why Amazon Studios might make the decision to break ties with Allen, who's been accused of alleged sexual assault by his adopted daughter Dylan Farrow. (Allen has always denied Farrow's allegations.)
Amazon is slated to release Allen's next film, Rainy Day In New York, which has already received backlash, based on reports that it included a sexual relationship between a teenage girl and an older man. (However, a rep for Allen told Bustle via email last October that Elle Fanning's character is actually 21 in the movie: "That was how it was written. No one in the film is sleeping with anyone under age.") More recently, the movie's stars Timothée Chalamet and Rebecca Hall have apologized for working with the director and said they plan to donate their salaries to Time's Up, which means it may be difficult to get them to promote the film. Rainy Day doesn't have an official release date as of now, but Business Insider reported that, at this time, Amazon is "contractually obligated" to release it.
Beyond the questions surrounding this movie, the director's deal still calls for him to make three more movies. It's why THR reported, "Internally, the consensus is that Amazon will have no choice but to sever ties with the director, even if that means a hefty payout." The New York Times similarly reported over the weekend that Amazon is in "serious conversations" to end its relationship Allen, noting that a payout might not be that damaging to Amazon's bottom-line.
Allen's last four films have reportedly taken in a combined $26.9 million domestically, while costing $85 million in production. That statistic might be hard to change in the future; Business Insider reported that Amazon had trouble finding theaters that would show Allen's most recent film, Wonder Wheel.
The deal with Allen was originally negotiated in 2016 by Roy Price, who quit the company in October after an alleged sexual harassment claim resulted in Amazon suspending him. The Guardian reported that an Amazon spokesman confirmed Price's resignation and had no additional comment. (Price has not publicly commented on the allegation or resignation.) Until his replacement is officially named, THR reported that it's unlikely Amazon will make any major decisions about its movie deals. This could also mean they would refrain from breaking any previous deals with Allen until they know who's in charge.
If Amazon is debating a deal, though, it's unlikely that they'd want to sit on it. In this moment of #MeToo and Time's Up, people are taking a closer look at Allen's alleged past behavior and urging Hollywood to break ties. Recently, Farrow did her first television interview, telling CBS This Morning that for the last 20 years she has told the same story — that Allen allegedly molested her when she was 7 years old — and she will continue to tell that same story. After Farrow's interview, Allen once again denied her claims in a statement to CBS ,where he wrote that the allegations were "thoroughly investigated" and no charges were brought against him. "I never molested my daughter," he wrote, "as all investigations concluded a quarter of a century ago."
Still, these allegations remain in the spotlight. Farrow told CBS This Morning that she will continue to call out actors who work with Allen, not out of anger, but in hopes that they "can acknowledge their complicity and maybe hold themselves accountable to how they have perpetuated this culture of silence in their industry."
More actors have done this in the last few weeks. Mira Sorvino, who won an Oscar for Allen's Mighty Aphrodite, wrote a letter apologizing to Farrow for working with the director. Lady Bird director Greta Gerwig, who appeared in 2012's To Rome With Love, also stated: "If I had known then what I know now, I would not have acted in the film. I have not worked for him again, and I will not work for him again."
With the controversy surrounding Allen, many are starting to disassociate themselves from him. It's possible that Amazon could be next.
If you or someone you know has been sexually assaulted, call the National Sexual Assault Telephone Hotline at 800-656-HOPE (4673) or visit online.rainn.org.