E! Finally Responds To Catt Sadler's Departure & Claims "There Is A Lot Of Misinformation"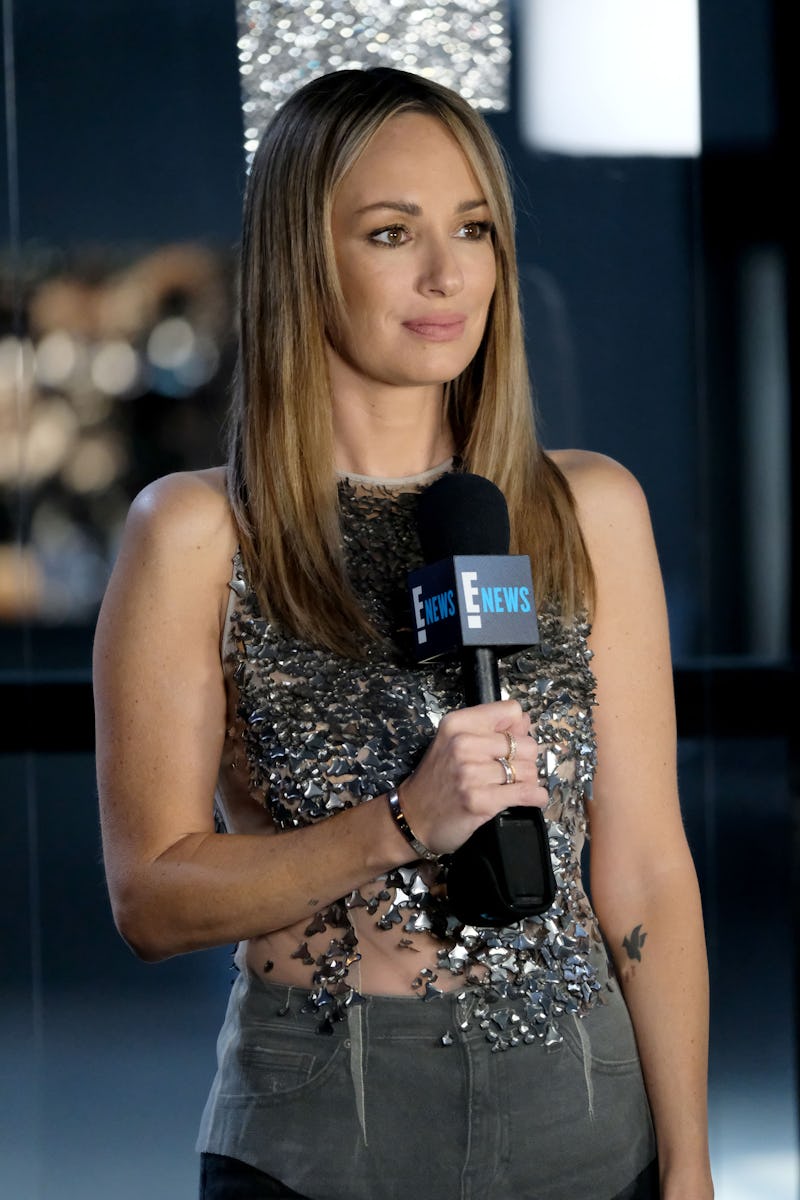 Mike Coppola/Getty Images Entertainment/Getty Images
Three weeks ago, former E! host Catt Sadler called "time's up" on the network she'd called home for the better part of the last 12 years. After learning that her male co-host Jason Kennedy had been reportedly earning almost twice her salary, Sadler quit her job at E! in mid-December, igniting a national conversation about the network's equal pay practices (or apparent lack thereof). On Tuesday, Jan. 9, E! responded to Sadler's departure from the network, citing "misinformation" as the reason for much of the incident's residual backlash. (Bustle reached out to Sadler's rep, but did not receive an immediate response.)
During the Television Critics Association's bi-annual press tour in California on Tuesday, E! chief Frances Berwick (who heads the Lifestyle Networks branch of NBCUniversal Cable Entertainment, which governs E!, as well as several other subsidiary channels) told reporters that knocks against the network's integrity have been unwarranted, arguing that Kennedy and Sadler earned different salaries because of the differences in their respective job responsibilities.
"There is a lot of misinformation out there," Berwick said, according to Entertainment Weekly. He continued,
"Catt Sadler and Jason Kennedy had different roles and therefore different salaries. Catt was focused on daytime. Jason Kennedy is on primetime evening news, plus red carpet. Our employee's salaries are based on their roles and their expertise regardless of gender. We wish Catt well, but I hope that sets the record straight on that."
Meanwhile, Sadler explained the motives behind her decision to leave E! News in a sharp, poignant blog post (which the former host published to her personal website, TheCattWalk, on Dec. 19), aptly-titled "Why I Left Entertainment Television." Sadler posted the link to Twitter soon after, which quickly spread across the internet.
Though Sadler's contract with E! was poised for extension in the new year, according to her blog post, the former host explained that she decided to leave the network entirely after reportedly discovering a "massive disparity in pay" between Kennedy (whom Sadler referred to as her "similarly situated male co-host") and herself. After reportedly asking the network "repeatedly" to compensate her equally — to no avail, according to Sadler — she promptly said good riddance to the major-league media network that proffered her a career which, even retrospectively, she firmly referred to as her "dream job."
Sadler's journey at E! began in 2006, when she was named co-host of the entertainment news talkshow series, The Daily 10. Following the show's cancellation in 2010, Sadler began her upward climb at E!, joining the network's flagship, hour-long newscast, E! News, which she co-hosted alongside Ryan Seacrest and Giuliana Rancic. From there, Sadler quickly became one of the network's frontrunners, hosting several major league E! Live from the Red Carpet events, including the Academy Awards, the Golden Globes, and the Emmys. In 2017, E! News launched a daytime talkshow called the Daily Pop, helmed by Sadler and two co-hosts.
The rationale behind her decision essentially amounts to this: Sadler knows her worth, and she wants the up-and-coming generation of young women to know theirs, too. As she wrote on her blog,
"Countless brave women have come forward this year to speak their truth. Females refuse to remain silent on issues that matter most because without our voices, how will we invoke lasting change? How can we make it better for the next generation of girls if we do not stand for what is fair and just today?"
In the wake of Hollywood's Time's Up campaign and the burgeoning national conversation about misogyny in Hollywood (to varying degrees), a handful of celebrities and industry figures lent their voices — and their support — to Sadler. During the Golden Globes red carpet pre-show on Sunday, Jan. 7, actors, including Debra Messing, Sarah Jessica Parker, and Eva Longoria, slammed the E! network, saying they stand with Sadler.
"I was so shocked to hear that E! doesn't believe in paying their female cohost the same as their male cohost," Messing said. "I miss Catt Sadler. So we stand with her. And that's something that can change tomorrow. We want people to start having this conversation that women are just as valuable as men."
Because as women from all corners of the workforce probably already know too well, E! network's claim (that the reported pay gap between Kennedy and Sadler was simply a matter of disparate job responsibilities) is a tired one. And it's one they've likely heard before. But as Sadler plainly stated in a statement to People on Sunday in response to the backlash against E! on the red carpet: Time's up, E! News. Perhaps Sadler's untimely departure is just the wake up call the network needs to start dealing with its supposed pay gap.