Easy Memorial Day Trips To Take Last-Minute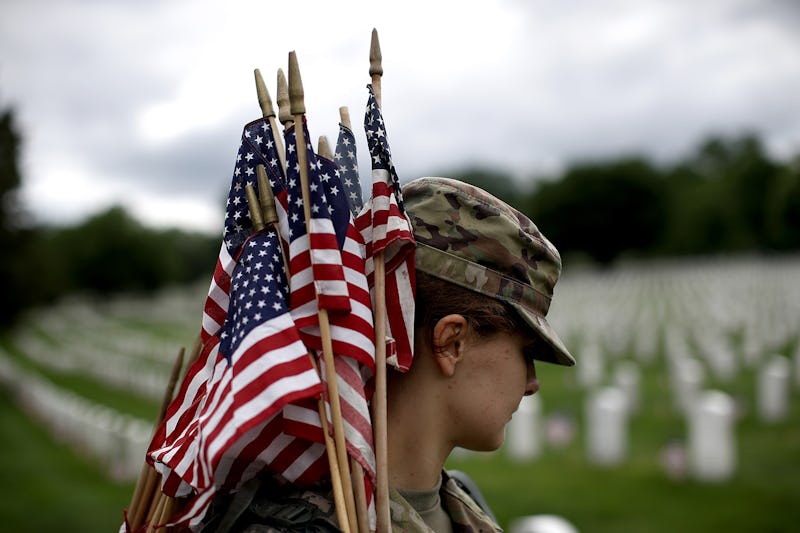 Win McNamee/Getty Images News/Getty Images
If you're anything like me, you're probably easily overwhelmed by the concept of even leaving the house on Memorial Day weekend, let alone taking a Memorial Day weekend trip. You probably assume that it's going to be chaos around every corner, long lines, delays and mayhem. You've probably already committed to the idea of just staying home, marathoning a TV show, eating all the ice cream in your freezer, or rearranging your closet. You've also probably convinced yourself that this is what you want — to have a super low-key, no fun weekend. But the truth is, you secretly want to get out and have an adventurous weekend, you're just a little intimidated. But that's OK!
The good news is that there are tons of easy trips you can take that don't go hand-in-hand with madness. There are so many amazing quaint and serene places you can visit that don't involve complicated planning and won't break the bank. And if you're OK with a little excitement, there are all sorts of festivals and party towns you can visit that do all the planning for you. Here are a few of my favorite low-intensity Memorial Day weekend vacation spots, perfect for even the most apprehensive holiday weekend traveler:
Hilton Head, South Carolina
This cheery island off the coast of South Carolina is quaint and hospitable year-round. But if you get there before the summer season starts, you'll get to spread out on the beach and enjoy shorter lines at restaurants. You can sign up for water sports, play golf or just enjoy the quiet island and southern food from your hotel.
Upstate New York
While everyone is heading to the beach, run for the woods. There are tons of towns upstate that are easy to get to by train, like Rhinebeck. There you'll find epic Hudson River views and access (it's actually clean enough to swim in up there) and lots of adorable, country-themed inns like Whistlewood Farm. There you will literally wake up to the sound of chickens and donkeys, and a farm-fresh breakfast with your name on it. Turn your phone off and enjoy the quiet life.
Austin, Texas
Once summer is in full-swing, Austin gets real hot. So go, enjoy the spunky city while the weather allows you to do more comfortably. Ride a tube down the river, enjoy epic live music. eat all the foods, and stay somewhere hip and wacky like Hotel San Jose.
Miami, Florida
If you want great weather and a lot of beach time and don't mind a little bit of chaos, hop a flight to Miami. There will be so many parties and drink specials, you won't even want to sleep. Miami is a great place to kick your summer off, just wear lots of sunscreen and you'll be set with a base tan.
Cape Cod, Massachusetts
If you don't want to deal with ferries, but want to dip your toes in some cool Atlantic water and have that quintessential New England experience, Cape Cod is the best place for you this Memorial Day weekend. While it might be a bit crowded, the beaches will be pretty empty, as the water won't be swimmable yet. Which is great for you if you want a laid-back weekend, you can bring a few books and bottles of wine and have yourself a real nice time.
Portland, Oregon
Portland in the late spring is mystical, blooming city that will steal your heart and fill your belly. Enjoy eating the best food you've ever had in your life, outside, on a bustling street corner that's populated only by the nicest people you've ever met in your life. Get brunch at Tusk, and then go take a nap at The Ace Hotel, and the get ready for the most amazing dinner of your life at Ned Ludd. Wake up the next morning and hike it all off at the Columbia River Gorge.
Big Sur, California
If you're sad about Big Little Lies ending, head to Big Sur and take in all that the upper Californian coast has to offer. Cliffs for days, turquoise water for weeks, and enough luxe accommodations to keep you feeling calm and relaxed long after your trip is over. Rent a car and drive up and down the coast if you have it in your budget, you won't regret those sights.
Salisbury, Connecticut
Just because you might not have heard of this town, doesn't mean it's not there! This quaint lake village is so idillic and serene and removed, you'll forget that the rest of the world exists. Rent an Airbnb on the lake and enjoy waking up to the sound of nothing. Bonus, the freshwater lake will most likely be warm enough for you to swim in. Pop in and out of farm stands and flower fields during the day and enjoy a picnic dinner on the dock at night — guaranteed sunset views at the Twin Lakes.
Atlanta, Georgia
If you're cool with crowds and love jazz, head to Atlanta for the jazz festival. Enjoy incredible street food and lots of friendly people looking to have a good time and embracing the excitement. The festival runs May 26 to May 28 and is so jam-packed with stuff to do, you won't know what to do with yourself. Not a bad problem to have though!